Canada Adds HMCS Max Bernays to its Arctic Patrol Ship Fleet
The Royal Canadian Navy (RCN) received its third Arctic/Offshore Patrol Ship (AOPS), the HMCS Max Bernays, on 2 Septemberd. According to Canada's 2010 National Shipbuilding Strategy, Canadian forces will field eight vessels of the class; the RCN will receive three more ships and the Canadian Coast Guard will receive two.
The ship is a little over 103 meters long, is lightly armed with the M242 Bushmaster chain gun serving as its primary armament, has a displacement of 6,615 tons and is capable of a speed of up to 17 knots. The icebreaker is capable of transporting light vehicles, helicopters and  a variety of boats; the it is thus well-suited for surveillance and for transportation missions. It can also effectively contribute to constabulary missions such a drug interdiction, to search and rescue missions, and can easily transport and deliver humanitarian aid. All ships of the class are built by Irving Shipbuilding Inc.
The construction of these comes at a time when the Arctic region is being recognized across the globe as an increasingly important strategic theater. The United States, Canada's primary ally in securing its near Arctic, had recently activated a new division based out of Alaska. Meanwhile, Canada's Arctic and Northern Policy Framework states that while Canada's near Arctic is a region of peace and stability, "growing competition and increased access brings safety and security challenges to which Canada must be ready to respond".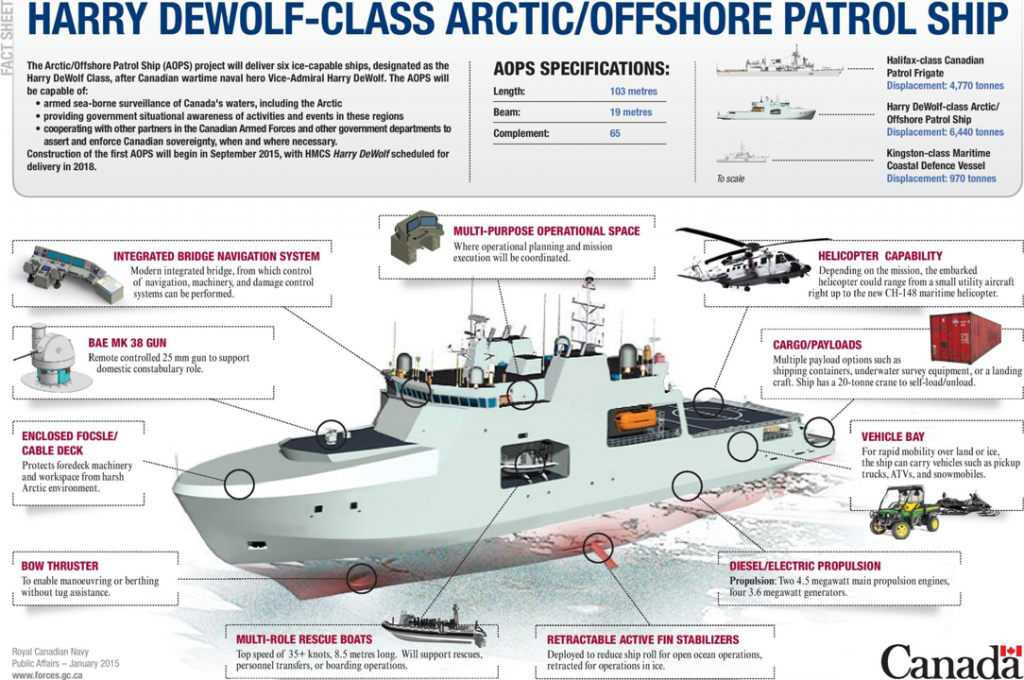 According to the commander of the RCN, Vice-Admiral Angus Topshee, Armed Canadian icebreakers will help contribute to achieving Canada's arctic security goals:
"Today's delivery of our third Arctic and Offshore Patrol Ship, HMCS Max Bernays, brings the Royal Canadian Navy one step closer to our full fleet of six modern, ice-capable ships. Each of the AOPS represents a new and important capability for the Navy, and we are excited that this ship will soon be officially welcomed into the RCN Fleet."
Nevertheless, it must also be noted that the National Shipbuilding Strategy was at least partially designed to maintain Canada's shipbuilding capabilities and keep shipbuilders employed. Canadian Minister of Public Services and Procurement Helena Jaczek stated that:
"Our government recognizes the exemplary work being done under the National Shipbuilding Strategy by Canadian shipyards and the economic benefits it generates in communities and across Canada."
The ship will remain docked in Halifax where post-acceptance work will be done. In 2023, it will be transferred to the West Coast.