Ukraine Receives Turkish-Made BMC Kirpi 4×4 Mine-Resistant Armored Vehicles
Since Russia's invasion of Ukraine many nations have been providing military aid to Ukraine with a large number of different vehicles transferred to the Ukrainian military. In a video posted on the Facebook page of the Kakhovka Operational Group of the Ukrainian Armed Forces a significant number of mine-resistant armored vehicles produced by BMC were seen in Ukraine for the first time. In the video was captioned "Our soldiers are supported by foreign partners. The whole world wants Ukraine to defeat its greatest enemy. New Turkish Kirpi armored personnel carriers have been delivered to the Ukrainian Armed Forces." In an area with several BMC Kirpis, a Ukrainian soldier can be seen inspecting the vehicles.
Although there is no official statement on how many KİRPİ armored vehicles BMC has exported to Ukraine, Yuriy Misyagin, a member of Ukraine's governing Servant of the People party, claimed in a Telegram post that 50 Kirpi MRAPs were initially supplied to Ukraine and that 150 more vehicles will be delivered. "Two marine brigades are already using 50 vehicles," said the Ukrainian deputy. "We expect 150 more to come! A machine gun that can be controlled manually and rotated 360 degrees, a fire extinguishing system, a good anti-mine protection vehicle, B6 armor, 12 soldiers + crew."
It is currently unknown whether the vehicles in question were purchased under a contract signed by Ukraine and BMC Defense or were donated by the Turkish Armed Forces. The paint patterns of the vehicles may suggest that they vehicles were donated from the Turkish Armed Forces' inventory as the camouflage patterns appear to match those used by the Turkish military. An unnamed high-level source, however, told GDH Defense that the vehicles were not donated by Turkey and that an agreement was signed between Ukraine and the vehicle's manufacturer, BMC Defense.
In addition, images of the SERDAR Remote Controlled Weapon System, recently developed by Aselsan and Ukroboronprom, integrated and actively used on a Ukrainian Forces' MT-LB ZPT were also shared on social media. The SERDAR system is a remote-controlled stabilized platform that can carry 7.62mm (PKT) and 12.7mm (NSVT) machine guns as well as two SKIF (RK-2S) anti-tank guided missiles.
The BMC KRP is a mine resistant ambush protected (MRAP) vehicle manufactured by BMC Automotive Industry and Trade, a commercial and military vehicle manufacturer. The Kirpi (4×4) is distinguished by features such as a monocoque armored cabin with special armored windows, a fire extinguishing system, personnel compartment air conditioning, run flat tires, a central tire inflation system, smoke grenade launchers, and a self-recovery winch.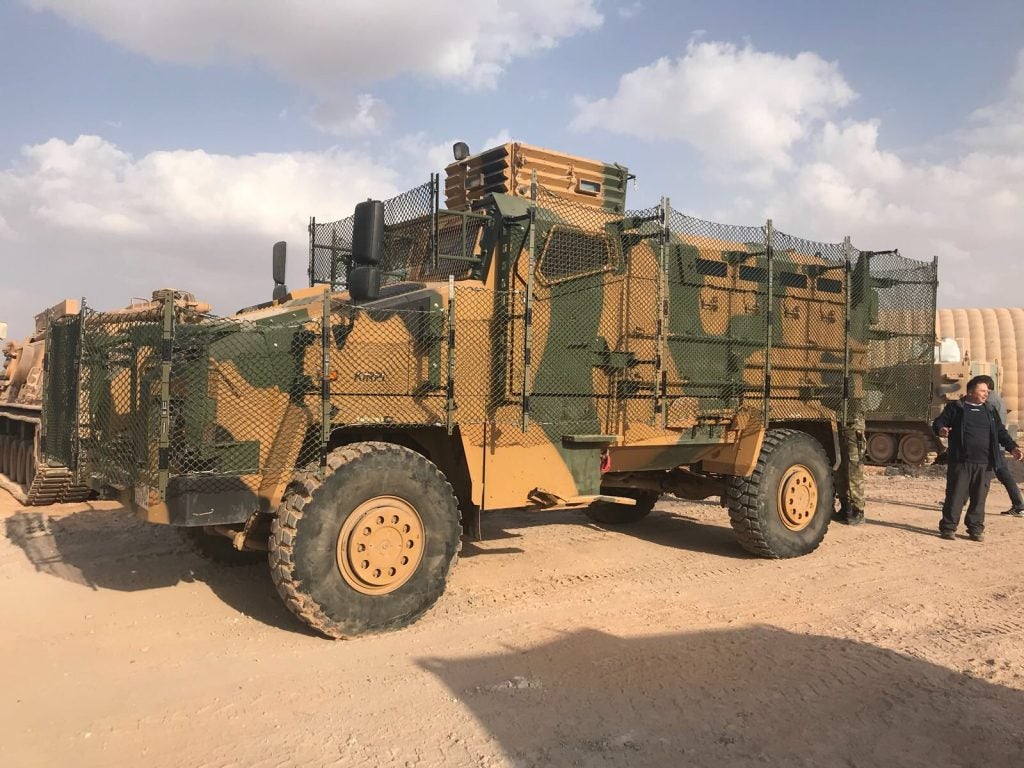 Superior protection against IED and mine threats is provided by the lower part of the vehicle's V-hull design. The design spreads the pressure to both sides in order to protect the personnel in the vehicle from the explosive. Furthermore, the pressure threat from the ground is reduced by fixing the seats in the passenger compartment to the ceiling. With the slats inside the vehicle, personnel can also fire at outside threats.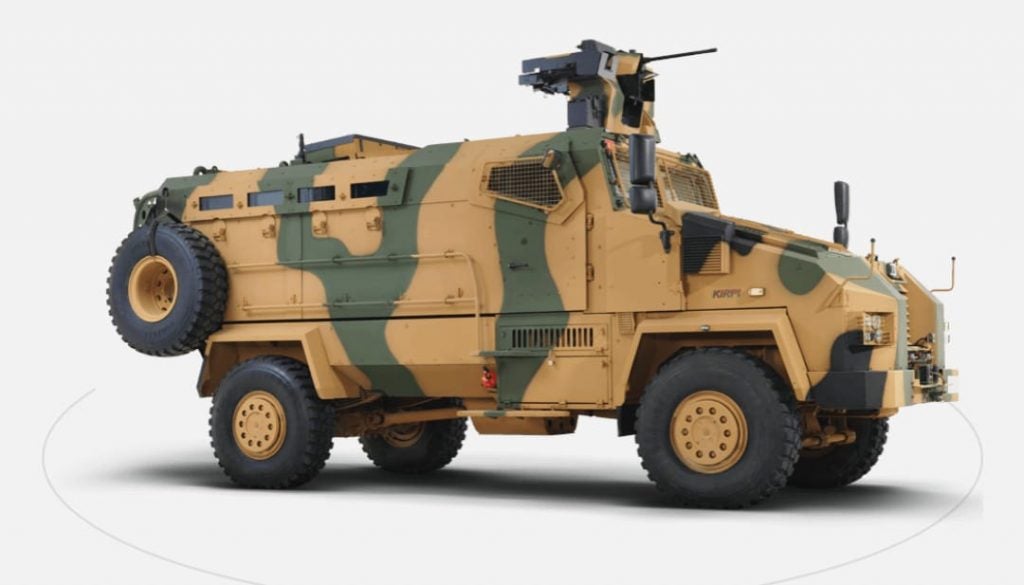 The platform is 7.35 meters long, 3.2 meters high, and 2.64 meters wide. The standard 44 has a curb weight of 18,085 kilograms, a total weight of 19,710 kilograms, and a payload of 1,625 kilograms. It can accommodate 13 personnel. The engine in the BMC-built Kirpi is a Cummins ISL9E3 375 model that meets Euro-3 standards. This turbocharged 6-cylinder diesel engine has a capacity of 8.9 L. It has a maximum power of 375 PS / 2100 rpm and a maximum torque of 1500 Nm / 1400 rpm. As a result, the Kirpi can travel at a top speed of 100 km/h with a maximum range of 800 km and cross 60 percent slopes and rough terrain. Additionally, Kirpi is capable of carrying 7.62 or 12.7mm machine guns. A manual open gun turret or a remote-controlled weapon system can be fitted to the vehicle.