Indian Navy Receives Aircraft Carrier Vikrant And MH-60R Helicopters
The Indian Navy on July 28 took delivery of indigenous aircraft carrier Vikrant. The carrier, built by Cochin Shipyard Limited (CSL) in Kochi, has undergone over five sets of sea trials since August 2021. The Navy also accepted delivery of the first tranche of MH-60Rs to arrive in India. Three MH-60Rs that were handed over to the Navy in 2021 have been training aircrew in San Diego and are yet to arrive in India.
Vikrant is expected to be commissioned into the Navy in August and christened as INS Vikrant. The carrier is 262m long and has a full displacement of close to 45,000 tonnes. The carrier, designed by the Navy's Directorate of Naval Design, was constructed in three phases with contracts signed between MoD and CSL in May 2007, December 2014 and October 2019. Vikrant's keel was laid in February 2009 and the ship was launched in August 2013. It is powered by four LM2500 gas turbines producing 88MW of power enabling the ship to attain a maximum speed of 28 knots. The ship, which will be escorted by a range of existing and upcoming classes of surface combatants, is made up of 76% indigenous content.
A STOBAR carrier, Vikrant is set to be capable of operating an air wing consisting of 30 aircraft, including MiG-29K fighter jets, Ka-31 AEW helicopters, MH-60R multi-role helicopters, ALH Dhruv and Light Combat Aircraft (LCA) (Navy). It is also expected to operate the winner of India's program for carrier borne fighters, in which the F/A-18 Super Hornet and the Rafale-M are competing. The Twin Engine Deck Based Fighter (TEDBF) being developed by India will also operate from Vikrant from the 2030s. Once in service Vikrant will complement the older, fire prone, carrier INS Vikramaditya.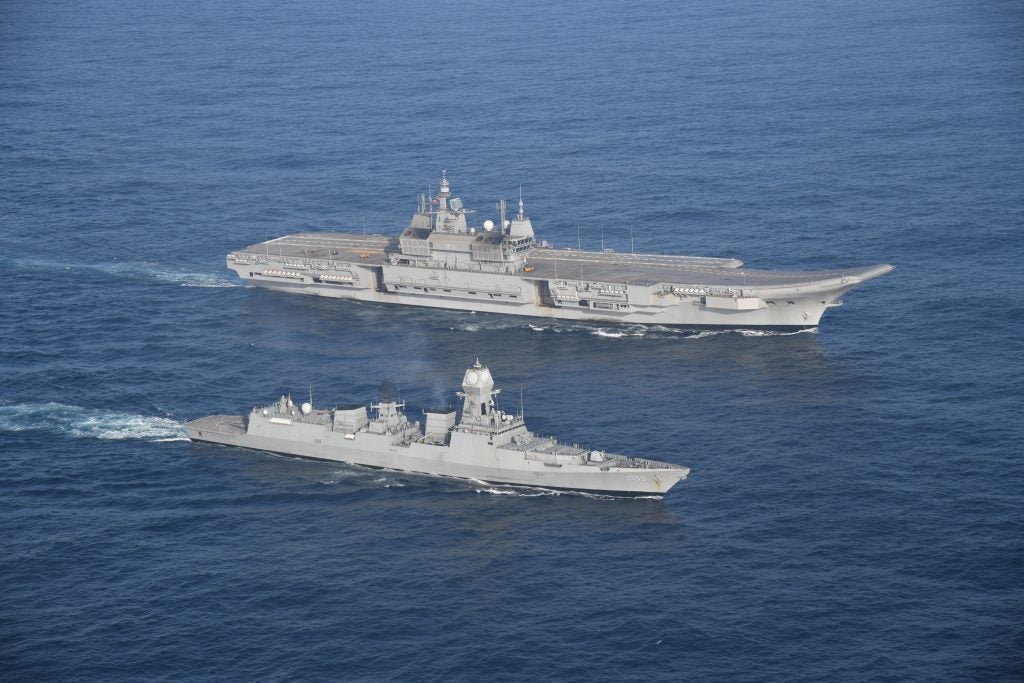 India and the U.S. had signed a $2.4 billion contract for purchasing 24 Sikorsky MH-60R helicopters in February 2020. The Foreign Military Sale (FMS) would also introduce India to two weapons it currently does not possess. A DSCA press release in April 2019 about the FMS had stated that India had requested for 38 BAE Systems Advanced Precision Kill Weapons System (APKWS) rockets, two Naval Strike Missile (NSM) Emulators and four NSM Captive Inert Training missiles. BAE Systems was unable to confirm APKWS deliveries or potential larger orders noting that all orders are placed by the U.S. Navy for FMS. Norwegian firm Kongsberg, which manufactures NSM, did not respond to a query. The helicopters would also be armed with AGM-114 Hellfire missiles, Mk 54 torpedoes and crew served machine guns.
While Lockheed Martin hinted that three helicopters will be delivered, only two were seen in images released by the Indian Navy. The helicopters are expected to bolster Indian Navy's ageing fleet of ASW helicopters which has faced the brunt of delays faced by the Naval Multirole Helicopter (NMRH) program. India's HAL is currently developing the Indian Multirole Helicopter (IMRH), which will satisfy the Navy's requirements for NMRH.