Baykar CEO "Very Impressed" By Lithuanian Solidarity In "Hawk" Fundraiser
Baykar Chief Executive Officer Haluk Bayraktar says that the Turkish drone manufacturer was very impressed by a Lithuanian fundraiser to raise funds for the purchase of one of its armed drones, with the solidarity seen driving the company to donate the drone free of charge.

Haluk made the comments at the official presentation of the "Vanagas" (Hawk) TB2 at Šiauliai Air Base on Wednesday, ahead of its formal handing over to Ukraine's military. The drone had been placed on public display at the air base, allowing visitors to see the results of the fundraiser in person.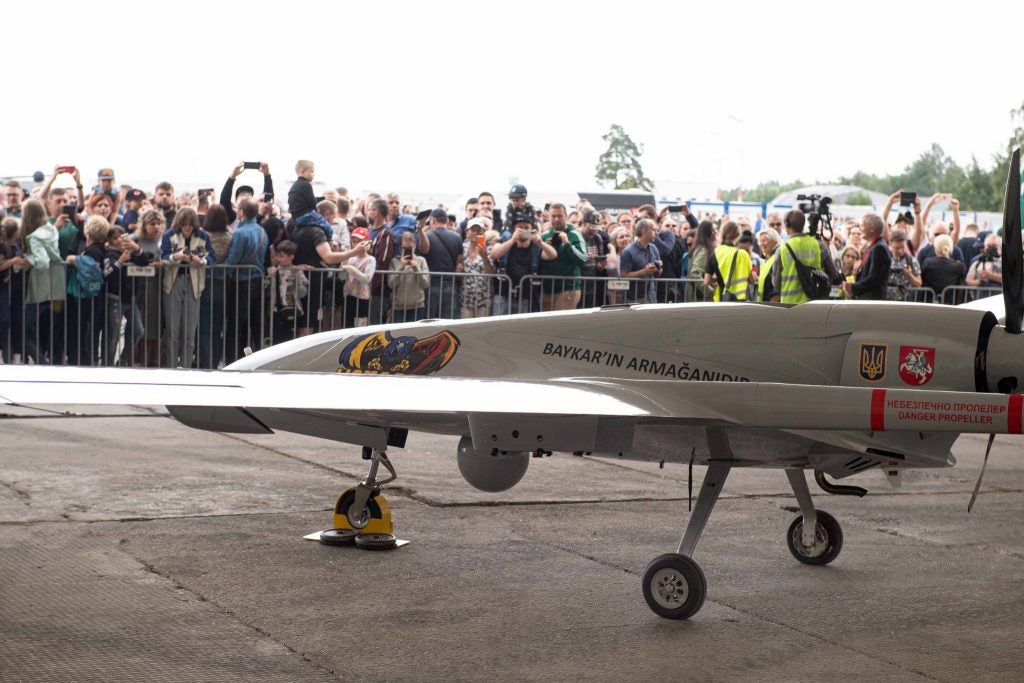 Speaking on fundraiser organizers Laisves TV's broadcast from the event, Haluk stated that the company had first learned of Laisves' fundraiser through social media, and that he was impressed by the solidarity of hundreds of thousands of Lithuanians who donated the funds for the Hawk. "We as engineers, developers and manufacturers are proud that our engineering element is helping to bring peace and keep Ukraine's sovereignty supported," said Haluk of the TB2's combat service in Ukraine.

Haluk added that he was "really affected" by the efforts made by citizens to raise funds for his company's drones, relating that he had learned of Ukrainian girls who cut and sold their hair to raise money for the drones. In Ukraine's case, Haluk said, the company's goal was not to maximize revenue, but instead to maximize support for Ukraine to "bring peace and retain its sovereignty", meaning that the company could not "think in a corporate way".
In his comments at the event, Lithuanian defense minister Arvydas Anuskas said that while wars could not be won with just one weapon, "symbols in any war are extremely important". He added that the TB2 would be delivered as quickly as possible to Ukraine following the formal handover of ownership, at a much greater pace than in peacetime.
Petro Bešta, Ukraine's ambassador to Lithuania, added: "Actions speak louder than words. We hope that this example shown by the Lithuanians will inspire other countries as well."
In addition to a collaboration with Lithuania Post to create a TB2-themed stamp raising money for aid to Ukraine following the success of the fundraiser, Laisves TV has launched a merchandise line themed on the Hawk, with Laisves' proceeds from sales going towards aid for Ukraine. Hawk and Magyla (Laisves' name for EOS VTOL surveillance drones crowdfunded for Ukraine) themed merchandise includes sticker sheets, morale patches, t-shirts, hats, neck gaiters, metal drinking mugs, water bottles and phone cases.

The success of the Laisves TV fundraiser has inspired two similar fundraisers, with the success of Ukrainian comedian-turned-politician Serhiy Prytula and his foundation's "People's Bayraktar" fundraiser for three TB2s also resulting in Baykar announcing that it would be donating the three drones free of charge. Last week, Polish journalist Sławomir Sierakowski also launched a fundraiser for another TB2, consulting with Laisves on how best to organize the fundraiser. As of writing, Sierakowski's fundraiser is at 29% of its goal, having collected just over 1.6 million dollars from over 60,000 supporters.