Greek Parliament to Set Aside Budget for MQ-9s
The Greek Minister of National Defense, Mr. Nikolaos Panagiotopoulos, announced to Parliament today that he will be allocating 400 million euros for the purchase of three American MQ-9B SeaGuardian unmanned aerial vehicles (UAVs) and their requisite ground control stations, I Kathimerini reports. This report comes in the wake of a Turkish Bayraktar TB-2 UAV flying over Greek territory in early June, as well as an increase in tensions between Greece and Turkey. In early June, Turkish President Recep Tayyip Erdogan warned Greece against the militarization of the Aegean islands, saying that "We invite Greece to stop arming the islands that have non-military status and to act in accordance with international agreements". In addition to purchasing the MQ-9Bs, Greece will also order 76 US-made AAVP-7 amphibious assault vehicles (which was previously announced in February of this year) for an increased cost of 291 million euros, Identification Friend or Foe Mode 5 systems to bring Greece up to concurrency with the rest of NATO, as well as technical and material support for their Type 209 submarine engines, Defense Point.gr writes. Greece will also seek to sell 18 Mirage 2000EGM/-BGM fighter aircraft back to Dassault Aviation.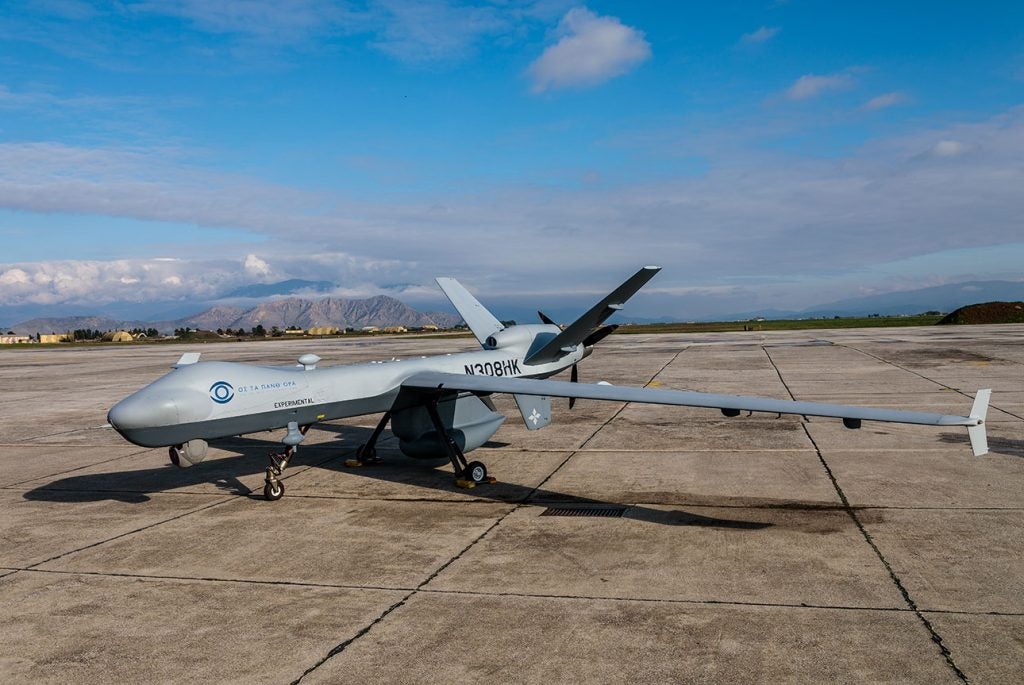 General Atomics, the manufacturer of the MQ-9 series of UAVs, demonstrated the benefits of the MQ-9B SeaGuardian to the Hellenic Air Force and Coast Guard in December 2019, eight months after reports emerged about Greece acquiring three MQ-9s from the US for the Air Force. The demonstrations of MQ-9B SeaGuardian N308HK – with Raytheon SeaVue radar fairing, Detect and Avoid radar, and Greek text that reads "The one who sees everything" – flew out of Larissa Air Base, which is located 35km from the eastern coast of Greece. As of April 2022, the US has deployed MQ-9A Reapers to Larissa Air Base to support operations in the Mediterranean.
Greece currently operates two Israeli-made IAI Heron UAVs out of Skyros Air Base in the Aegean Sea, which it received as part of a three-year lease program in April of last year after signing a contract with Israel in May of 2020.
The Herons are configured in a maritime patrol configuration, allowing for maritime surface surveillance with a maritime patrol radar and Automatic Identification System (AIS) receiver. The IAI Maritime Heron and the MQ-9B SeaGuardian are on par with each other in endurance, maximum altitude, and speed, however the MQ-9's capability to carry nearly five times the maximum payload weight of the Heron makes it able to carry even more sensors, sonobuoy deployment systems, and other payloads.
UPDATE 4 July 2022
Added additional information on the parliamentary meeting to the bottom of the first paragraph.