Chengdu Aircraft Rolls Out First Civilian Wing Loong II Drone
On 29 June, Chengdu Aircraft Industry Group held a ceremony for rolling out the first Wing Loong II UAV designed for industrial and civilian purposes. As an evolution of the military reconnaissance/strike combat drone, a variant of the Wing Loong II already serves the Ministry of Emergency Management with disaster assessment with onboard sensors and restoring telecommunications.
Unveiled in November 2016, the Wing Loong II, in its military configuration, was designed to fulfill the same role for the People's Liberation Army Air Force as the General Atomics MQ-9 Reaper, providing an aerial reconnaissance and precision strike platform. the Medium-Altitude Long-Endurance drone is an incremental improvement over the original Wing Loong UAV. Since its debut, Chengdu Aviation has successfully exported the UAV to nine clients, including the likes of the United Arab Emirates and Saudi Arabia, seeing combat in the Libyan and Yemeni Civil War.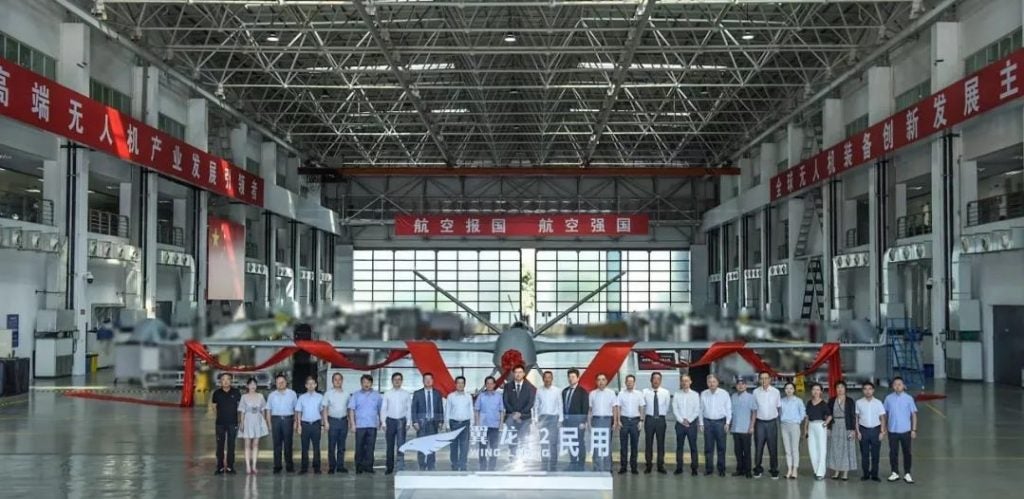 Under each wing of the Wing Loong II are three hardpoints for bombs and missiles weighing up to 480kg total. In the civilian variant, this weight capacity will likely be used to carry advanced ground sensors and signal repeaters, as previously demonstrated in the disaster relief 2H variant. The same sensors may also be used to monitor China's vast agricultural and wild lands far more efficiently than experts on foot can.
Last year, a Wing Loong 2 was modified to a weather control role, producing artificial precipitation in the Gansu province. Wang Dayong, a deputy chief designer in the AVIC, had also previously pointed at the potential of the UAV and its advanced cameras and sensors in the firefighting role, giving firefighters better situational awareness and reducing risk to human life with its long range and loiter time, allowing operators to be stationed further than the oncoming fire than previous short range platforms allowed.
Beyond the confirmed applications, studying the MQ-9B Sky/SeaGuardian variant of the MQ-9 and its use, the new variant's incapacity for weapons may also afford the drone greater flexibility in its operations than its military cousin. According to analyst Amelia Smith, the same sensor package may be used to monitor disputed territories and other locations where the presence of military aircraft may constitute an escalation with a lower risk, similar to the difference between deploying a warship and a coast guard vessel to contested islands. In the end, this new variant may well be as useful to the PLA as it would be to Chinese civilian enterprises.