India's Agnipath Recruitment Scheme Faces Protests: Here's Whats Going On
India's new Agnipath (Path of Fire) four year armed forces recruitment scheme for personnel below officer ranks, announced on June 14, has led to massive protests, arson and casualities across the nation. These protests by aspirants have also received the support of opposition parties, prompting the government to announce additional benefits for those leaving after the four year period. The armed forces meanwhile stated that there would be no rollback of the scheme, which was a necessary reform pending for decades. Overt Defense explained the controversial new scheme last week.
The Agnipath scheme, which would replace existing long term contracts and guaranteed pensions, has led to job security oriented protests which has led to rioting and arson in several states. Railway services were affected as tracks were blocked and trains burnt. Many veterans had expressed their discontent and doubts about the scheme, including the implementation of an all India system. The government responded by announcing a slew of benefits for 'Agniveers' leaving after four years. The Ministry of Defence (MoD) raised the maximum age to 23 years for Agnipath recruitment in 2022, as a one time measure. This is to accommodate aspirants who have not received recruitment opportunities due to the Covid-19 pandemic. A proposal to reserve 10% of the job vacancies in the MoD, Indian Coast Guard and various defence production units for Agniveers was also approved. The Ministry of Home Affairs, which helms multiple paramilitary units, has announced a 10% reservation for Agniveers. Multiple other ministries and state governments have also announced preference for Agniveers.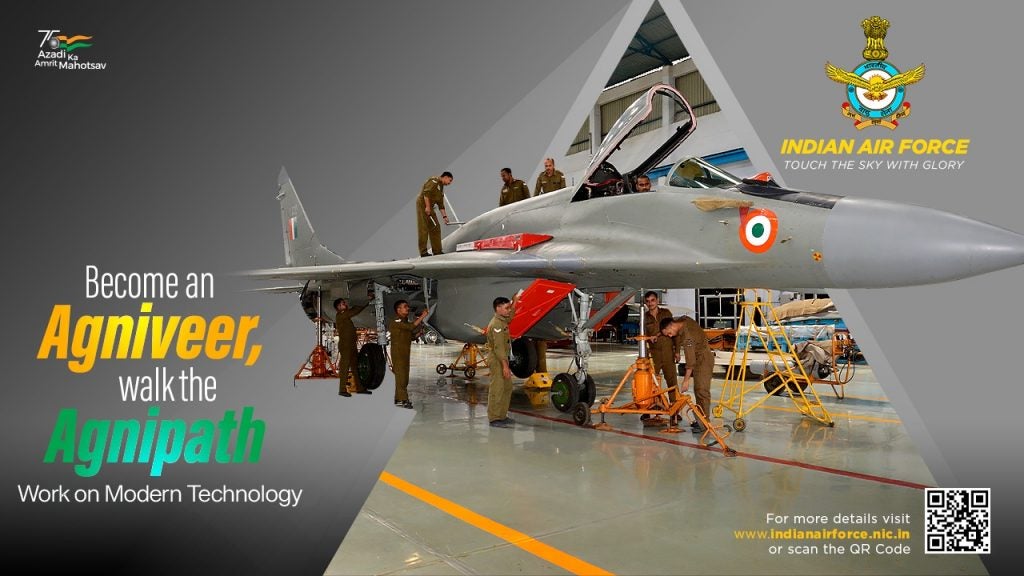 Defence Minister Rajnath Singh held meetings with the three service chiefs on 18 and 19 June to discuss additional benefits and quell protests. Lt. Gen. Anil Puri, Additional Secretary in the Department of Military Affairs, stated in a tri-service press conference on 19 June that there is no space for arson and violence in the military, reminding that aspirants would have to pass a police verification according to existing policy. He also ruled out any chance of a rollback, stating that the long pending scheme was the only progressive option available. The three services outlined their recruitment policy and highlighted the need for the reform, while also condemning coaching institutions for instigating violence. Over 35 WhatsApp groups were banned for spreading fake news and instigating protestors.
All three services would start training the first batch of recruits this year. While only 46,000 would be recruited in 2022, this will subsequently rise to over 100,000 per year in the next 4-5 years. This is to analyze the scheme and make up any shortcomings. Importantly, the Indian Navy will become the first service to recruit women through the Agnipath scheme and would be deployed onboard ships. This will be the first time that women are eligible for posts of personnel below officer rank in any service. All three services already have women officers. Meanwhile, the government and military are trying to assuage the protestors' concerns. Opposition parties have condemned the violence unleashed but have thrown their weight behind the protestors, saying that they have legitimate concerns. The armed forces, however, appear unfazed and look set to implement the Agnipath scheme.