Turkey Launches A New Unmanned Surface Vehicle Dubbed Sancar
Turkey's arsenal of unmanned surface vehicles is growing. After ULAQ and SALVO, Turkey's third operational armed USV, SANCAR, developed in cooperation with Yonca-Onuk Shipyard and HAVELSAN, was launched with a ceremony. The ceremony held at Yonca-Onuk Shipyard in Tuzla, Istanbul, was attended by the President of Turkish Defense Industry (SSB) Prof. Dr. İsmail Demir, HAVELSAN General Manager Dr. Mehmet Akif Nacar, Yonca-Onuk Chairman of the Board Şakir Yılmaztürk, Yonca-Onuk Vice Chairman of the Board of Directors Dr. Ekber Onuk as well as many guests and shipyard personnel, attended the ceremony held at Yonca-Onuk Shipyard in Tuzla, Istanbul.
"We aim to become one of the leading countries in this field by demonstrating the experience and success we have gained in armed unmanned aerial vehicles in naval vehicles as well," SSB President Prof. Dr. İsmail Demir remarked during the ceremony. According to Demir, Turkey has various projects on USVs, and Sancar USV is just one of them. Demir emphasized that the operation of USVs in an integrated operational environment is crucial for Turkey in terms of preparing for the operational concepts of the future, and he thanked everyone who helped make this possible.
Sancar USV, which was developed for the purpose of performing unmanned reconnaissance, surveillance, surface warfare, and mine countermeasure missions, will minimize the risk to human life with its unmanned use concept and will be able to perform many tasks more cost-effectively thanks to the various kinds of useful loads it will be able to carry, according to the information provided by the SSB. Sancar, which is 12.7 meters in length and has a range of 400 nautical miles, has a top speed of 40 knots.
The USV will reportedly be able to cruise for 40 hours in four different sea states. The Sancar USV is equipped with 2×2 UMTAS / L-UMTAS missile systems supplied by Turkey's missile systems manufacturer ROKETSAN and with a STAMP-2 12.7mm Machine Gun developed by ASELSAN, as well as electronic warfare, jamming, MILMAST Telescopic Mast (Navigation Radar, camera, anti-collision systems) and different communication and intelligence systems.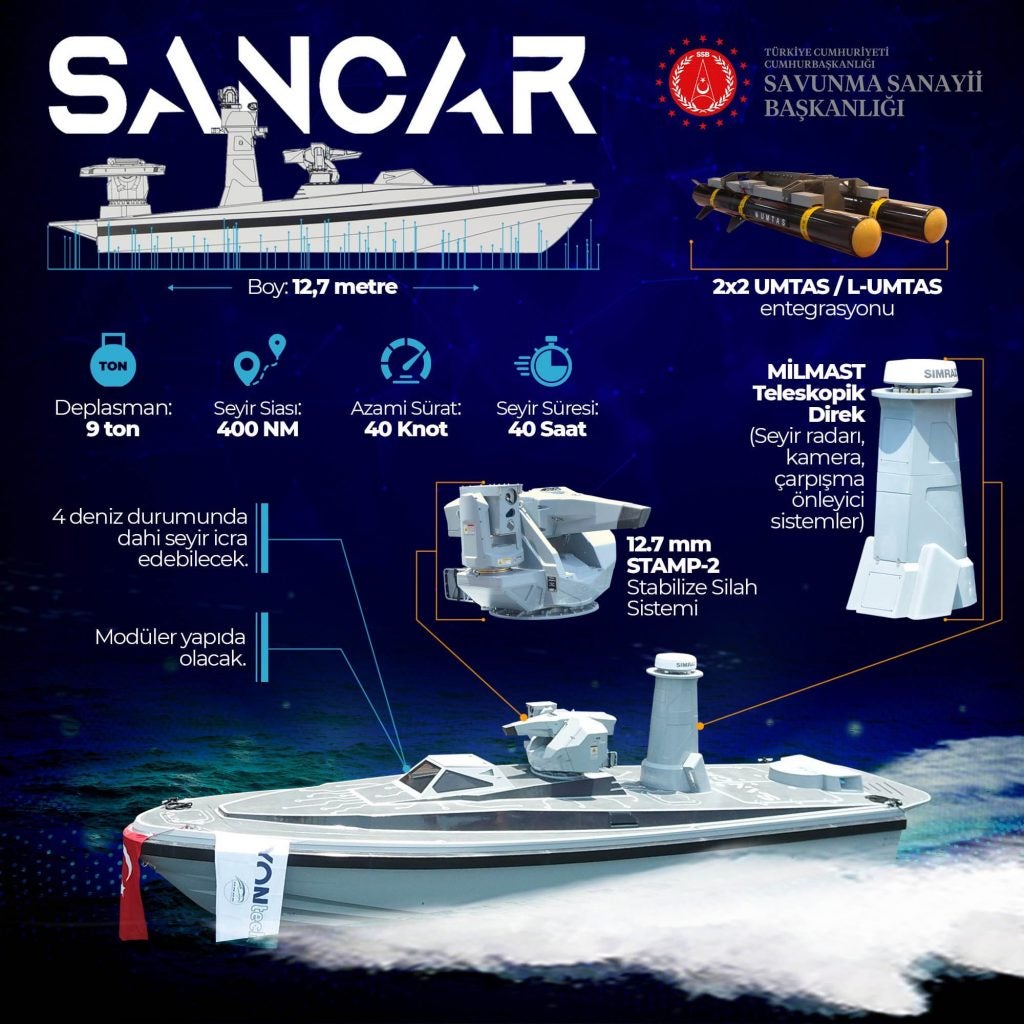 In addition, the "Armed Unmanned Surface Warfare Vehicle" and the "Unmanned Anti-Submarine Warfare Vehicle" are still being developed in collaboration between Turkey's Sefine Shipyard and ASELSAN. The USVs, which will be available in two configurations, the RD-09 and NB-57, are expected to complete their cruise tests by the end of 2022 and will be ready for launch.