Indian Shipyard Launches Two Warships, Awaiting Further Orders
India launched two new warships for the Indian Navy on 17 May. The Surat and Udaygiri were launched at Mazagon Docks Limited (MDL) in Mumbai. Surat is the fourth and last guided missile destroyer of Project-15B class, while Udaygiri is the third stealth frigate of Project-17A class. Both warships have been designed by the Navy's Directorate of Naval Design (DND). The launch marks the commencement of the next phase involving extensive outfitting activities by the shipyard readying these ships for delivery.
The Project-15B class of ships are the next-generation stealth guided-missile destroyers of the Indian Navy, being built at the MDL, which are a follow-on class of the Project-15A (Kolkata Class) destroyers. Project-17A are a follow-on class of the Project-17 (Shivalik Class) using modular construction and sporting improved stealth features, updated weapons, sensors and platform management systems. Seven such frigates are under various stages of construction, with four at at MDL and the rest at Garden Reach Shipbuilders & Engineers (GRSE).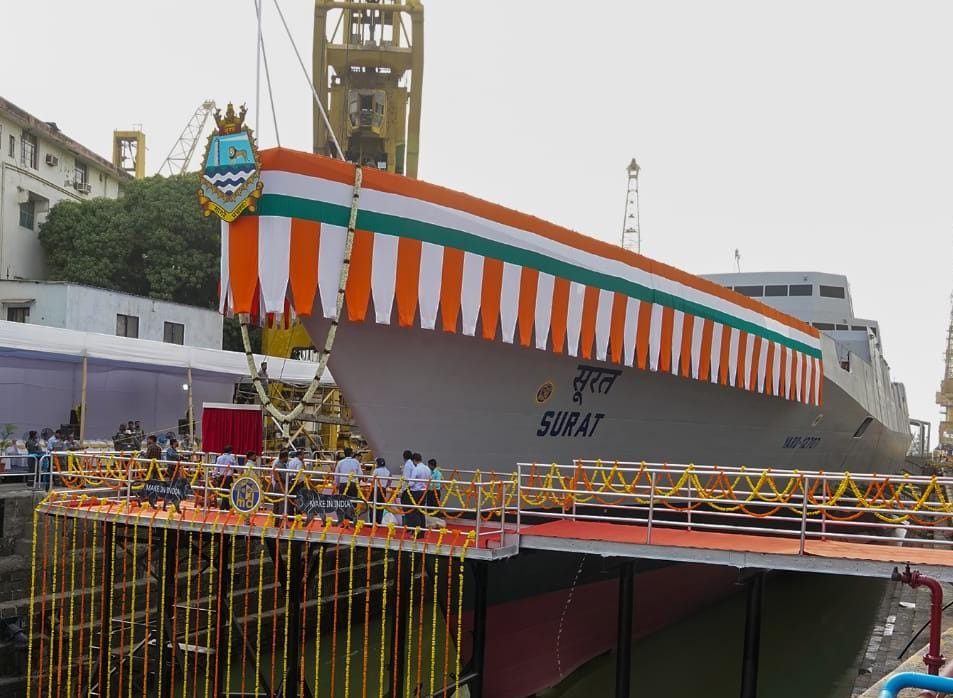 Three Visakhapatnam class (Project-15B) destroyers have already been launched, with the lead ship INS Visakhapatnam inducted in late 2021. The other two ships Mormugao and Imphal were launched in 2016 and 2019 respectively. The former is expected to be inducted later this year. The two frigates of the Project-17A class that were previously launched were Nilgiri by MDL in 2019 and Himgiri by GRSE in 2020. Two more ships of the class are expected to be launched this year, one by each yard. Both Surat and Udaygiri are notably more complete during launch than their predecessors. This, along with Covid-19, were likely the reasons for the relative delay in launch. The three destroyers in particular had been launched without most of the superstructure. However, Surat has a major portion of the superstructure built by launch.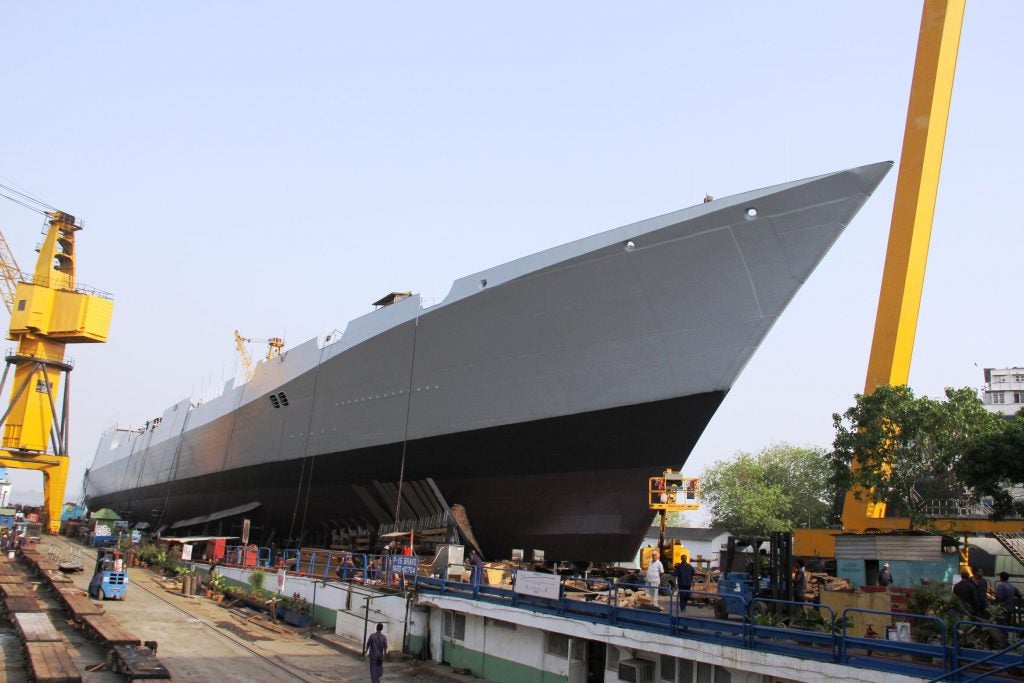 Defence Minister Rajnath Singh noted during the launch that more than two-thirds of the Navy's modernisation budget has been spent on indigenous procurement in the last five financial years. Of the 41 ships and submarines ordered by the Navy, 39 are from Indian shipyards. However yards such as MDL are struggling to get orders. MDL has the capability to build and maintain up to 10 ships and 11 submarines simultaneously. However, the submarine line has now been emptied with the launch of submarine Vagsheer in April. Major plans such as Project-75I for building 6 submarines and the Next Generation Destroyer (NGD) project for 5-10 such ships need to be fast tracked in order to achieve the Navy's fleet expansion goals and match the capability buildup by adversaries. MDL is the frontrunner for both of those projects.