Dutch Armed Forces Order Iveco Manticore MTV
The Dutch Armed Forces have selected the Iveco Manticore Medium Tactical Vehicle (MTV) to replace several of their current off road vehicles used by the Army and military police. 1,185 of the new vehicles, in several configurations have been ordered.
Dutch Secretary of State for Defence Christophe van der Maat made the announcement via social media on 22 April, with the Dutch Ministry of Defence holding a media day to introduce the vehicles. The vehicles are being procured to fulfil the Dutch military's Joint Replacement Programme of Wheeled Vehicles.
The vehicle was developed by Iveco from the Italian Multi Role Vehicle Protected (LMV) program and in Dutch service the vehicle will be designated the 12Kn – reflecting its capability of carrying payloads of approximately 1,200 kilograms.
The new Manticore infantry mobility vehicles will replace the Dutch Navy's Land Rovers, the Dutch Army's MB 290GD Wolfs and some legacy YPR-KMas still in service. Deliveries of the new vehicles are scheduled to run from 2023 to 2026.
Initial orders for a first batch of 918 vehicles were reported to have been placed in 2019. This number has now been increased to 1,185 with five variants planned including two combat variants: hard and soft top, a utility variant, an ambulance variant and a military police variant. The ambulance variant will be capable of carrying two stretchers while the combat variants can mount a remote weapon station and carry up to four passengers.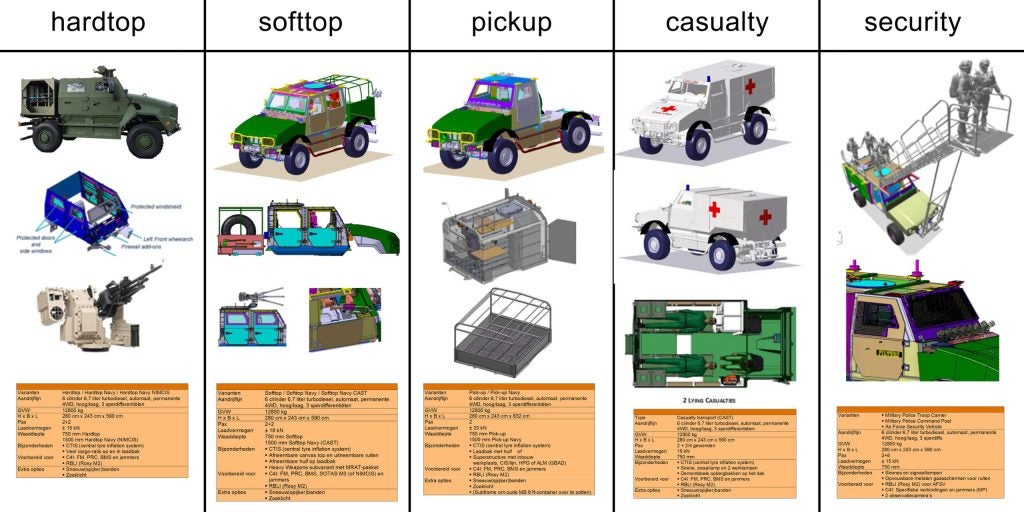 It has been reported that Dutch Military Vehicles (DMV) will be supplying 550 unarmoured logistics modules for the transport vehicles. These are said to include mobile workshops and command modules. The remote controlled weapon stations which have been ordered are FN Herstal DeFNder systems which mount 7.62x51mm FN MAG general purpose machine guns. Some variants have manned top mounted gun positions and the vehicles can be equipped with .50 caliber heavy machine guns, automatic 40mm grenade launchers and Spike anti-tank guided missiles. Other add-on equipment which will be procured includes protection packages, chemical and biological over pressure filter systems, winches and smoke launchers.