Turkey's Roketsan Unveils New Cruise Missile Family 'ÇAKIR'
Turkey's Roketsan unveiled its new cruise missile family named ÇAKIR, on March 31. It will have a focus on operational flexibility and is in its design phase. Roketsan plans to conduct the first tests within 2022.
ÇAKIR is described as a force multiplier and can be launched from aircraft including drones and helicopters, naval platforms including unmanned vessels and from land. It will have a range of over 150km and will use a network-based data link and human-in-the-loop capability, allowing for swarm operations, attack abortion and mid-flight updates of targets. The KTJ-1750 turbojet engine developed by Kale Arge will power the ÇAKIR. An agreement regarding this was signed on March 31.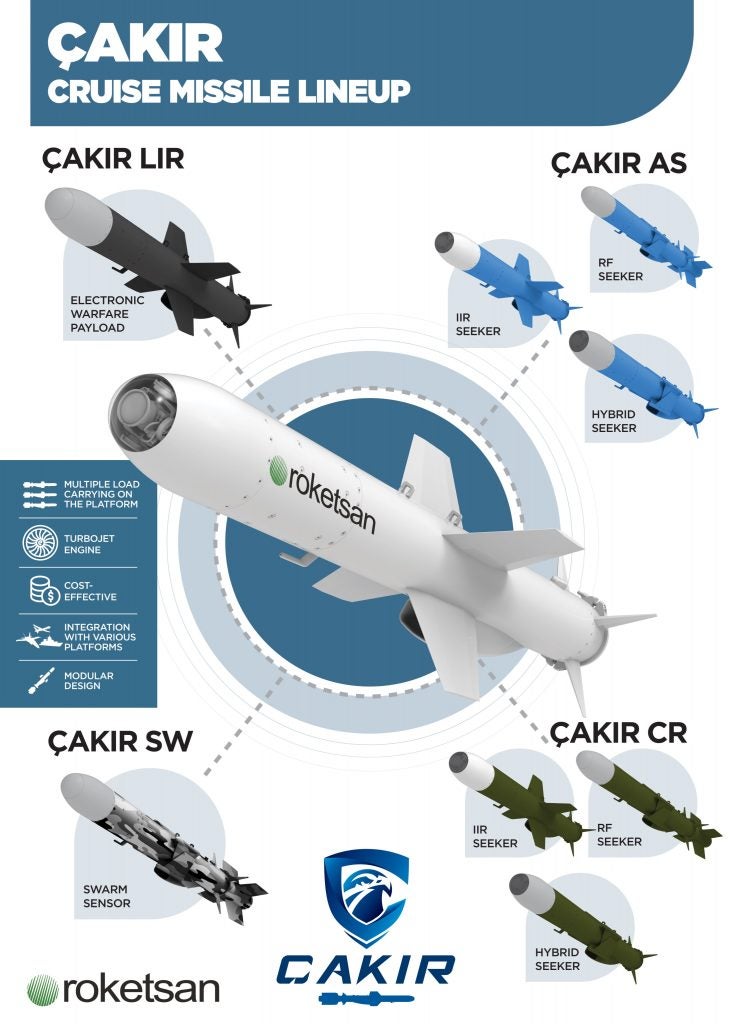 ÇAKIR will have mid-course guidance options such as altimeter aided inertial navigation system, Global Navigation Satellite System (GNSS) and terrain-based navigation. The terminal phase guidance options are Imaging infrared (IIR), RF seeker and hybrid seeker combining RF and IIR. Advanced waypoint navigation and multiple guidance options will allow for high precision and resistance to electronic attack measures according to Roketsan.
Multiple warhead options are planned for the modular missile. The missile would also be capable of carrying multiple payloads of up to four smaller missiles. along with the swarm capability, radar absorbing materials, sea skimming ability and terrain masking allows ÇAKIR to overcome hostile defenses and assures engagement of targets.
The subsonic missile will weigh about 275kg and feature a 70kg warhead. It is planned to be compact with a length of 3.3m and diameter of 275mm. Platform integration of the missile is expected to take place in 2023. The ÇAKIR would complement Roketsan's existing heavier cruise missiles such as the ATMACA anti-ship missile, KARA ATMACA land attack missile and the SOM air to surface missile family.