UPDATES: War In Ukraine (Day 30)
Yesterday marked the one month anniversary of the start of the war in Ukraine. Russia continued its bombing and shelling campaign of Ukraine's major cities and Ukraine managed to badly damage a landing ship at Berdyansk.

NATO and the G7 met yesterday with further promises of funding equipment made by both bodies. NATO Secretary General Jens Stoltenberg's term in office was extended by a year due to the ongoing crisis and President Zelensky addressed NATO leaders by video link and went on the offensive. He said that in February he had "addressed you [NATO] with a perfectly clear, logical request to help close our skies. In any format… Ukraine asked for your planes. So that we do not lose so many people. And you have thousands of fighter jets! But we haven't been given any yet."
Following the NATO summit Jens Stoltenberg said at a press conference that NATO would be realigning its strategy and that "today, NATO leaders agreed to reset our deterrence and defense for the longer-term to face a new security reality." The alliance's eastern flank has already been reinforced with new troop and asset deployments and new battlegroups established. Further longer term changes will be announced following NATO's next meetimg in June.
The Office of the UN High Commissioner for Human Rights (OHCHR) has reported that as of midnight yesterday there have been 2,685 civilian casualties – 1,035 killed and 1,650 injured. This morning local government in Mariupol announced that at least 300 had been killed in Russia's ballistic missile strike on the town's Drama Theatre last week.
Over on our sister site, TFB, we examined the small arms seen in use with both sides. You can read that here.
If you missed our coverage of the ongoing conflict yesterday, you can find it here.
This feed timestamps using local Eastern European Time (EET).
---
Updates
2:05AM (EET) – A senior US defense official has briefed on the latest on the situation in Ukraine. They believe that Russian forces have made progress along a "highway near Izyum… they have actually moved to the southeast of Izyum. It's difficult to say exactly how much – around 10 kilometers or so. We think they're trying to cut off the Donbas area… coming south out of Kharkiv, now south out of Izyum and trying to move to the southeast to really sort of cut off that joint force operation area in the Donbas" Izyum sits between Kharkiv to the northwest and Donetsk to the southeast. This perceived Russian effort is in line with the Russian Ministry of Defense's assertion today that Russian forces will be focusing on Donbas.
---
1:20AM (EET) – The Institute for the Study of War has published their daily report on the situation in Ukraine noting thst Russian forces have reached the city centre of Mariupol but Russia has largely halted offensive operations on other fronts. Ukrainian counter offensives around Kyiv have made additional small advances in the past 24 hours.
---
12:10AM (EET) – War_Mapper has shared their latest appreciation of the situation on the ground.
---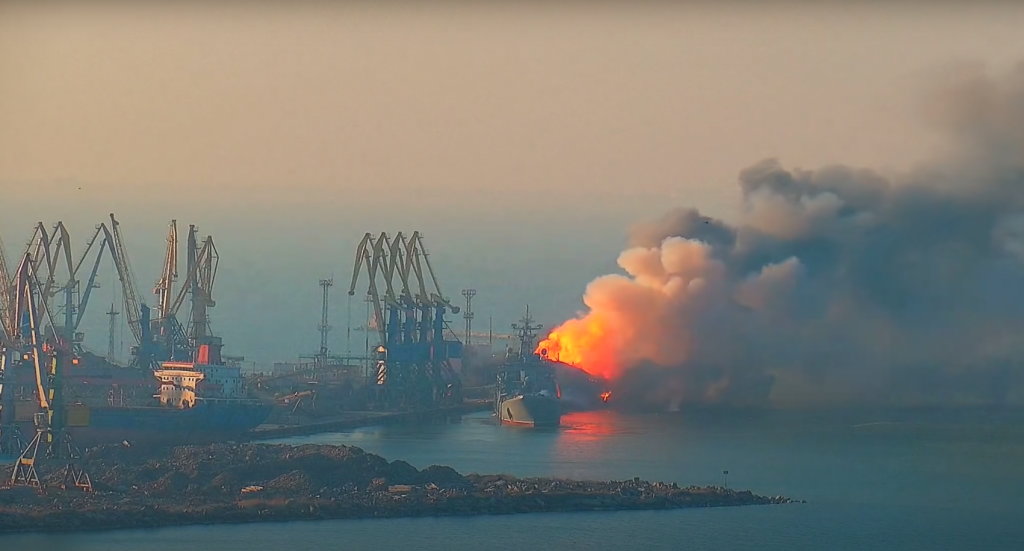 8:48PM (EET) – Yesterday the Ukrainian Armed Forces struck the docks at Berdyansk heavily damaging a Russian landing ship. Conflicting reports attribute the strike to a Tochka-U ballistic missile or a TB2 drone. Overt Defense has examined available footage of the incident to examine what might have been used to carry out the attack. Read the article here.
---
5:48PM (EET) – OSINT analysts Oryx have updated their list of visually confirmed Ukrainian losses. So far Ukraine have suffered 540 equipment losses including 77 tanks lost and 19 air defense systems.
---
4:43PM (EET) – The Russian Ministry of Defense has given an update stating that the first phase of its military operation in Ukraine is largely complete and that it forces in the field will be focusing on 'liberating' Ukraine's Donbass region. Russia claims to now control 93% of Ukraine's Luhansk region and 54% of the Donetsk region. The Russian MoD also updated on casualties suffered during their 'special operation', stating that 1,351 Russian soldiers had been killed and a further 3,825 injured. This represents the first update since the beginning of March. It is substantially below the numbers claimed by Ukraine and the estimates of Western intelligence sources.
---
4:08PM (EET) – The UK Ministry of Defence has released an updated map showing their appreciation of the situation on the ground.
---
2:08PM (EET) – The Ukrainian Ministry of Defense has released its latest figures on Russia's losses. It is claimed that Russia has now suffered over 16,000 casualties, lost 561 tanks and 240 aircraft. These claims have not been independently verified.
---
1:30PM (EET) – OSINT analysts Oryx have updated their verified list of Russian losses. 289 Russian tanks have bee confirmed as destroyed or captured.
---
1:20PM (EET) – The EU is moving forward with its Strategic Compass initiative which will see a move to greater defensive autonomy and the formation of a Brigade-strength EU task force.
---
12:12PM (EET) – The Ukrainian Ministry of Defense has suggested that Russia is having difficulties paying its troops on the ground. This claim has not been independently verified.
---
10:31AM (EET) – Over night the Russian Ministry of Defense claims to have used Kalibr cruise missiles to hit the fuel depot in Kalinovka, near Kyiv. Numerous reports of a large explosion and videos of a plume were share online last night.

---
8:36AM (EET) – The UN Refugee Agency has reported that 3.7 million people have now fled Ukraine with more than 6 million displaced inside the country.
---
7:46AM (EET) – According to reports from CNN Ukraine has requested 500 Stinger and Javelin missiles per day. CNN reports they were passed a 'wishlist' that Ukraine sent the US government which outlined what Ukraine needs in terms of weapons and equipment. If true this would be a tall order and a significant strain on US inventory. It seems unlikely that Ukraine are engaging enough targets per day to justify the reported request, more likely they are hoping to consolidate their logistics.