LIVE UPDATES: War In Ukraine (Day 28)
In the past 24 hours Ukrainian forces have been conducting successful localized counterattacks northwest of Kyiv around Marakiv. They have also reportedly repelled Russian and Separatist attacks in Donbas but the Ukrainian defensive pocket in Mariupol continues to shrink under Russian pressure. In the southwest Russian forces are struggling to make progress into Mykolaiv and may be preparing to bypass it to push on Odessa.
Ahead of the NATO summit this week Secretary General Jens Stoltenberg has announced the formation of more battlegroups on the alliance's Eastern flank. This will increase the number of NATO Battalion-sized battlegroups to 8. They are intended to provide capabilities and support to local forces.
Russia have claimed that their 'special operation' in Ukraine is going according to plan. Kremlin spokesman Dmitry Peskov told CNN that the operation was "going on strictly in accordance with the plans and with purposes that were established beforehand." Peskov reiterated the Russian claim that "after that, in a couple of days, it was perfectly clear for us… that Ukraine was going to launch an offensive against Donbass." Peskov also refuted the suggestion that the invasion was envisaged to take 'a couple of days' calling it a "serious operation with serious purposes."
A Senior Defense Official was unable to verify the casualty figures which were published, and subsequently removed, from Russian news outlet Komsomolskaya Pravda earlier this week.
If you missed our coverage of the ongoing conflict yesterday, you can find it here.
This feed timestamps using local Eastern European Time (EET).
---
Updates
12:17AM (EET) – The Ukrainian Ministry of Foreign Affairs has shared an English-language address from President Zelensky marking the 1 month anniversary of Russia's invasion of Ukraine. He calls on people around the world to publicly gather in support of Ukraine to mark the anniversary tomorrow.
---
12:10AM (EET) – The UK Ministry of Defence has shared a fresh update on the situation in Ukraine. The UK MoD's updates are normally fairly reserved but interestingly the latest is in line with broader reports of Russian forces northwest of Kyiv being encircled following successful Ukrainian counter-attacks.
---
11:40PM (EET) – A survey carried out by EVA (the Finnish Business and Policy Forum) has found that the majority of Finns now support NATO membership. A rapid turnaround of public opinion sees 60% of Finns support Finland's NATO membership and just 19% oppose it.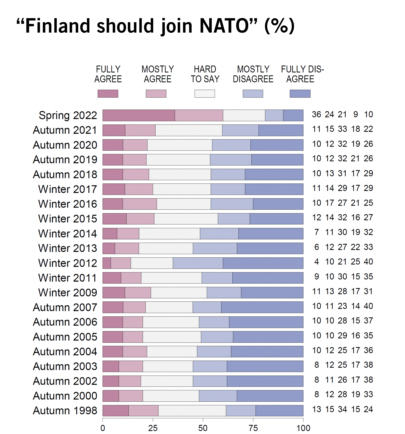 ---
8:20PM (EET) – Sweden's Riksdag will vote tomorrow on providing SEK 205 million ($21.7 million) worth of 'defense materiel', including 5,000 more anti-tank weapons.
Here's our run down on the anti-armor weapons that have been sent to Ukraine so far.

---
7:42PM (EET) – Drone footage of the besieged port city of Mariupol, said to be filmed within the last 24 hours. It shows the damage to just one of the city's suburbs.
---
7:35PM (EET) – Richard Engel, an NBC foreign correspondent, shared a video update following a briefing by Kyiv's deputy mayor. Showing a map cleared by the Kyiv local government, Engel explains Ukraine's counter-offensive to the west and east of the capital city. The map and the claims made by the Ukrainian government are difficult to independently verify.
---
7:15PM (EET) – The UN Refugee Agency's latest figures state that 3,626,546 people have now fled Ukraine. The daily number of refugees crossing into Poland is currently estimated to be around 30,000 per day. This has slowed since the beginning of March when over 100,000 people were crossing per day.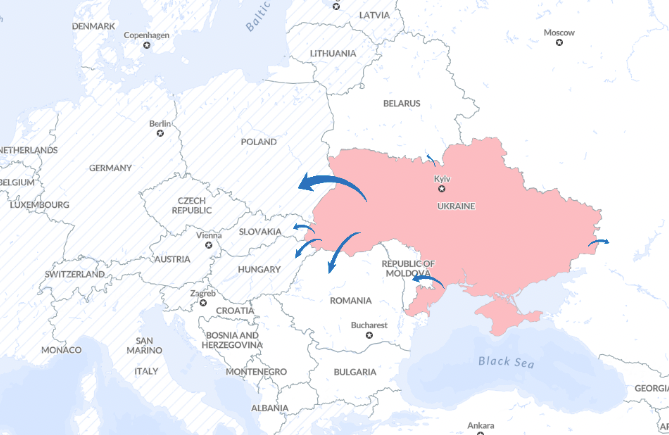 The Polish government estimates that 2,144,244 Ukrainian's have crossed their borders since 24 February, thought it is unclear how many have temporarily settled there and how many have moved on to alternative final destinations across Europe. It is estimated that 371,104 have sought refuge in Moldova, with the number crossing slowing significantly in recent days. 555,000 are thought to have fled to Romania, another of Ukraine's immediate neighbours. In contrast the UN believes just 271,254 have travelled into Russia, the accuracy of this number is unclear.
---
6:50PM (EET) – The Associated Press quotes a senior NATO source in saying that intelligence estimates suggest 7,000 to 15,000 Russian troops have been killed in Ukraine in a month's fighting. This very broad estimate falls in line with the numbers published, and then retracted, in Komsomolskaya Pravda earlier this week. On 21 March, KP suggested that 9,861 Russian soldiers had been killed and 16,153 more injured in Ukraine. This fits within NATO estimates that also suggest that as many as 40,000 Russian personnel have been wounded.
---
6:10PM (EET) – The Ukrainian news outlet Kyiv Independent has reported that the Bucha City Council has stated that the towns of Bucha, Irpin and Hostomel to the northwest of Kyiv have been surrounded by Ukrainian forces – encircling the Russians in the area. This has not yet been independently verified.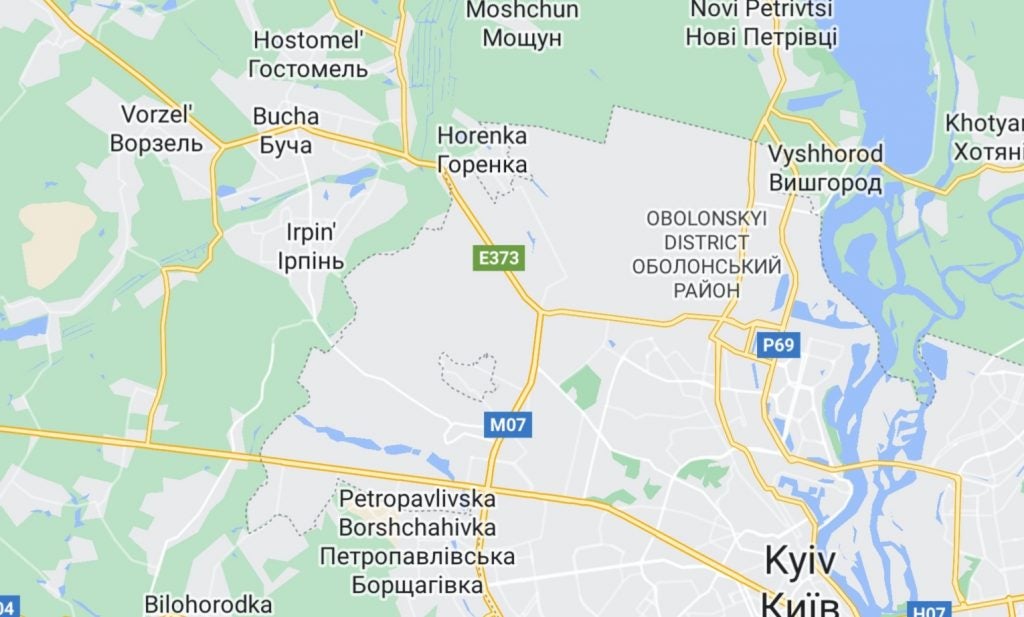 ---
5:20PM (EET) – Russian state news agency TASS reports that Russian Human Rights Commissioner Tatyana Moskalkova has confirmed prisoner exchanges with swaps taking place yesterday. Ukrainian sources have previously mentioned exchanges but no numbers have been shared. Moskalkova simply said "we returned nine of our boys."
---
4:10PM (EET) – Forces News, a UK armed forces focused news outlet, has shared a report on the air defense systems set to stravel to Poland. The missile systems include the short range Starstreak and the medium range Skysabre. The report makes no mention of the transfer of Starstreak to Ukraine but does emphasise the difficulty in training with the system.
---
3:40PM (EET) – Addressing the Bundestag Annalena Baerbock said that "More Strela shipments are on their way," to Ukraine. Strela MANPADS are of Cold War East German manufacture and Germany has suggested sending some 2,700 – 500 have already been dispatched.
---
3:25PM (EET) – NATO Secretary General Jens Stoltenberg has announced that NATO will be standing up battlegroups in Hungary, Romania, Bulgaria and Slovakia.
---
3:10PM (EET) – The UK Ministry of Defence has written to YouTube to request that they cease hosting Russian propaganda videos. The letter is in reference to clips of a hoax call where Defence Minister Ben Wallace believed he was speaking to the Ukrainian Prime Minister. The letter, however, only mentions NLAWs.
---
1:40PM (EET) – OSINT analysts Oryx have updated their verified list of Russian losses, including a number of electronic warfare systems.
---
12:20PM (EET) – Overnight Christian Triebert, of the New York Times, has shared the latest satellite imagery of Mariupol from Maxar. It shows se of the destruction caused by the Russian bombardments and bitter street fighting in the city.
---
9:20AM (EET) – The UK Ministry of Defence has reported that protests in occupied Ukrainian towns and cities continue with the threat of violent reprisals increasing.
---
8:50AM (EET) – The Institute for the Study of War has shared their daily report on the situation in Ukraine. It states that Ukrainian forces have been conducting successful localized counterattacks northwest of Kyiv and repelled Russian and Separatist attacks in Donbas.