UPDATES: War In Ukraine (Day 27)
A Senior Pentagon source said yesterday that the Russians have launched more than 1,100 missiles against Ukraine. The source also reported that analysis suggests Russia's guided munitions have had some technical issues and speculated that the reported recent use of a high-value hypersonic missile could indicate their stocks of conventional missiles is becoming depleted. Though the source later stated that Russia has the majority of their ballistic missile capability's still available and more than half of their air-launched cruise missile capability available to them.
The Pentagon briefing also updated on the timescales for the delivery of the latest package of aid worth $800 million signed off last week:
"we are still fleshing out the security assistance package that the president signed out, the $800 million. None of that has arrived yet. We're still fleshing all that out. But it will arrive — we believe it will arrive very, very soon or at least initial — the initial shipments will start to arrive soon. But nothing has been actualized on that yet. I will say we expect by the end of this week to complete the rest, the remaining. And it's not very much left of the $350 million package."
The European Union has announced the standing up of a rapid reaction force. The new security strategy, known as 'Strategic Compass', will see a 5,000 strong force formed by 2025.
Oleksii Reznikov, Ukraine's Defense Minister, visited the UK yesterday for talks and stopped off in Poland on his return today.
The Ukrainian General Staff has continued to warn that Russia is seeking to conduct a provocation that will bring Belarus into the war. However, given the Belarusian military's manpower deficiencies an offensive into western Ukraine from Belarus seems unlikely to succeed.
Intriguingly, yesterday an article was posted on Komsomolskaya Pravda, a Russian tabloid, website. It shared some interesting Russian casualty numbers, it stated 9,861 Russian soldiers had been killed and 16,153 more injured in Ukraine. Far above what has been publicly acknowledged by the Russian Ministry of Defense. The article appears to have since been edited to remove the figures, however, an achieved version remains. If the figure of approximately 25,000 casualties is correct then Russia's losses over the last 3 weeks have been staggering.
If you missed our coverage of the ongoing conflict yesterday, you can find it here.
This feed timestamps using local Eastern European Time (EET).
Updates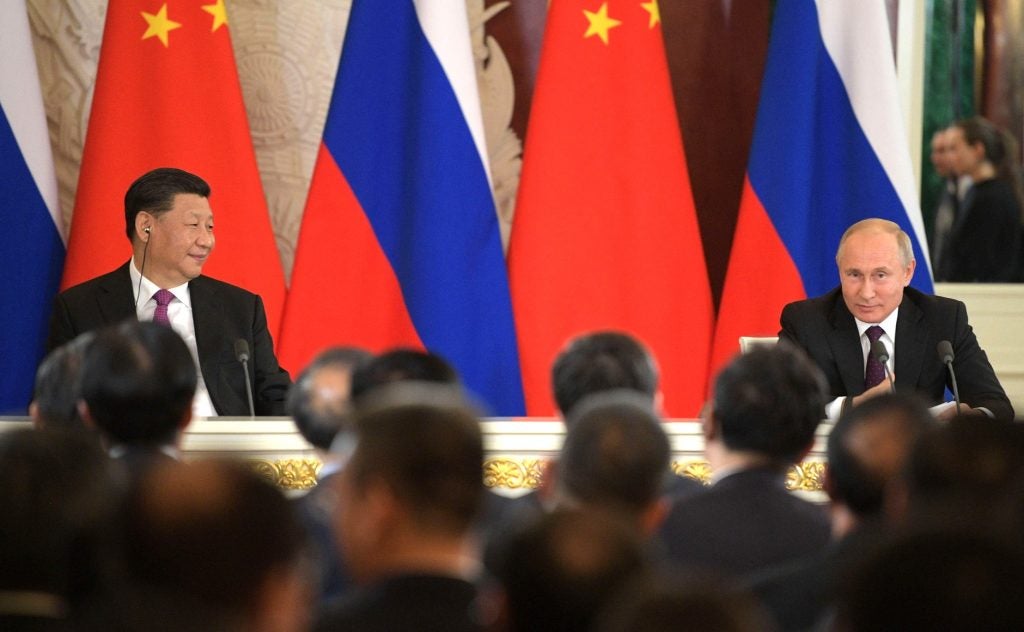 7:50PM (EET) – Jakub Wozniak examines China's shifting attitudes and responses to the war in Ukraine in our latest editorial.
Initially, China's attitude towards the invasion of Ukraine could best be described as tacit consent. With Russia's war not going as planned, Beijing has been moving away from Moscow. Read more here.
---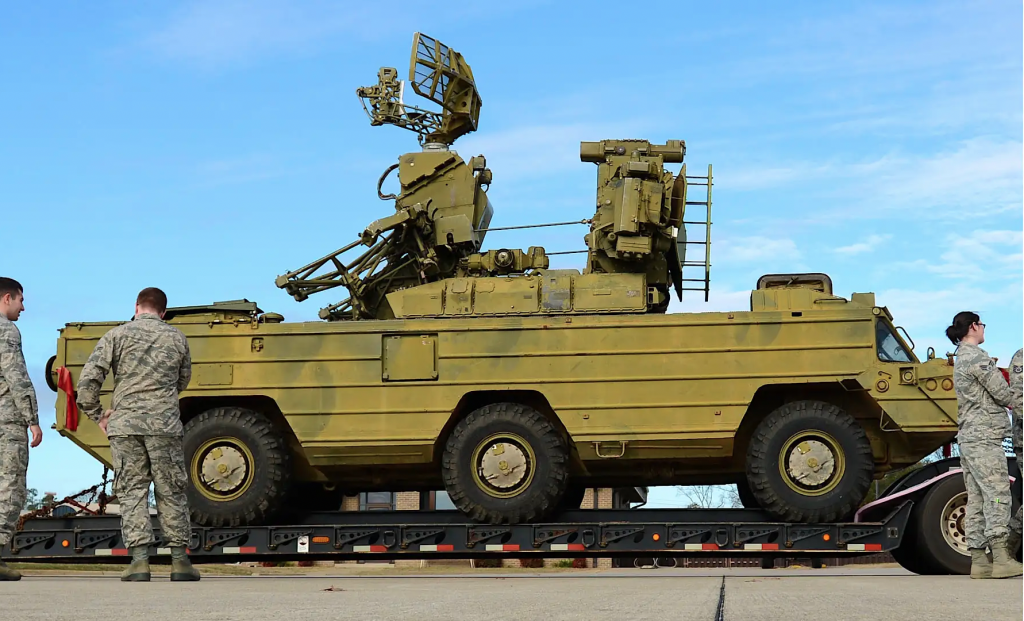 6:20PM (EET) – The Wall Street Journal suggests that the US has sent 9K33 Osa short range air defense systems to Ukraine. The 9K33 Osa or SA-8 in NATO nomenclature, is a Soviet-designed and built system which is still in Russian and Ukrainian service. The US reportedly has several of these systems which are used for foreign systems familiarisation and Foreign materiel exploitation (FME). FME involves the analysis, testing, and evaluation of foreign systems and materiel (including against US equipment) to understand its capabilities.
How many of these 9K33 Osa systems the US has in inventory and what their condition and capabilities are is unclear. The WSJ article by Nancy Youssef did however, state that the US government has already transferred an undisclosed number of systems to Ukraine from storage at the U.S. Army's Redstone Arsenal in Huntsville, Alabama.
Ukraine have already captured and destroyed numerous 9K33 Osa, with Oryx stating at least 6 have been visually confirmed as damaged, destroyed or captured.
---
3:10PM (EET) – The UK Ministry of Defence has responded to a video shared by the Russian Ministry of Defense which shows Separatist DNR forces training with captured NLAWs. The video shows at least 3 weapons.
The UK Ministry of Defence did not share or link to the video but tweeted "This video, like most Russian propaganda, is fed out to obscure and manipulate the truth.
People should be very sceptical about reporting on, and accepting as real, any part of these Russian state doctored clips."
---
2:42PM (EET) – According to OSINT analysts Oryx the Russian Armed forces have been visually confirmed to have lost 250 infantry fighting vehicles in the last 3 weeks of fighting.
---
2:35PM (EET) – According to reports from Reuters the Komsomolskaya Pravda article published yesterday, that appeared to report significant Russian casualties, was the result of an alleged hack according to the Russian government.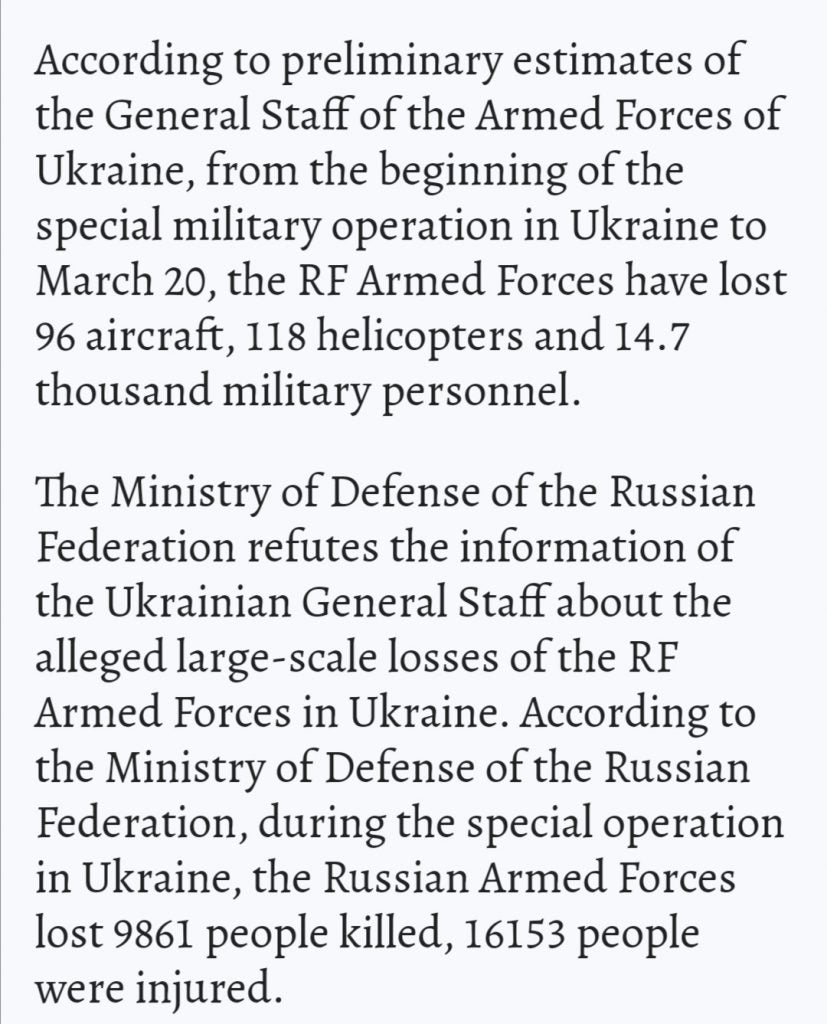 ---
2:20PM (EET) – The Ukrainian government and National Police have announced harsher sentences for a number of crimes including looting, robbery and extortion. The penalty for looting has increased from three to five years in prison.
---
1:55PM (EET) – The Ukrainian government has shared its latest estimate of Russian losses. They claim Russia has suffered 15,300 casualties, lost nearly 100 aircraft and over 500 tanks. These claims have not been independently verified.
---
1:37PM (EET) – OSINT analysts Oryx have updated their verified list of Russian losses.
---
12:05PM (EET) – The Times reports that the British Army has sent a training team to an undisclosed location in Eastern Europe, likely Poland, to train Ukrainian personnel on the High velocity short range air defense system Starstreak. The system requires users to actively track the target which makes the system more difficult to use with one British officer suggesting training could take several weeks. It is unknown how many systems have been offered to Ukraine.
---
11:20AM (EET) – This morning President Zelensky addressed the Italian parliament. Olga Tokariuk reports that one of his points was the rising casualties among children.
---
9:06AM (EET) – The UK Ministry of Defence has released an update on the situation in Ukraine. It notes that Russian forces have made little progress in the southern Ukrainian city of Mariupol and that on all fronts Russian forces remained largely stalled.
---
8:45AM (EET) – Over night the Institute for the Study of War shared their latest daily report. It notes unsuccessful Russian attacks in Donbas, little movement east of Kyiv and continuing urban fighting in Mariupol.