UPDATES: War In Ukraine (Day 12)
While the Russians seem to have made only limited tactical movements over the weekend there are signs that Russian forces are working to regroup in an effort to launch renewed advances on Kyiv in the North, Kharkiv in the east and Mykolaiv in the south. The Ukrainian Armed Forces are said to have made a limited counter offensive around Kharkiv.
Over the weekend Russia violated two Russian-Ukrainian ceasefire agreements, collapsing efforts to establish humanitarian corridors that had been agreed by high level negotiations late last week. The Corridors were planned to help evacuate civilians from Mariupol and Volnovakha but Russian shelling limited the evacuation to several hundred civilians.
Russia has enacted laws blocking various social media sites while Putin warned against a NATO no fly zone. Ukraine has announced efforts to move their economy to a war footing and various ministers and President Zelensky renewed calls to the west for a no fly zone or provision of combat aircraft.
If you missed our coverage of the ongoing conflict from yesterday, you can find it here.
This feed timestamps using local Eastern European Time (EET).
---
Updates:
2:05AM (EET) – Ukrainian defense intelligence directorate (GUR) has claimed that the 1st Deputy Commander and Chief of Staff of the 41st Combined Arms Army Major General Vitaliy Gerasimov has been killed in Kharkiv. If this is confirmed this would mean that the 41st Combined Arms Army has lost two Deputy Commanders.
---
12:14AM (EET) – The Economist has shared a video of Maxar satellite imagery of the column stitched together showing some of its length, it reportedly runs from Prybirsk to Hostomel.
---
11:50PM (EET) – Russia's RIA news reports that Putin has denied that any conscript soldiers (those who are not contracted professional soldiers) have or will be deployed to Ukraine. Some reports of the types of prisoners of war taken contradicts this. He also stated that "there will be no additional call-up of reservists from the reserve".
---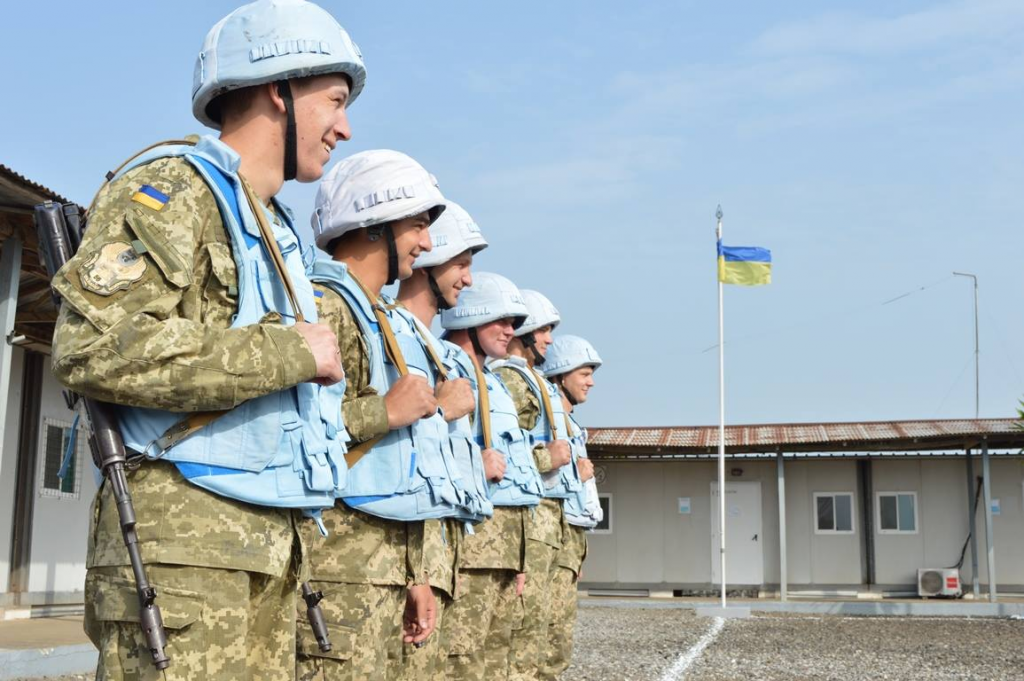 11:36PM (EET) – The Ukrainian government has reportedly announced the recall of all Ukrainian troops and equipment deployed on peacekeeping missions around the world. Andrij Sybiha, Deputy Head of Ukraine President's Office, shared a photograph of the signed order at approx. 11PM (EET).
If the order is legitimate then according to the United Nations, Ukraine is part of six United Nations peacekeeping operations including: "United Nations Organization Stabilization Mission in the Democratic Republic of the Congo, UN Mission in South Sudan, United Nations Peacekeeping Force in Cyprus, United Nations Interim Administration Mission in Kosovo, United Nations Interim Security Force for Abyei and the United Nations Multidimensional Integrated Stabilization Mission in Mali. The national contingent of Ukraine in MONUSCO is the largest in number and includes the 18th Separate Helicopter Unit of the Armed Forces of Ukraine." The exact number of troops this represents is currently unknown, estimates suggest several hundred.
---
11:10PM (EET) – An Editorial Note: The Big Picture
This feed, and others like it, aim to provide some semblance of what the war on the ground looks like, this is only possible through collating and sharing reports from the field from new outlets, government statements, open source intelligence sources such a social media posts from soldiers and civilians engaged in the war. We must understand that not only do all of these sources have inherent bias but they are also subject to and part of the info war which is being simultaneously fought. What we're seeing is far from the full picture of the war and this is something we should remember.
We have shared maps from the UK Ministry of Defence, the Institute for the Study of War and numerous OSINT analysts. While each offers insights and valuable visualisation of what, to onlookers, appear to be a stream of social media posts showing destroyed vehicles, damaged buildings and abandoned landscapes. They, however, have to be taken with some understanding that while they look authoritative none are precise representations of the tactical or strategic realities on the ground (nor would they claim to be). They're useful tools but they have to be quantified by their inherent shortcomings – as with all of the information we have access to.
The overall picture from media outlets and carefully curated by Ukrainian government social media accounts is that Russia is being held at bay by a combination of their own incompetence and impressive Ukrainian combat performance. While there is truth to this picture we must also appreciate that it is impossible to get a clear picture of the war on the ground through the sources available. The highly fluid nature of the fighting and the factors impacting the military forces at play make it a confusing picture. While the Ukrainians are undoubtedly performing well it is worth remembering that compared to Russian forces they have fewer available combat forces and are extremely stretched by multiple offensives from numerous axis of attack.
The southern front is undoubtedly the most tenuous for the Ukrainians with the southern strategic city of Kherson lost, the Zaporizhzhia nuclear power station in Russian hands and Russian forces now on the northern bank of the Dneiper threatening Mykolayiv. While the encircled Mariupol continues to hold out an east to west coastal corridor blocking, essentially land locking Ukraine, is a key Russian campaign goal – one which they are slowly succeeding in. Much relies on the resilience of Russian logistics and the will of not only their troops on the ground but also their commanders in Moscow.
---
11PM (EET) – We have shared a number of the Study of War Institute's maps over the last few days. The institute's Chief of Staff Jennifer Cafarella has shared the methodology behind them:
---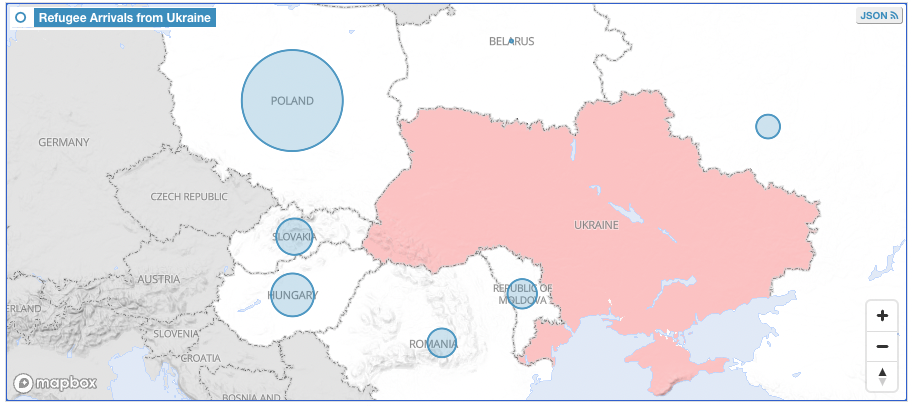 10:30PM (EET) – The UN Refugee Agencies latest refugee estimate state that some 1,735,068 have fled Ukraine so far. Below is a breakdown of their destinations, as of 6 March:
| | | |
| --- | --- | --- |
| Poland | 6 Mar 2022 | 1,027,603 |
| Other European countries | 6 Mar 2022 | 183,688 |
| Hungary | 6 Mar 2022 | 180,163 |
| Slovakia | 6 Mar 2022 | 128,169 |
| Republic of Moldova | 6 Mar 2022 | 82,762 |
| Romania | 6 Mar 2022 | 78,977 |
| Russian Federation | 3 Mar 2022 | 53,300 |
| Belarus | 4 Mar 2022 | 406 |
---
8:12PM (EET) – The first of the Belgian FN FNC rifles transferred by Belgium have appeared in images online.
---
7:05PM (EET) – Another open source intelligence-based map from War Mapper suggests fresh Russian pushes to encircle Kyiv with advances on Gostomel and Bucha reported, but yet to be confirmed.
---
6:50PM (EET) – Spanish C-90 anti-armour weapons appear to have reached Ukrainian forces at the front line. The location of the video below is unclear.
---
6:15PM (EET) – Nathan Ruser, an ASPI Cyber Centre researcher, has shared his latest map of the situation on the ground. He has also explained his objectives with the maps and why he only shows the lines of advance of Russian forces.
---
4:30PM (EET) – Rob Lee, a senior fellow at the Foreign Policy Research Institute, has begun sharing confirmed Russian personnel casualties. Using Russian official, media and social media sources he's tracking casualty numbers and also notable deaths such as those of senior officers. Morbid but it offers some insight given Russia's reluctance to divulge official, accurate casualty returns.
---
3:50PM (EET) – OSINT analysts Oryx have shared a revised list of Russian losses they have been able to verify.
---
3:15PM (EET) – The UN Refugee Agency has reported that the number of refugees leaving Ukraine has now topped 1.7 million people.
---
2:30PM (EET) – Russian presidential spokesman Dmitry Peskov has outlined Russia's conditions for the end of thier "special military operation": first Ukraine recognise Crimea as Russia and the Separatist regions in Donbas as independent and second, a change to the Ukrainian constitution stating they won't seek to join NATO or the EU.
---
2:15PM (EET) – According to Russia's RIA Leonid Slutsky, head of the Duma Committee on International Affairs and a member of the Russian delegation at the talks with Ukraine has called the Russian Ministry of Defenses claims that they have discovered evidence Ukraine was developing chemical weapons a 'good reason' for invading Ukraine.
The claims were made by spokesman for the Russian Defense Ministry, Major General Igor Konashenkov, on Sunday.
---
1.50PM (EET) – The Ukrainian Ministry of Defense has announced the formation of a special forces element of the International Legion, which falls under the GUR (Chief Directorate of Intelligence). The unit is made up of international volunteers who are special forces veterans. The unit has been placed under the command of Brigadier General Kyrylo Budanov, the Chief of the Defence Intelligence. The announcement notes that more than 20,000 volunteers from 52 countries have arrived.
---
10:35PM (EET) – The Ukrainian Parliament has shard an info graphic showing the losses the Ukrainian military claims to have inflicted on Russian forces. Perhaps the most important figures shown are the 60 fuel tankers and 454 vehicles claimed destroyed – attacking Russia's logistics train. These figures have not yet been independently verified.
---
1:20PM (EET) – Presidential advisor Mikhail Podoylak has tweeted to announce that the next round of talks with Russia will begin at 4PM local time.
---
1:10PM (EET) – The Ukrainian Parliament has shared some advice on what Ukrainian civilians should do if caught in a fire fight. It suggests dropping to the ground in the foetal position, feet towards the gun fire, and to remain still. It also recommends using cover and for those homes under bombardment the blocking of windows with sandbags or furniture.
---
10:22AM (EET) – Ukrainian government social media accounts have been sharing videos of support from Western celebrities including Sting and Jamie Heinemman of the TV show Mythbusters.
---
10:12AM (EET) – The Ukrainian Ministry of Defense shared a morning situation report which suggests that Ukrainian Marines have attacked forward deployed Russian helicopters at a airfield near Kherson. They claim to have destroyed 30 enemy aircraft. This has yet to be independently confirmed. Analyst Konrad Muzyka reports that satellite imagery from yesterday showed 49 helicopters at the airfield.
---
8:25AM (EET) – The Institute for the Study of War has released an updated situation map showing developments on the ground based on open source intelligence.