UPDATES: War In Ukraine (Days 10 & 11)
Day 11 – 6 March 2022
There have been renewed attempts to establish ceasefires and humanitarian corridors around Mariupol. Civilian protests in Russian-occupied Kherson continue but the country's other major cities remain in Ukrainian hands. The Ukrainian government continues to make calls for either a no fly zone or the transfer of combat aircraft to ensure Russia can't attain air domination.
This feed timestamps using local Eastern European Time (EET).
---
---
Updates:
6 March 2022:
---
1:30AM (EET) – Ukraine War Map, an open source map tracking the situation on the group, has shared an update.
---
12:40AM (EET) – Ukraine's General Staff have shared an update on the situation on the ground. They state little has changed with continuing fighting on all fronts and Russian shelling of civilian areas. One piece of good news for Ukraine is that Chuhuiv, 30km east of the besieged city of Kharkiv, is reported to have been cleared of Russian forces (though it was never announced to have fallen). This would suggest in at least one area the Russian attempts to encircle the city have been rebuffed. This claim is difficult to independently verify and the situation the ground is extremely fluid.
---
12:10AM (EET) – OSINT analysts Oryx have shared updated figures for verified losses of both Russia and Ukraine. Ukraine is reported to have lost 45 tanks, 35 armoured vehicles, and at least 8 aircraft. In contract Russia is said to have lost 120 tanks, 79 armoured fighting vehicles, 10 aircraft and perhaps most crucially 255 trucks – key to Russian logistics.
---
10:04PM (EET) – The Ukrainian government have announced a transition to wartime economy with vital industries to be reorganised to the west and to offer those now our of work one-time assistance payout. Prime Minister Denys Shmyhal announced funding for reestablishing industry and placing the economy on a war footing.
8:50PM (EET) – The UK's Ministry of Defence has released an update reporting that the planned 10AM-9PM ceasefire was broken within hours with Russia claiming it was broken by Ukraine.
Admiral Tony Radakin, the UK armed forces Chief of the Defence Staff, spoke on BBC News earlier today to give his appreciation of the situation:
---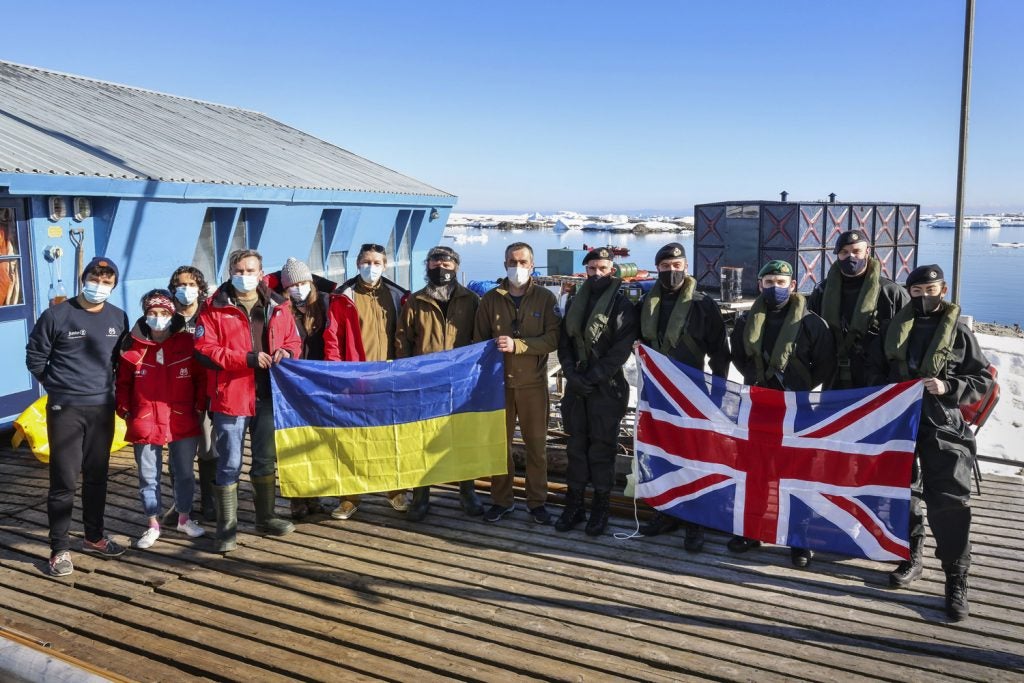 8:15PM (EET) – One aspect of the war that many will not have considered is Ukraine's Antarctic base at Vernadsky. 21 Ukrainian scientists maintain the polar research station, now largely cut off from their country. A 5 March press release from the Royal Navy confirms a visit.
The UK Royal Navy's HMS Protector dropped in on the research station to check in on the scientists and show solidarity. HMS Protector is an ice-strengthened survey vessel and dropped fresh supplies with the scientists.
---
6:48PM (EET) – Earlier today the Command of the Special Operations Forces of the Armed Forces of Ukraine shared a very interesting video demonstrating how to set up and use a Javelin anti-tank guided missile. Ostensibly it seems the video is for training purposes for those likely to operate the system but haven't had a proper training session on them. We have already seen some photos (shared by the Ukrainian MoD) that show ad-hoc training/briefings on Javelin.
---
5:40PM (EET) – President Zelensky made another call for the west to set up a No Fly Zone or at 'least give us planes' following missile strikes on Vinnytsia.
---
5:10PM (EET) – OSINT has confirmed that the AT4 anti-armor weapons are in country and have been issued to troops on the ground.
---
4:26PM (EET) – we have our first sighting of a technical, from OSINT sources, it shows a mounted with a PK-pattern machine gun mounted on a tripod on the back of a pick up truck.
---
3:55PM (EET) – The UK Ministry of Defence has released an updated version of thier situation map for Ukraine. It appears to predict a Russian push on Zhytomyr to the east of Kyiv.
---
3:13PM (EET) – It is not just military aid being sent to Ukraine. The Internal Affairs Ministry announced that Poland had handed over 7 fire truck.
---
2:45PM (EET) – Ukrainian evacuation efforts continued around Irpin, a western suburb of Kyiv.
---
2:15PM (EET) – Reuters report that the establishment of a humanitarian corridor in Mariupol has thus far failed, with both sides accusing the other of breaking the ceasefire.
---
11:30AM (EET) – Following yesterday's efforts to evacuate civilians from Mariupol and Volnovakha were cut short by the collapse of ceasefires, renewed efforts are being made today.
---
9:00AM (EET) – The UK Ministry of Defence has released an intelligence update on the situation in Ukraine. They believe that the "scale and strength of Ukrainian resistance continues to surprise Russia." They also note that the targeting of civilians is a long established Russian tactic. The MoD also commented on the Ukrainian targeting of Russian supply lines:
"Russian supply lines reportedly continue to be targeted, slowing the rate of advance of their ground forces. There is a realistic possibility that Russia is now attempting to conceal fuel trucks as regular support trucks to minimise losses."
---
8:30AM (EET) – The Ukrainian Ministry of Defense has give an update on the losses they believe they have inflicted on Russian forces. These claims have not been independently verified
The total combat losses of the enemy from 24.02 to 06.03 were approximately:


personnel – more 11 000,
tanks ‒ 285,
APV ‒ 985 од,
artillery systems – 109,
MLRS – 50,
Anti-aircraft warfare systems – 21,
aircraft – 44,
helicopters – 48;
vehicles – 447,
light speedboats – 2,
fuel tanks – 60,
UAV operational-tactical level – 4.
Data are being updated. The calculation is complicated by the high intensity of hostilities.




---
---
Day 10 – 5 March 2022
As the war in Ukraine enters its tenth day there are unverified reports of a possible Ukrainian counter-offensive towards the besieged eastern city of Kharkiv. Following the loss of the Zaporizhzhia nuclear power plant the Russians are said to now beoving on the Yuzhnoukrainsk nuclear power plant north of Mykolaiv.
Ukrainian cities, including Mariupol, continue to hold out. Attempts have been made to set up the humanitarian corridors, which were negotiated during talks between Russia and Ukraine yesterday. However, the ceasefire needed for these corridors to be established is reported to be tenuous.
Jakub Wozniak has written an in-depth breakdown of the first 7 days of the War in Ukraine – read it here.
If you missed our coverage of the ongoing conflict from yesterday, you can find it here.
This feed timestamps using local Eastern European Time (EET).

---
11:36PM (EET) – President Putin has signed a presidential decree stating that all Russian military personnel who died during the operation in Ukraine and Syria will receive a lump sum payment of 5 million rubles. (The equivalent to approx. $52,050).
---
10:50PM (EET) – Ukrainian Foreign Minister Dmytro Kuleba met with U.S. Secretary of State Anthony Blinken at the Ukrainian-Polish border earlier today. Discussions surrounded economic and political sanctions on Russia and the supply of weapons.
---
9:40PM (EET) – A No Fly Zone over Ukraine?
Ukraine's government continues to pressure NATO to establish a No Fly Zone over Ukraine. President Zelensky, this morning, expressed his exasperation with NATO saying "All the people who will die starting from this day will also die because of you [NATO]. Because of your weakness, because of your disunity."
This evening Ukraine's Defense Minister Oleksii Reznikov renewed the pressure and released a video message on his Facebook making an "appeal to the International community". He thanked the West for their assistance so far but then highlighted the recent battle for Zaporizhzhia nuclear power plant, likening the danger this fighting posed to the 1896 Chernobyl disaster. He concluded:
"You cannot observe a nuclear catastrophe from afar – it is not going to work out that way. Your arguments that the current refusal to implement A2/AD is related to the fact that NATO is trying to avoid the nuclear war is not convincing… the only way for all of us to survive, and I mean the whole world, is the A2/AD [air defense] zone."
At a press event this afternoon during a visit to Aeroflot President Putin was asked what Russia's response to a No Fly Zone to which he replied: "Any movement in this direct would be considered by us as participation in the armed conflict."
At a press conference on Friday Nato's secretary-general, Jens Stoltenberg, again warned that the introduction of a NATO-led no-fly zone could likely lead to a "full-fledged war in Europe involving many more countries and causing much more human suffering."
---
8:15PM (EET) – Russia's RIA news agency reports that the next round of talks between Ukraine and Russia will take place on Monday on the Ukraine-Belarusian border. The humanitarian corridors agreed at the last meeting were not upheld with violations of the ceasefires.
---
6:20PM (EET) – The UN refugee agency has stated that 1.3 million people have now fled Ukraine.
---
4:55PM (EET) – ASPI researcher Nathan Ruser has shared his situation map, one of many assembled by OSINT analyst, he notes the Kharkiv offensive but is unsure of its progress due to Ukrainian operational security. Ruser's maps focus on the highways which Russia forces having pushing down.
---
3:30PM (EET) – Russia news agency RIA report that President Putin claims that "work to destroy the military infrastructure in Ukraine is almost complete."
3:16PM (EET) – Head of Ukraine's Donetsk Regional Administration, Pavlo Kirilenko, has announced that 400 people have been evacuated from the vicinity of Volnovakha where heavy fighting has been reported. Kirilenko said more had planned to be evacuated but Russian shelling in the area prevented this.
---
3:05PM (EET) – OSINT analysts Oryx have shared updated figures on Russian losses they have been able to verify. The shoot down of an Su-34 and the capture of two more T-90 MBTs confirmed.
Photographs confirming the downing of the Su-34:
Some spectacular, geolocated but not unverified, footage of a helicopter, said to be an Mi-35, being shot down by a MANPADS:
---
2:36PM (EET) – Mariupol city Council is reported to have advised civilians that the planned evacuation was postponed due to a breakdown of the ceasefire.
---
2:28PM (EET) – The UK Ministry of Defence has released an update on the situation in Ukraine
---
1:30PM (EET) – The Ukrainian Navy have warned civilians and fishermen to avoid the areas around Odessa due to the danger of mines and a potential amphibious assault.
---
1:07Pm (EET) – The Ukrainian government has set up a website, fightforua.org, providing details on how foreign nationals can join the Ukrainian military and fight for Ukraine. The site lists details and its front page has an almost sales speel quality with phrases like "Vital Experience – Guaranteed!"
---
12:37PM (EET) – Michael Horowitz has shared some footage of protests against the Russian occupation in the southern city of Kherson. The time the footage was filmed has not been independently verified.
---
12:13PM (EET) – Head of Ukraine's Donetsk Regional Administration, Pavlo Kirilenko, has confirmed, in a post on Facebook, that the local ceasefire is in effect only for Donetsk (as of 10:55AM local time). He says negotiations still underway for Mariupol and confirm the entire route of the humanitarian corridor. Russian artillery fire is said to continue despite ceasefire.
---
11:27AM (EET) – Reports suggest that Russian troops are moving on the Yuzhnoukrainsk nuclear facility. It is the second largest nuclear power plant in Ukraine, after Zaporizhzhia which was captured yesterday.
---
11AM (EET) – US firearms and ammunition manufacturer Remington have announced that they will be sending 1 million rounds of ammunition to Ukraine.
---
10:05AM (EET) – The Ukrainian Ministry of Defense has given an update on Russian losses. They claim that the Russian forces have suffered 10,000 casualties, and lost 269 tanks, 945 armoured fighting vehicles and 80 aircraft of various types. These figures have not yet been independently verified.
---
8:05AM (EET) – In an update from the Ukrainian Ministry of Defense there are some hints that the reported counter-attack towards Kharkiv may be indeed be underway. The update says that Ukrainian forces continue to hold defensive lines but "in some areas they counterattack and force the enemy to retreat with losses, disrupt rear communications and inflict. devastating blows." It concludes by saying: "Unfortunately, we can't tell about all our successes yet, so as not to frustrate our plans. But believe us, in time everything will be known."