UPDATES: War In Ukraine (Day 9)
As the Russian invasion of Ukraine entered its ninth day Russian forces attacked Zaporizhzhia, Europe's largest nuclear power plant in a dramatic livestreamed battle. The attack on the plant was condemned by leaders around the world and Ukraine's President Zelensky condemned Russia as 'nuclear terrorists'.
Yesterday the fate of the Hetman Sahaidachny, the flagship of the Ukrainian Navy, was discovered. An images of the vessel sunk at her moorings in Mykolaiv was shared and Overt Defense confirmed the location of the vessel.
A second round of negotiations was held between representatives of Ukraine and Russia yesterday. While a ceasefire was discussed it was not agreed. Humanitarian corridors, however, were agreed and the Ukrainian government has request for the Red Cross help establishing them.
At the time of writing Ukraine still controls most of its major cities and Mariupol in the south continues to hold out.
If you missed our coverage of the ongoing conflict from yesterday, you can find it here.
This feed timestamps using local Eastern European Time (EET).
---
Updates:
3:10AM (EET) – Ukraine War Map, an open source intelligence project has shared their updated map showing their understanding of the situation on the ground. All open source maps should be viewed some scepticism.
---
2:50AM (EET) – OSINT analysts Oryx have shared thier verified update on Russian equipment losses.
---
2:20AM (EET) – There are unverified accounts that there may be a Ukrainian counter-offensive in the direction of the besieged eastern city of Kharkiv. There is little information available, outside of a number of Ukrainian journalists, to confirm this at this time.
---
9:20PM (EET) – Reports suggest the Russian Federation have moved to block both Twitter and Facebook. While these platforms aren't at popular in Russia as they are in Western Europe it is still a significant move. Telegram remains unblocked.
---
8:41PM (EET) – In a video posted earlier today Mykolayiv's mayor says most Russian vehicles and troops have been pushed out of the machinery the southern city. The situation in Mykolaiv remains unconfirmed.
---
8:10PM (EET) – Journalist and data analyst Denis Kazakiewicz has shared some video of damage to Zaporizhzhia reactor 3, which is believed to have been caused by Russian fire. Read our full report on the attack on the plan here.
Kazakiewicz has also shared photos said to be of the aircraft the Ukrainian Ministry of Defense claimed have been shot down today.
7:28PM (EET) – The video below is said to show a bridge at the border with Russian-Backed breakaway state Transnistria being blow. The veracity of the video has not been confirmed. Little has been seen from the potential Transnistrian front. While they have a small military they are augmented by garrisoned Russian forces. The operational plans seen in the recent Belarusian Security meeting suggest a push from or toward the break-away state is possible.
---
7:05PM (EET) – Radio Free Europe has shared an interesting video with a reporter asking Russian citizens, in Perm and Vladivostok, their opinion of the war.
---
6:21PM (EET) – OSINT analysts suggest that three Russian aircraft have been confirmed downed today, two close air support Su-25 and an Mi-8 transport helicopter.
---
6:12PM (EET) – The Ukrainian Ministry of Defense shared a video from the Kulbakino airport in Mykolayiv, stating the area had been recaptured. The video is yet to be independently verified.
---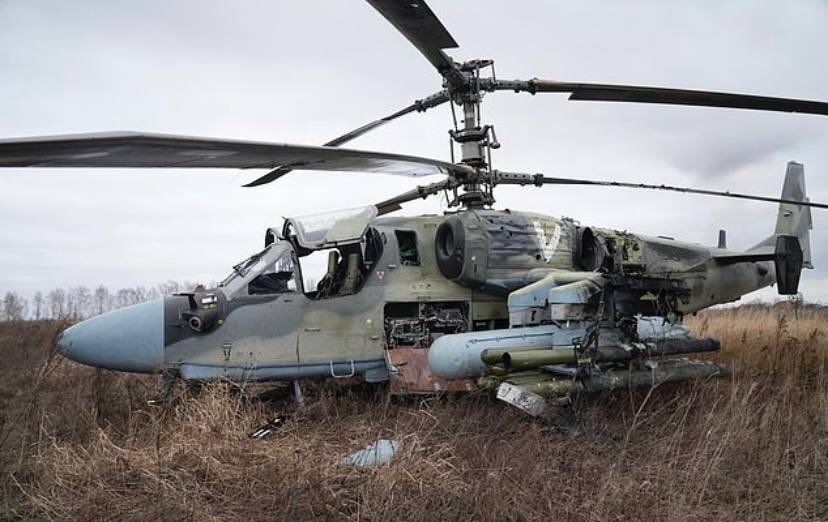 5:10PM (EET) – Overt Defense contributor Jakub Wozniak has written an in-depth summary of the first 7 days of the war in Ukraine. The article examines the war on the ground, the international efforts to sanction Russia, the information war being waged and the strategic implications of the conflict. Read the article, Ruso-Ukranian War: Seven Days In, here.
---
3:20PM (EET) – NATO press officer Rehanna Jones has stated that following meetings this morning Sweden and Finland will be more closely involved in NATO consultations surrounding the ongoing war in Ukraine.
This represents a step in closer ties between the NATO and the Scandinavian countries. Read our recent story about Finland and Sweden's relations with NATO here.
---
3:05PM (EET) – Ukrayinska Pravda, a Ukrainian online newspaper, has shared documents posted on Facebook by Russian businessman Mikhail Khodorkovsky, which suggest Russia may be preparing to mobilise its reserves. These documents have not been independently verified.
---
2:48PM (EET) – The US Institute for the Study of War has shared a map of their appreciation of the situation in Ukraine.
---
2:36PM (EET) – Russia news agency Meduza have reported that Kremlin spokesman Dmitry Peskov has stated that Russia has defined refused the idea of a direct discussion between Vladimir Putin and Vladimir Zelensky.
---
2:25PM (EET) – The Ukrainian Ministry of Defense has shared their appraisal of the situation as of 12PM local time. They believe that Russia has committed its second echelon and operational reserves and that in an effort to encircle Kyiv from the west assets have been diverted from the southern and eastern axis of advance.
Ukrainian intelligence anticipates a Russian amphibious landing in the Zatoka-Chronomorsk region.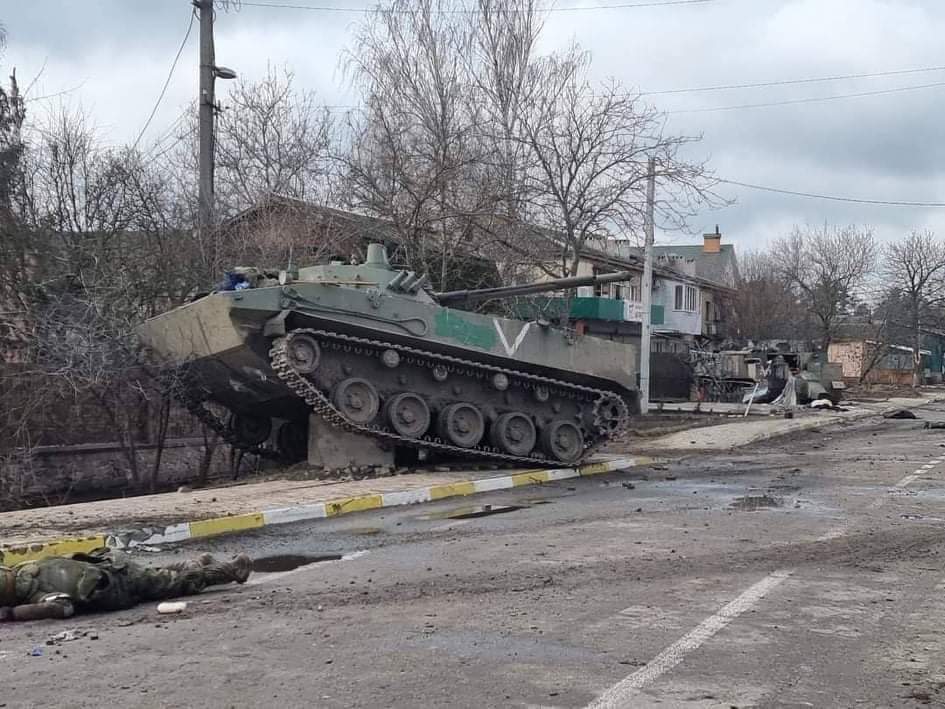 ---
2:03PM (EET) – President Zelensky has welcomed the formation of a UN inquiry into alleged Russian war crimes.
---
1:30PM (EET) – OSINT analyst Orion_int has been able to examine some higher resolution imagery of the area that Overt Defense believed the Hetman Sahaidachny to be located and confirm the frigate's fate.
---
1:26PM (EET) – UN High Commissioner for refugees, Filippo Grandi, has met with Moldova's President Maia Sandu to discuss UN support for Ukrainian refugees entering Moldova. The UN confirms more than 1 million people have fled Ukraine since the war began.
---
11:49AM (EET) – The Ukrainian Defense Intelligence agency has shared thier assessment of Russian losses. Claiming to have shot down 33 aircraft and destroyed over 250 tanks. These figures have not yet been independently verified.
---
11:42AM (EET) – The Ukrainian Ministry of Defense has shared their government's request for the Red Cross to help establish the humanitarian corridors which were agreed at the talks with Russia yesterday.
---
11:20AM (EET) – The Ukrainian Ministry of Defense has claimed that a Russian Su-34 has been downed near Volnovakha, north of Mariupol.
---
10:48AM (EET) – The Ukrainian Ministry of Foreign Affairs has released a photo of a police dog puppy named 'Bayraktar'.
---
10:28AM (EET) – Russian state media has released a TV report from Hostomel Airport, it shows the destroyed Antanov AN225 in its hangar. Notably the Russians have cleared the half a dozen knocked out light Russian vehicles which were seen in front of the hangar earlier this week.
---
10:12AM (EET) – Yesterday Haluk Bayraktar, CEO of Bayraktar – the Turkish drone manufacturer, shared a tweet in solidarity with Ukraine and describing President Zelensky as a 'brave man'.
---
9:08AM (EET) – The UK Ministry of Defence has released an update on the situation in Ukraine. It confirms our reporting on the battle at Zaporizhzhia and states that the southern port of Mariupol remains in Ukrainian hands.
---
8:45AM (EET) – The Ukrainian government have confirmed that the Zaporizhzhia nuclear power plant is now in Russian hands following a battle in the early hours of the morning.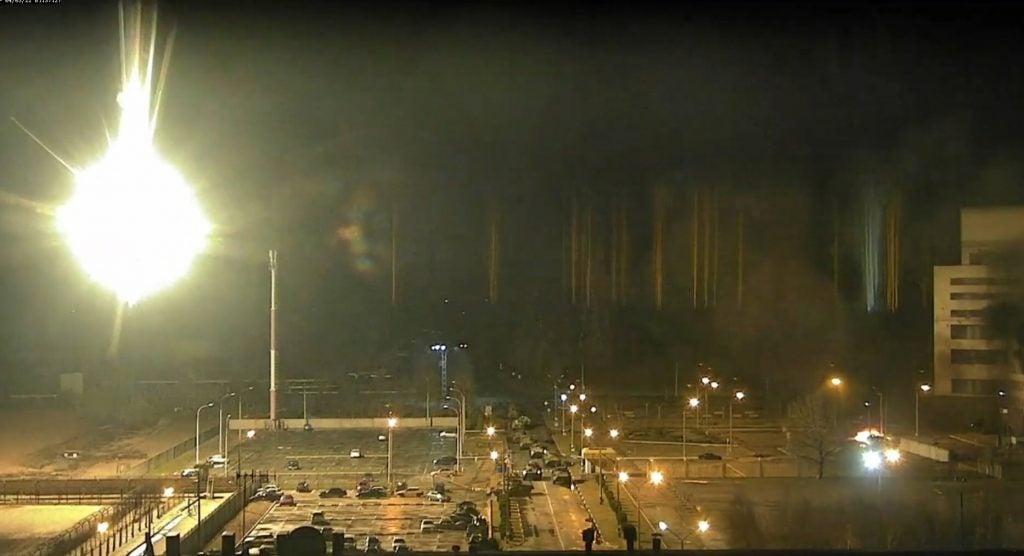 Read our full report on the fighting at Zaporizhzhia here.
---