UPDATES: War In Ukraine (Day 7)
As we enter the 7th day of the Russian invasion of Ukraine the majority of major cities remain in Ukrainian hands though Mariupol and Kherson are reported to be encircled.
There is evidence to suggest that Russian forces have begun to revert to more traditional tactics with troops now seen supporting armored fighting vehicles in advances and a vastly increased use of massed artillery fire against positions – including civilian areas.
While the Ukrainian line appears to be holding the large concentration of Russian forces west of Kyiv appears to be preparing for an assault on the capital city. Despite the well publicised TB2 drone strikes the Ukrainian armed forces are lacking in long range fires and air assets capable of interdiction Russian movements.
If you missed our coverage of the ongoing conflict from yesterday, you can find it here.

This feed timestamps using local Eastern European Time (EET).
---
UPDATES:
6:05AM (EET) – It is reported by Swiss media that the Swiss-registered parent company of the Nord Stream-2 project is on the verge of bankruptcy following the halting of the project last week.
---
6:45AM (EET) – Yesterday, in our article on Ukraine's use of the Bayraktar TB2 Drone we included a link to a propaganda song shared by the Ukrainian Ministry of Defense. The song now has a video and English subtitles.
---
10:10AM (EET) – OSINT suggests that Ukrainian forces have captured a Russian supply dump. Images unverified – location and date unconfirmed.
---
11:05AM (EET) – The Business Ukraine Mag have claimed "Ukraine has received a new batch of Turkish Bayraktar attack drones." We are currently seeking to verify this.
---
11:25AM (EET) – The New York Times has quoted a US Department of Defense official as confirming that some Russian soldiers are abandoning or disabling their vehicles in order to avoid fighting.
---
12:08PM (EET) – This morning Russian naval vessels, including a Grigorovich-class frigate, were sighted off Odessa.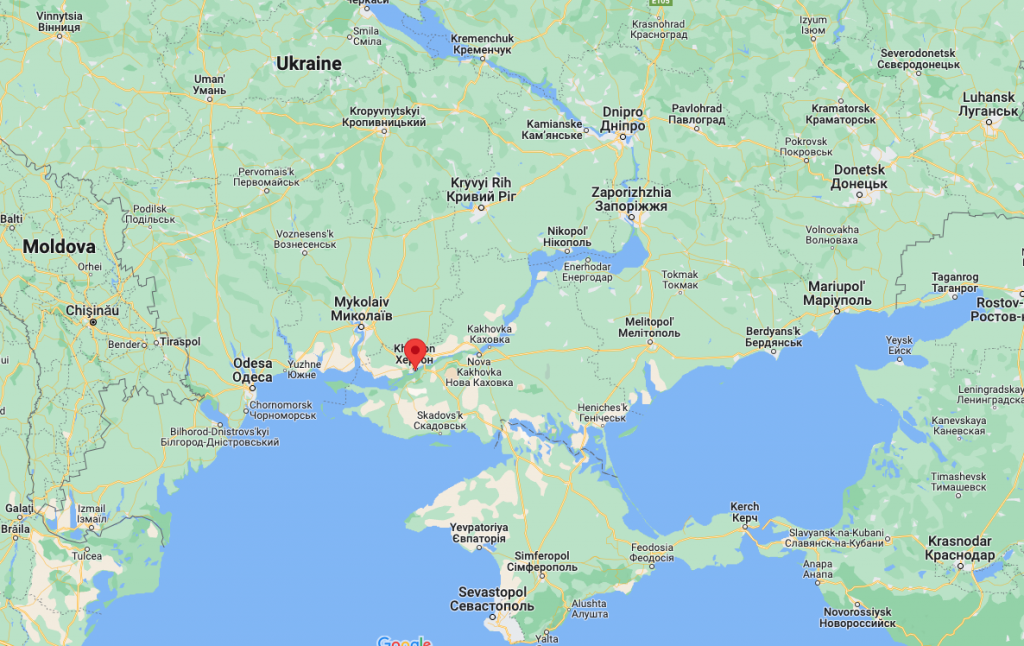 1:30PM (EET) – There has been some confusion over who controls the strategic southern city of Kherson. Russian defense ministry spokesman Igor Konashenkov claimed that " Russian divisions of the armed forces have taken the regional centre of Kherson under full control." While Ukrainian presidential advisor Oleksiy Arestovych denied this, as has the city's mayor Igor Kolykhaiev who posted on the city council's facebook page that "We are still Ukraine. Still firm."
---
1:55PM (EET) – The Ukrainian Ministry of Defense has shared photos of Russian vehicles and equipment apparently captured by the 93rd Mechanized Brigade. Vehicles include a refueling vehicle, GRAD MLRS and a T-72 variant.
---
2:00PM (EET) – The Kherson City Council Facebook page has shared a report on the significant civilian casualties suffered during the fighting for the city. The post suggests at least 50 civilians have been killed. The city is also suffering water, gas and electricity outages
---
2:30PM (EET) – The Ukrainian Ministry of Defense has shared photographs of a destroyed Russian column. Intriguingly, it is claimed that the ambush was the result of a tip via a new system, including a Telegram bot, set up by the Ukrainian government that allows civilians to report the location of Russian assets and units.
---
3:10PM (EET) – Numerous videos have been shared on social media showing protests involving Ukrainian civilians in Russian occupied urban areas including Melitopol in the south.
---
3:50PM (EET) – Joel Gunther of BBC World has spoken to Mariupol's deputy mayor. Reportedly sections of the city have been destroyed in fighting and shelling has been ongoing for 15 hours.
Supporting the expectation that Russia has begun to revert to thier standard urban fighting doctrine of destroying areas rather than sending in troops the mayor said "Russia does not fight with their army, they just destroy districts."
---
4:30PM (EET) – The Danish government has shared footage of the shipment of anti-tank weapons promised to Ukraine being shipped out.
---
5:18PM (EET) –The UK Ministry of Defence has shared a new map of the situation in Ukraine as part of their regular defence intelligence updates they have been sharing on the conflict.
---
5:20PM (EET) – Belarus' Belta news agency have reported that Russian delegation is travelling to meet for talks with Ukrainian representatives for a second round of talks.
---
5:40PM (EET) – China will not join international sanctions against Russia. Guo Shuqing, chairman of the China Banking and Insurance Regulatory Commission, told a press conference that "As far as financial sanctions are concerned, we do not approve of these, especially the unilaterally launched sanctions because they do not work well and have no legal grounds."
---
6:10PM (EET) – It is not just nations who are offering aid to Ukraine. US-based ammunition manufacturer Ammo Incorporated has offered to donate one million rounds of small arms ammunition to the Ukrainian Armed Forces. Find the full story at our sister site TFB.
---
6:55PM (EET) – The Ukrainian Army's Operational and tactical group "East" has shared what they suggest are Russian tactical and communications plans. Said to have been captured from a vehicle of the 1 battalion tactical group of the 810th Separate Guards Naval Infantry Brigade of the Black Sea Fleet the plans appear to show formation and comms information and reportedly give the initial 15 day plan for operations with Kyiv set to be taken before 6 March. The 810th's task appears to have been to act as a blocking force around Melitopol. The veracity and authenticity of the documents has not yet been independently verified.
---
7:15PM (EET) – OSINT analyst Kyle Glen has shared some drone footage of Ukrainian citizens blocking the road into Energodar, a city which contains Ukraine's most southern nuclear power plant.
---
7:22PM (EET) – The UN General Assembly has met in during a special "Uniting for Peace" session and has approved a resolution demanding that Russia cease fighting in Ukraine and withdraw all troops. This follows Russia's early vetoing of resolutions brought before the UN Security Council last week.
Five nations voted against the resolution: Russia, Belarus, Eritrea, Syria and North Korea. 141 countries voted in favour with a further 34 abstentions, notably including: China, Cuba, India, Iran, Iraq, Pakistan, South Africa and Vietnam.
The UN Secretary-General António Guterres responded in his speech following the vote, saying:
"The territorial integrity and sovereignty of Ukraine must be respected in line with the UN Charter. We don't have a moment to lose. The brutal effects of the conflict are plain to see. But as bad as the situation is for the people in Ukraine right now, it threatens to get much, much worse.
The ticking clock is a time bomb… Looking ahead, I will continue to do everything in my power to contribute to an immediate cessation of hostilities and urgent negotiations for peace. People in Ukraine desperately need peace. And people around the world demand it. "
---
7:25PM (EET) – Jack Detsch, national security reporter with the FP, reports that US officials believe that the Ukrainian Armed Forces have begun targeting the large Russian convoy approaching Kyiv.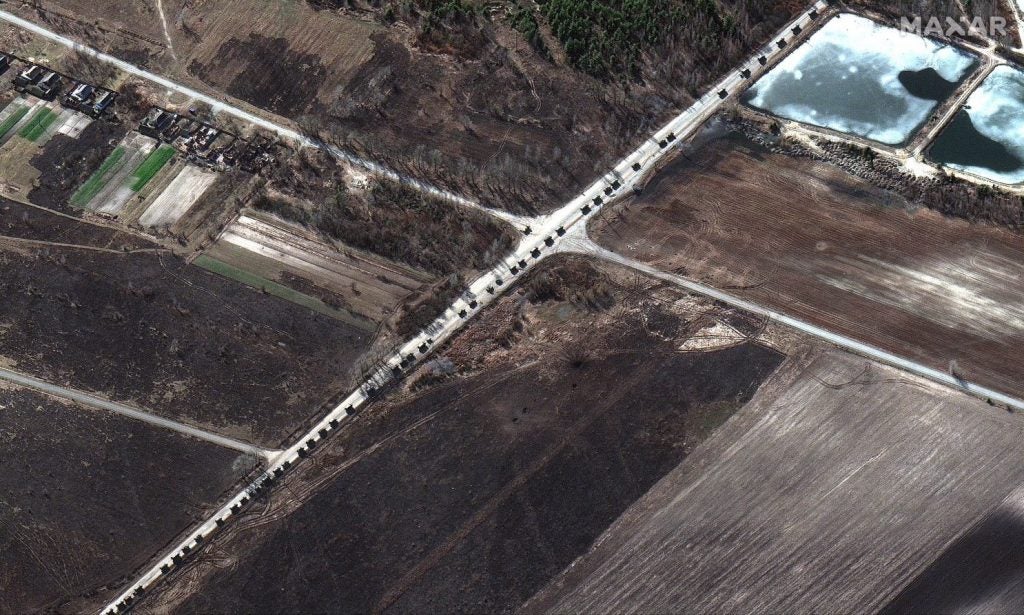 ---
7:40PM (EET) – An operational update shared by the Ukrainian General Staff has said that "In the current day, up to thirty fighter jets violated Ukrainian airspace, mostly from the Republic of Belarus, and bombed civilian population." It goes on to say that an amphibious landing near Mykolayiv was repulsed and that 180 missiles have been fired at Ukraine.
---
8:30PM (EET) – Russia's RIA News agency reports that the Russian MoD has confirmed that the Russian Armed Forces in Ukraine have sustained 498 killed and 1,597 wounded in action during the "peacekeeping" operation so far.
---
8:45PM (EET) – Filippo Grandi, the UN High Commissioner for Refugees, reports that more than 875,000 refugees have fled Ukraine so far. An increase of over 200,000 in 24 hours.
---
9:50PM (EET) – Ukrainian MP Lesia Vasylenko suggests that as many as 80,000 Ukrainian men have returned to the country to join the armed forces. Enough to form half a dozen divisions. The figure has not yet been independently verified.
---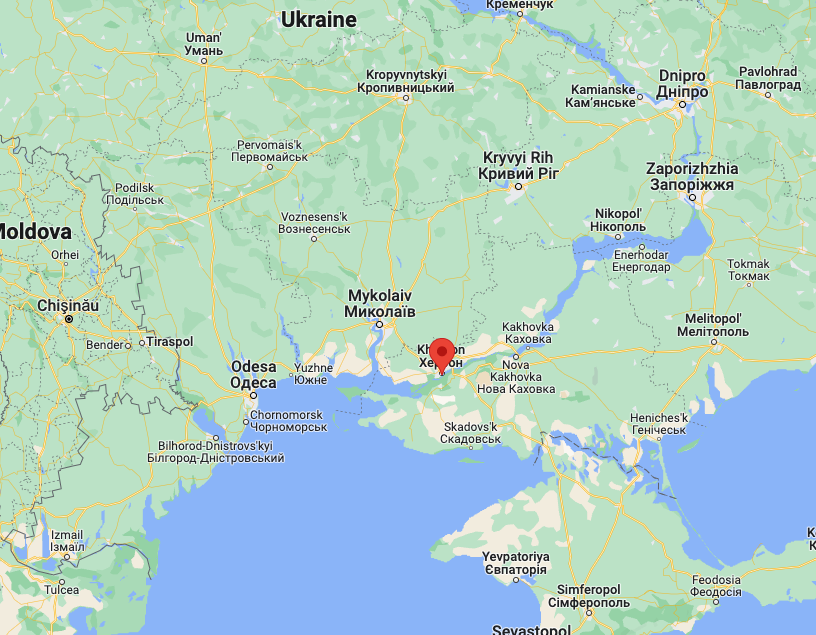 10:07PM (EST) – According to reports from the New York Times' Michael Schwirtz the strategically important southern Ukrainian city of Kherson, on the banks of the Dnieper river, has fallen. The city's mayor Igor Kolykhaev told NYT that he has been forced to meet with Russian forces who plan to establish a military administration. The fall of Kherson opens the way west for the coastal corridor that the Russian forces are seeing to establish (in the direction of the Russian-backed breakaway state of Transnistria).

It had been reported by a number of OSINT accounts earlier today (see 1:30PM) that the majority of the city was in Russian hands with numerous Russian vehicles seen moving freely within the city. The Russian Ministry of Defense claimed to have taken the city this morning by Kolykhaev defiantly posted on social media "We are still Ukraine. Still firm." Now the city has fallen it opens up lines of advance west and north.
---
10:30PM (EET) – According to the Ukrainian Defense Ministry President Zelensky held a meeting with regional leaders and local authorities discussing co-ordination and equipping of the Territorial Defense Force battalions. The civilian casualties and the humanitarian situation was also discussed.
---
12:10AM (EET) – Earlier today Ukraine's Command of the Special Operations Forces posted a stark statement on their social media pages. It threatened to kill captured Russian artillerymen – a flagrant breach of the Geneva Convention. The bravado and anger-filled post, which included a stock photo of a wolf eating a piece of raw meat, said "there will be no more captured Russian artillerymen. No mercy. No 'please do not kill me, I surrender'". The post concluded saying the Russian gunners would "be slaughtered like pigs. Piss in your pants, we've already come for you… we are not death, we are worse!"
This statement has elicited shock and disappointment from some on social media but it is clear that this is a visceral response to the Russian artillery bombardment of cities and the indiscriminate killing of Ukrainian civilians. While Ukraine has been vocal about the Russian bombardment of civilians as a war crime on the international stage, the murder of enemy combatants is equally deplorable.
---
12:35PM (EET) – Spanish media outlet, ABC Spain, has reported that Spanish Minister of Defense, Margarita Robles, announced that on Friday two shipments of lethal aid would be delivered to Ukraine. This will include 1,370 'grenade launchers', an unspecified number of light machine guns and 700,000 rounds of small arms ammunition. It is currently unclear what sort of 'launcher' is being sent as the translation could refer to 40mm grenade launchers or infantry anti-tank weapons like Spain's C-90 (comparable to the AT4) or Alcotán-100 (comparable to the NLAW).
---
1:40AM (EET) – The UN Refugee Agency has revised its figures for the number of refugees who have left Ukraine in the first week of fighting to 1 million. This figure is likely to increase as fighting in urban areas escalates.
---
2:05AM (EET) – Kyiv residents and embedded journalists report fresh missile strikes on targets within the city.
---
2:25PM (EET) – OPSINT analysts Oryx have updated their verified tally of equipment losses for both Russia and Ukraine.
---
We will continue to update as events evolve.