UPDATES: Kyiv Under Pressure as Russia Renews Advances
Yesterday, in the early hours of the morning the Russian Federation launched an invasion of Ukraine. If you missed our coverage of the first day of the conflict, you can find it here.
Overnight Russia renewed its campaign of airstrikes on targets across Ukraine. In the early hours of this morning Russian ground forces made fresh pushes into Ukraine on multiple fronts reaching within 20km of Kyiv.
US Secretary of Defense, Lloyd Austin, has told US legislators that the US is looking at ways to provide military aid and training. The EU has outlines its latest sanctions on Russia and initial casualties estimates have been released.
This feed timestamps using local Eastern European Time (EET).
Updates
3:30AM (EET) – Ursula von der Leyen, President of the European Commission, has outlined sanctions which will be imposed on Russia.
These will include financial sanctions "targeting 70% of the Russian banking market and key state owned companies, including in defence." The aircraft and energy industries will be targeted also.
3:50AM (EET) – Russian forces are reported to have surrounded a number of urban areas within the northeastern Sumy region. This was confirmed in an address posted on Telegram by Sumy governor Dmitry Zhivitsky.
---
4:15AM (EET) – With Russian armored columns approaching Kyiv the new Territorial Defence Force battalions are mustering and being equipped with small arms.
---
4.28AM (EET) – Renewed bombing of Ukraine's cities with numerous targets around Kyiv reportedly struck. Live video streams from the city and reports on the ground indicate initial explosions began around 4.20AM (EET).
Footage of large explosion over Kyiv, believed to be a Russian aircraft or large missile intercepted:
---
4:35AM (EET) – The Ukrainian Ministry of Defense reported that as of 3AM (EET) they believe to have inflicted 800 casualties on invading Russian forces, though this claim is yet to be verified:
UK intelligence reports, per Defence Minister Ben Wallace, suggest that Russia has suffered at least 450 casualties.
---
9:20AM (EET) – The Ukrainian Cabinet Office confirms reports of Russian special forces groups have attempted to infiltrate into Kyiv in Ukrainian uniforms and captured vehicles.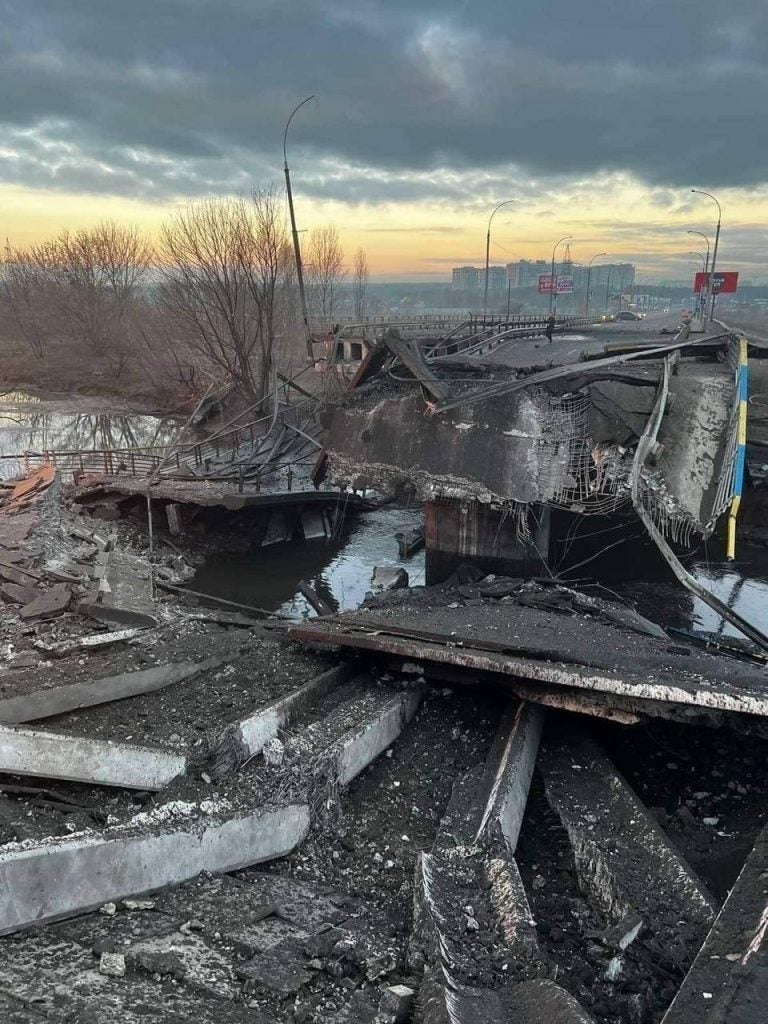 8:50AM (EET) – The Ukrainian Ministry of Defense confirms that bridge over the Teteriv River, near Dymer, has been destroyed to limit Russian advances. Ukrainian Airborne troops active in the area.
---
9:30AM (EET) – Unconfirmed reports that Ukraine hit a military airfield in Millerovo in Russia's Rostov Region.
---
Update 11:35AM (EET) – reports of Ukraine strike on Millerovo confirmed by Kyiv Independent.
---
11:21AM (EET) – Ukrainian naval infrastructure were initial primary strike targets with Odessa and other ports targeted. Sources suggest that the small Ukrainian Navy has taken heavy loses. The status of vessels including the frigate Hetman Sahaidachny is unclear. A Russian Slava class cruiser and Bykov class frigate shelled Snake/Zmiinyi Island in the Black Sea yesterday and the island's 13-man garrison was eventually over-run. President Zelensky announced the defenders would be awarded the Hero of Ukraine medal for their bravery.
---
11:40 (EET) – The Ukrainian Ministry of Defense reports that as many as 18,000 rifles have been distributed to the Territorial Defence Force battalions in Kyiv.
---
1PM (EET) – Open source intelligence specialists Oryx have updated their verified data on the losses of both sides.
---
1:07PM (EET) – Oleksii Reznikov, Ukraine's Defense Minister, has released a video announcing the simplification of the process for joining the Territorial Defense Forces: "take passport only… We give weapons to all patriots who are without hesitation ready to use them against the enemy."
---
1:07AM (EET) – As a perfect illustration of the need to confirm all footage, data and imagery emerging from the conflict the Ukrainian Ministry of Defense has shared a video purportedly showing a Ukrainian MiG-29 shooting down a Russian Su-35.
The source of the footage, however, is a video 'homage' to the so-called 'Ghost of Kyiv' made in Digital Combat Simulator World.
---
1:15PM (EET) / 6:15AM (EST) – The US Air Force has confirmed the deployment of additional F-35s to support NATO allies. Statement reads:
"Six U.S. Air Force F-35 Lightning II aircraft assigned to the 34th Fighter Squadron currently operating out of Spangdahlem Air Base, Germany, forward deployed, Feb. 24, to the Baltic Sea and Black Sea regions in support of NATO's collective defense."
---
2:10PM (EET) – A Russian NTV news reporter, apparently on the ground in Ukraine, has filed a report looking at a captured NLAW.
NLAWs were delivered by the UK as military aid with Ukrainian troops trained on them several weeks ago. Yesterday the Ukrainian Ministry of Defense stated that at least 3 Russian AFVs had been knocked out by NLAWs.
---
3:20PM (EET) – The Estonian Ministry of Defense has announced its intention to supply Ukraine with further shipments of arms, including Javelin ATGMs.
---
2:30PM (EET) – Footage of Ukrainian military trucks off loading cases of small arms has emerged. It appears to be a Kyiv muster point for Territorial Defence Force volunteers. Earlier today the Ukrainian Ministry of Defense announced simpler sign up procedures for the battalions. Some of the people seen opening the cases and preparing the rifles are in civilian clothing with simple yellow armbands.
---
3:44PM (EET) – Footage of one of the bridges into Kyiv, destroyed to slow the Russian advance:
---
4:07PM (EET) – OSINT analysts, Sim Tack, COUPSURE & Damien Symon, have compiled a situation map showing some of the Russian axis of advance:
---
4:40PM (EET) – Ukraine's Deputy Defense Minister Anna Maliar has offered an update on loses inflicted on Russian forces (as of 3PM local time). These claims have not been independently verified at this time.
"Since the beginning of the open large-scale invasion of the Russian Federation into the territory of Ukraine, the troops of the invading country have suffered the following losses (approximately): as of 15:00 Tanks up to 80, Combat armored vehicles of various types 516, Aircraft 10, Helicopters 7."
---
5:45PM (EET) – It has been reported that Russia may currently be making amphibious landings near the southern Ukrainian city of Mariupol. No indication of this from the area as yet.
6:35PM (EET) – A number of merchant ships have reportedly been hit by Russian attacks in Black Sea.

A Japanese bulk carrier, the MV Namura Queen hit by a rocket at anchor off Yuzhne and a Moldovan chemical tanker, the MV Millennial Spirit, hit and set on fire 12 miles south. These attacks follow the Turkish-owned bulk carrier Yasa Jupiter hit by a missile off the coast of Odessa yesterday. The circumstances of these incidents is not yet clear nor is the types of ordnance which struck the vessels.
---
6:57PM (EET) – Germany's long awaited shipment of military aid to Ukraine, some 5,000 helmets, are finally en route Germany's DPA reports.
---
Photographs, via Getty, from earlier today showing Territorial Defence Force volunteers digging in in Kyiv. They are equipped with an assortment of weapons and largely dressed in civilian clothes.
---
8:30PM (EET) – This evening NATO Secretary General Jens Stoltenberg addressed the media following a meeting of NATO members and allies, saying:
"Russia has shattered peace in Europe.
The people of Ukraine are fighting for their freedom in the face of Russia's unprovoked invasion. We deplore the tragic loss of life, enormous human suffering and destruction.
Our thoughts are with those killed, injured, and displaced. We call on Russia to stop this senseless war. Immediately cease its assault. Withdraw all its forces from Ukraine. And turn back to the path of dialogue. And turn away from aggression. The Kremlin's objectives are not limited to Ukraine.
Russia has demanded legally binding agreements to renounce further NATO enlargement. And to remove troops and infrastructure from Allies that joined after 1997."
Striking a defiant tone he continued:
"NATO Allies activated our defence plans. And as a result, we are deploying elements of the NATO Response Force.
On land, at sea, and in the air.
To further strengthen our posture.
And to respond quickly to any contingency.
The United States, Canada and European Allies have deployed thousands of more troops to the eastern part of the Alliance.
We have over 100 jets at high alert operating in over 30 different locations.
And over 120 ships from the High North to the Mediterranean.
Including three strike carrier groups.
There must be no space for miscalculation or misunderstanding.
We will do what it takes to protect and defend every Ally. And every inch of NATO territory."
---
9:20PM (EET) – The Ukrainian Ministry of Defense has claimed that Russian forces have a shortage of fuel. No confirmation of this at this time.
---
9:52PM (EET) – The Ukrainian Ministry of Defense has released images of Ukrainian Security Forces apparently apprehending Russian saboteurs disguised in Ukrainian uniforms.
---
11:05PM (EET) – Ukrainian Presidential press secretary Sergii Nykyforov says Ukraine has agreed to talks with Putin. He shared the news via his Facebook page:
"Congratulations colleagues! I must refute the allegations that we have refused to negotiate. Ukraine has been and remains ready to talk about a ceasefire and peace. This is our constant position. We agreed to the proposal of the President of the Russian Federation. During these hours, the parties consult on the place and time of the negotiation process. The sooner negotiations begin, the better the chances of resuming normal life."
According to an earlier report the Times of Israel Ukraine has requested that Israel's Prime Minister Naftali Bennett to act as an intermediary in negotiations with Russia.
---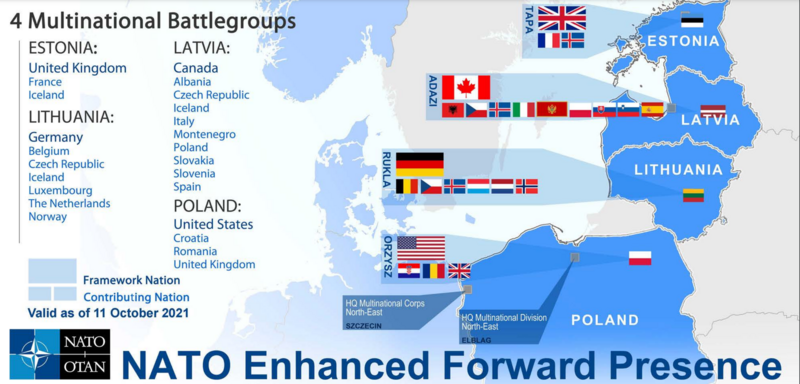 11:20PM (EET) – NATO is moving to reinforce its presence in the Baltic with member nations agreeing to lengthen their deployments as part of the Enhanced Forward Presence battleground, essentially doubling the number of troops deployed.
Additionally, Mariusz Błaszczak, Poland's Minister of National Defense has confirmed the arrival of a shipment of military aid across the Ukrainian border. The contents of the shipment have not been confirmed.
---
12:09AM (EET) – A video from earlier today showing members of the Territorial Defense Forces in Kyiv preparing molotov cocktails. This comes after the Ministry of Defense suggested volunteers prepare them on social media.
---
12:40AM (EET) – In a video address Ukraine's President Zelensky has warned:
"I have to say quite frankly: This night will be more difficult than the day. Many cities of our state are under attack… I am turning to our defenders, male and female, on all fronts: this night the enemy will use all the forces it has to crush our defence in a treacherous, harsh and inhumane way. Tonight they will attempt a storming [of Kyiv]."
---
12:55AM (EET) – Yesterday evening the Centre for Information Resilience geolocated a location from a video of fighting in Melitopol proving that the building fired on was a hospital.
---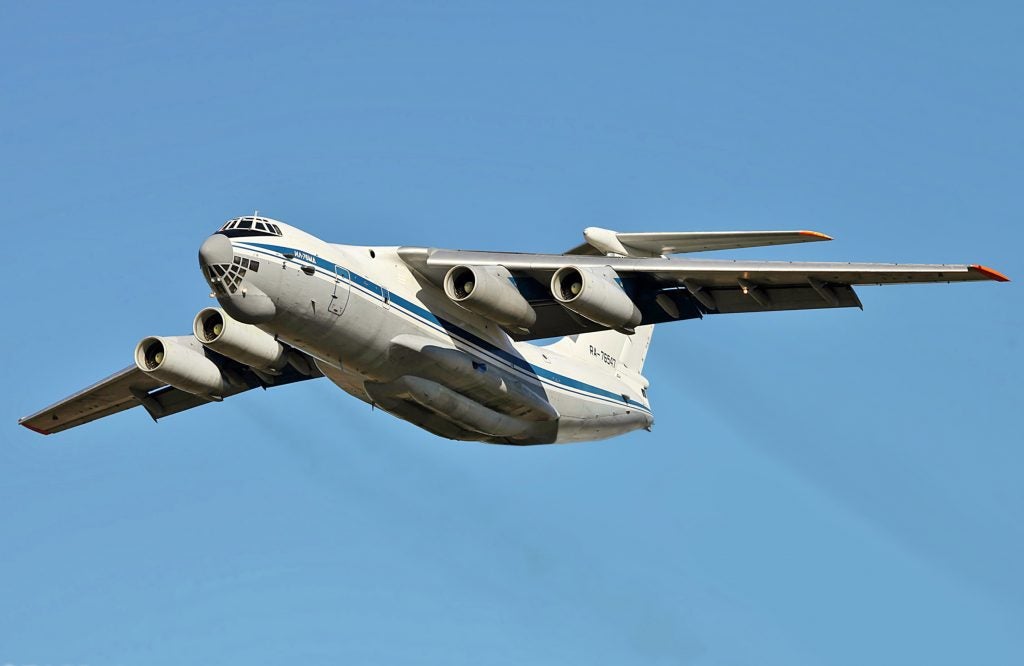 1:05AM (EET) – Ukraine's Commander in Chief Lieutenant general Valerii Zaluzhnyi has claimed that they have tonight downed a Russian Il-76 transport aircraft purportedly carrying paratroops. This has not yet been independently verified, worth noting that we are yet to see evidence of any of the fighters Ukraine has claimed to have downed.
---
1:50AM (EET) – 11 of the UN Security Council's 15 members voted for a motion to condemn Russia's "Aggression" against Ukraine, but Russia (who are also the current chair of the council) blocked the motion with its veto. China, India and the UAE abstained from the vote.
The US ambassador to the UN responded to the veto on social media saying "Russia can veto this resolution, but cannot veto our voices".
The motion will now likely be taken to the 193-member UN General Assembly as a draft resolution.
---
We will continue to update as events evolve.