Turkey Successfully Tests Domestically Developed 76/62 mm Naval Gun
The test-firing of the 76/62 mm Naval Gun, developed locally by MKE, was successfully completed, according to a post shared by the Turkish Ministry of National Defense on December 2 on its social media account.
Turkish Minister of National Defense Hulusi Akar, Chief of General Staff General Yaşar Güler, Naval Forces Commander Admiral Adnan Özbal, Air Force Commander General Hasan Küçük Akyüz, Deputy Minister of National Defense Muhsin Dere and other officials attended the test-fire of the 76/62mm naval gun carried out at the Karapınar Shooting Range in Konya province.
President Erdoğan, who was unable to attend the naval gun test-fire, shared a video message on the Twitter account of the Turkish Presidency, congratulating those who helped bring the project to fruition.
In the video he shared, Erdoğan said, "With the joint efforts of the Mechanical Chemistry Industry and General Directorate of Shipyards, İğrek Machines, ANZATSAN Engineering and ERMAKSAN Technology companies, Turkey has once again achieved what could not be achieved. At the end of the process, which our Ministry of Industry and Technology actively supported, we have thankfully produced our Naval Gun in a record time of 12 months."
Erdoğan then went on to say, "We added naval guns to our efforts to localize our defense industry about a year ago in Turkey. We aimed to reduce our country's reliance on foreign sources of naval guns, as well as in other areas. Products imported from abroad have been plagued by serious issues in terms of both cost and delivery time, particularly in recent years. We were also subjected to a slew of visible and invisible embargoes and blockades."
Minister of National Defense Hulusi Akar began his speech at the ceremony by thanking everyone who helped develop the new weapon system. Reminding the audience that there were weapon systems that could not be acquired even though they had previously been paid for, Akar stated that domestic production was not a choice, but a necessity, and added, "None of these works are final. Each of these marks the start of the next phase. We will continue to work at a faster pace to meet the needs of our Armed Forces," he said.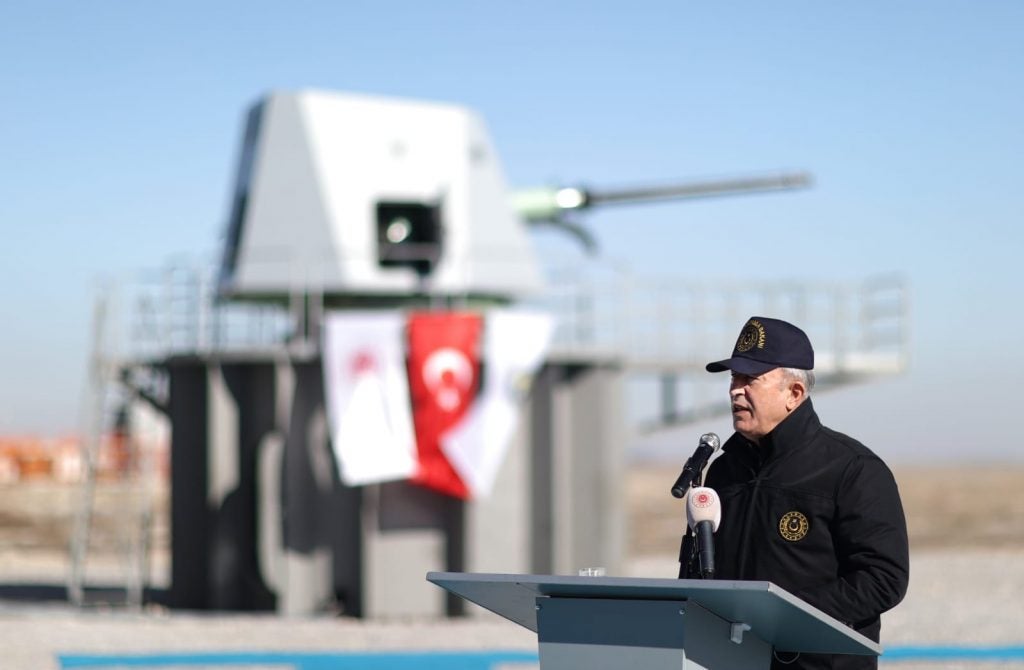 The 76/62 mm naval gun, developed by Machinery and Chemical Industry (MKE), made its debut at this year's International Defense Exhibition (IDEF 2021), which took place from August 17 to 20. The naval gun project was launched in 2020, according to prior remarks made by company officials, due to procurement expenses and the prolonged delivery schedule of Leonardo's Oto 76/62mm guns. The project's R&D, which began in 2020, was completed in approximately 12 months, the prototype was produced swiftly, and the mechanisms' functionality was tested in a factory setting.
The naval gun, which carried out its first test-fire on November 10, will be deployed by the Turkish Naval Forces in February 2022, following port and cruise tests. The system will be utilized in a wide range of ships, from Turkish navy gunboats to Gabya class frigates, MİLGEM corvettes to stowage class frigates, once it is operational.
Here are some of the technical specifications of the 76/62 mm Naval Gun according to information given by Machinery and Chemical Industry (MKE):
The weapon system range is 16 km.
Barrel diameter is 76 mm, length is 4700 mm.
The barrel has a water cooling system.
The firing rate is a maximum of 80 rounds/min.
The weapon system weighs 7500 kg without ammunition and 8500 kg with ammunition.
The weapon system has a rotating magazine with a capacity of 70 rounds.
The weapon system is effective against air, land and sea targets.