Secretary of State Blinken: "Severe Costs" For Further Russian Aggression Against Ukraine
The United States' Secretary of State Antony Blinken said on Thursday that Russia would face "severe costs" if it attempted to invade Ukraine, calling for a diplomatic solution to the Russian buildup of military hardware and personnel along its border with Ukraine through the Minsk peace process.

The statement was made at a press conference in Stockholm, following a meeting between Blinken and Russian Foreign Minister Sergei Lavrov on the sidelines of the Organization for Security and Co-operation in Europe's 28th Ministerial Council there. Blinken stated that the meeting was "very candid", adding:

"I made very clear our deep concerns and our resolve to hold Russia responsible for its actions, including our commitment to work with European allies to impose severe costs and consequences on Russia if it takes further aggressive action against Ukraine.  And as with Foreign Minister Kuleba, I also made clear the United States is prepared to work with both parties to support a diplomatic resolution through implementation of the Minsk agreements in any way that we can."

"It's now on Russia to de-escalate the current tensions by reversing the recent troop buildup, returning forces to normal peacetime positions, and refraining from further intimidation and attempts to destabilize Ukraine," stressed Blinken.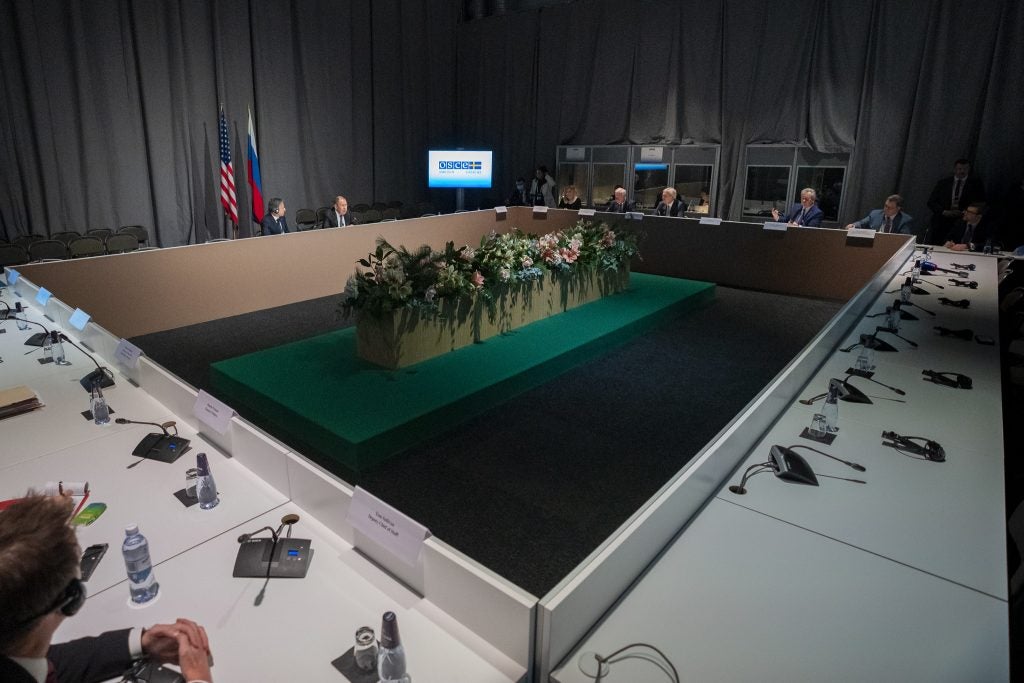 In response to press inquiries, Blinken emphasized that the purpose of the meeting was to communicate American concerns about the buildup and the consequences if Russia chose to continue pursuing "aggression and confrontation". He said that it was likely that both American President Joe Biden and Russian President Vladimir Putin would speak directly in the near future.

While the Secretary of State said that Russian aggression towards Ukraine would result in the imposition of "high-impact economic measures that we've refrained from taking in the past", he declined to provide further details, saying that he thought that "Moscow knows very well the universe of what's possible".

Secretary of Defense Lloyd Austin had hinted earlier on Thursday that an American response to a Russian invasion of Ukraine could be done in conjunction with the international community, although he similarly declined to provide additional details beyond the use of "the best methods" to address the situation. In a joint press conference with South Korean Defense Minister Suh Wook following the 53rd Republic of Korea-U.S. Security Consultative Meeting, Austin said that "The best case though is that we won't see an incursion by the Soviet Union into the Ukraine", mistakenly referring to Russia as the former Soviet Union.
Recent rhetoric from Moscow has demanded that the West provide legally binding guarantees against Ukrainian accession to NATO, or the deployment of missile systems there capable of striking targets inside Russia. The demands follow counteraccusations from the Kremlin that Kyiv is now conducting its own buildup of forces, in response to the heavy Russian military presence near the Ukraine-Russia border.