The Fourth Ship Of The PN MİLGEM Project Is Laid Down At A Ceremony Held in Karachi
The Pakistan Navy stated on November 5 that the fourth ship of the PN MİLGEM project, one of Turkey and Pakistan's most important defense cooperation projects, was laid down at a ceremony in Karachi. The fourth keel laying ceremony of the PN MİLGEM was attended by Pakistan Navy Commander Admiral Amjad Khan Niazi and ASFAT General Manager Esad Akgün. Admiral Mohammad Amjad Khan Niazi, Commander of the Pakistan Navy, spoke during the ceremony and began by praising the performance of Karachi Shipyard & Engineering Works.
The construction of domestic modern warships with the assistance of Turkey, according to Admiral Niazi, is a proud moment for Pakistan, and this joint endeavor will create new paths of defense cooperation between Ankara and Islamabad. Admiral Niazi stated that the ships will significantly increase the operational capabilities of the Pakistan Navy, noting that they will be built to modern naval ship-class standards and will be equipped with state-of-the-art weapons and sensors, including surface-to-surface and surface-to-air missiles and anti-submarine weapons.
ASFAT General Manager Esad Akgün stressed the importance of cooperation between Turkey and Pakistan during the ceremony. "We are completing the thousandth day of the PN MİLGEM project," Esad Akgün noted in his speech. "To many, a thousand is only a number, but to us, it represents the collected wealth of each day; each day is earned by experience and understanding of teamwork, sweat, and hard work."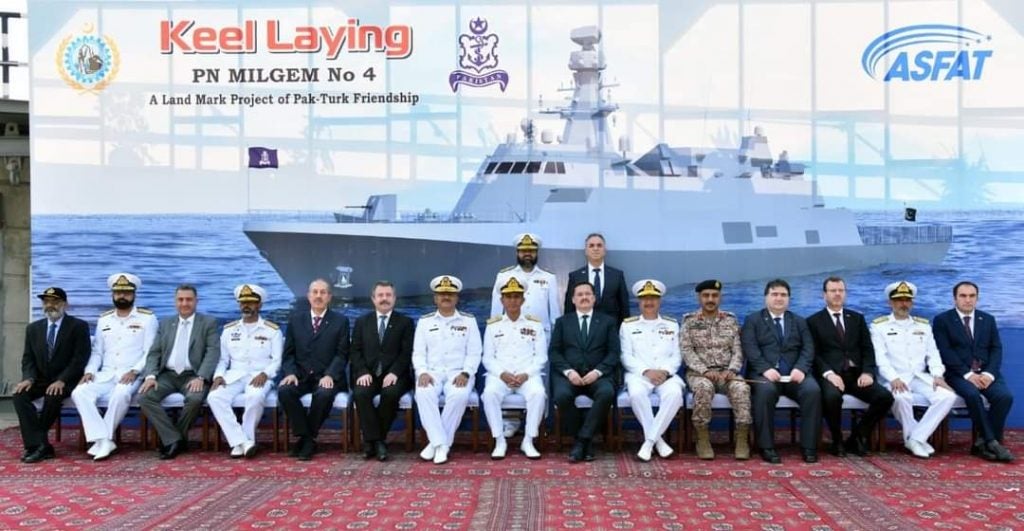 "The Jinnah Class Frigate to be built in Karachi, Pakistan will be a larger and more equipped ship that demonstrates the success of our culture of working together," Esad Akgün said, emphasizing that the Pakistan-Turkey cooperation has expanded with the Jinnah project, which has lasted for two years and the design of which has been completed.
The PN MİLGEM project, which began with a September 6, 2018 agreement between the Pakistan Navy and the Turkish company ASFAT, entails the manufacture of four MİLGEM class corvettes for the Pakistan Navy, with ASFAT serving as the prime contractor. Under the terms of the agreement, which also involves the exchange of technology, two of the corvettes are built in Turkey's Istanbul shipyard and the other two are built in Pakistan's Karachi Shipyard. The four ships built as part of the PM MİLGEM project, which began production on March 11, 2019, are scheduled to be delivered in August 2023, February 2024, August 2024, and February 2025, in that order.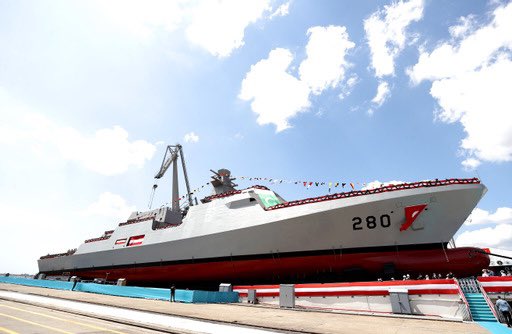 According to the information given by ASFAT, MİLGEM class corvettes are designed to perform surface, air and anti-submarine warfare, reconnaissance, surveillance, defense against asymmetric threats and command and control tasks. The corvettes are equipped with a platform hangar and extensive support equipment for a 10-ton helicopter capable of performing helicopter missions at any time of day. The ships have a length of 108.8 meters and a breadth of 14.8 meters. It can accelerate to 26 knots per hour using two diesel engines and a gas turbine, and has a displacement of 2,400 tons with a draft of 4.1 meters.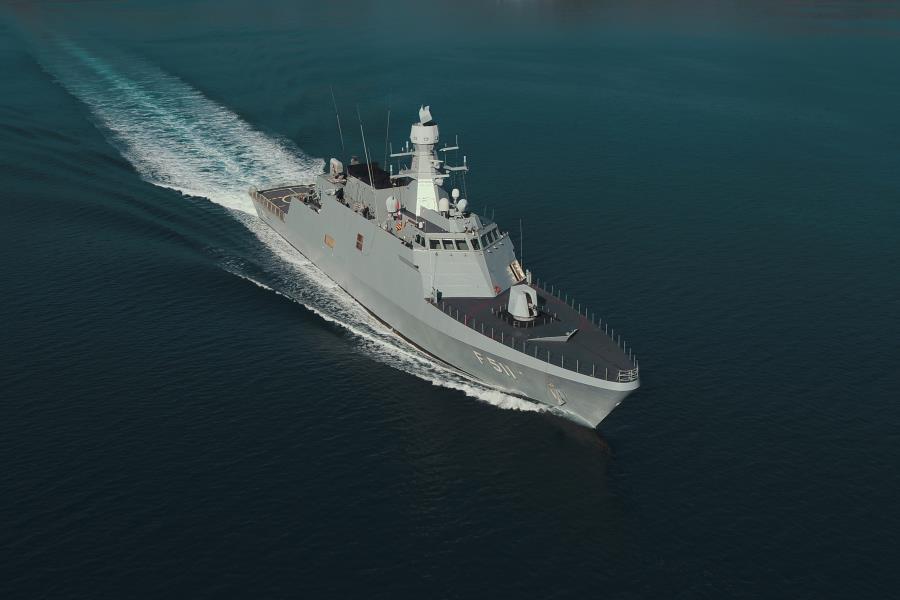 PN MİLGEM corvettes are equipped with two 6-cell Surface-to-Air Guided Missile Systems, two 3-Launcher Surface-to-Surface Guided Missile Systems, a 76mm SUPERRAPID Main Gun, a Torpedo Launching System, a Close Air Defense System, two 25 mm Remote Controlled Stabilized  Gun Systems (STOP), a Hull Mounted Sonar and a Torpedo Jamming / Deception System (TKAS).