DSEI 2021: CV90 with New D-Series Turret Unveiled
BAE Systems displayed the CV90 with the new D-Series turret for the first time at DSEI 2021. The turret was selected by the Royal Netherlands Army as part of their extensive $500 million mid-life upgrade program for the CV9035NL. The D-Series turret configuration has also subsequently been offered to the Czech Republic.
The D-Series turret was developed in Örnsköldsvik, Sweden by BAE Systems Hägglunds. The turret displayed at DSEI incorporates a 50mm gun but the turret itself can mount a range of guns. The RNLA will be retaining the Northrop Grumman 35mm Bushmaster III dual-feed cannon, paired with a co-axial 7.62x51mm machine gun.
The D-series turret is composed of all-welded steel armour with additional applique armour and Elbit Systems' Iron Fist Active Protection System solution. It has more internal volume and improved crew ergonomics. The main weapon position has been changed to provide better vehicle balance and enable different weapon fits. A pod for two Spike LR2 long-range anti-tank guided missiles has also been integrated onto the turret.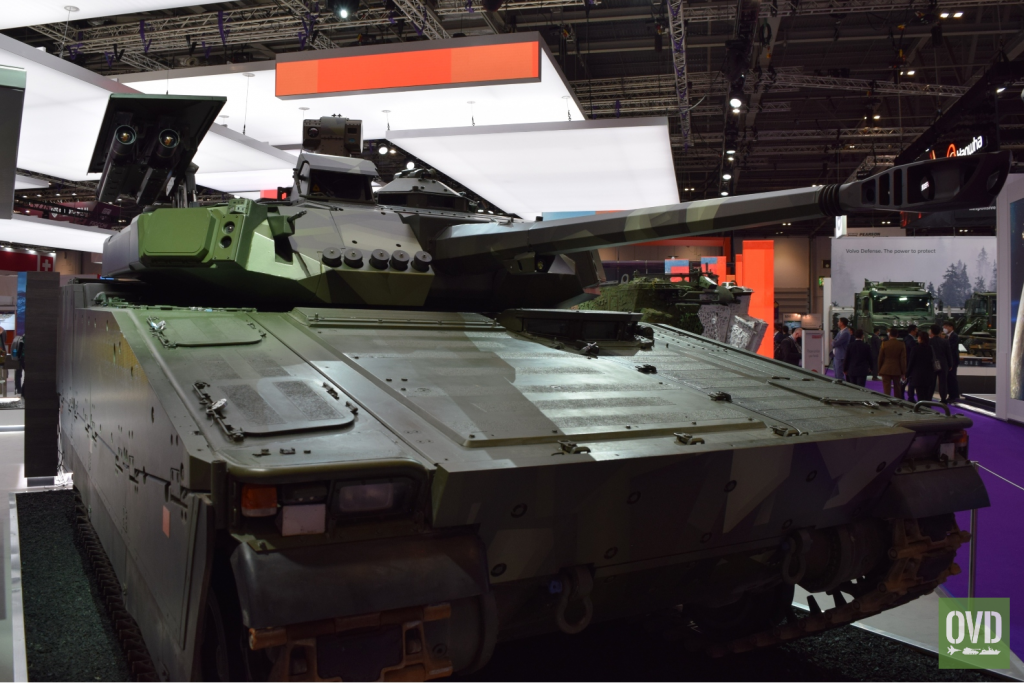 The increase in internal volume also offers significant ergonomic benefits for the vehicle's crew and a new optics/sensor kit. The gunner now has Saab's UTAAS day/thermal sighting system while the commander has a roof-mounted Elbit Electro-Optic Aiming System. These upgrades improve the CV90's visibility, situational awareness and target recognition.
Tommy Gustafsson-Rask, managing director of BAE Systems Hägglunds, said:
"We are extremely proud to display the new D-series turret at DSEI to demonstrate the latest technology on the combat-proven CV90 platform. The new turret configuration provides CV90 crews with improved protection and increased combat efficiency. It represents our continued commitment to delivering the most modern, advanced Infantry Fighting Vehicle that meets our customers' requirements now and in the future.
The CV90 MKIV's chassis and the D Series turret are fitted with digital electronic architecture with an upgraded 860hp Scania V8 diesel powerpack and an Allison 3040MX automatic transmission. The Dutch CV90s will also incorporate active damping suspension and Soucy's composite rubber tracks. The Netherlands placed their upgrade contract in early 2021 to upgrade 122 CV9035NL, with deliveries of refitted vehicles due to begin in 2024.