Lessons From The PACAF's Pacific Iron Exercise.
In July of 2021, the U.S. Air Force kicked off one of its largest exercises involving fifth-generation aircraft. The exercise, dubbed Pacific Iron, encompassed a large swathe of the Pacific, with activities taking place from Kadena Air Base in Japan to Andersen Air Force Base in Guam. However, the bulk of the exercise mainly took place within the Commonwealth of the Northern Mariana Islands. Overt Defense had the opportunity to get an exclusive interview with PACAF pilots directly involved with the Agile Combat Employment (ACE) concept and PACIFIC IRON.
Planes and units involved in PAC IRON:
14 x F-22s from the 525th Fighter Squadron, Elmendorf Air Force Base, Alaska
12 x F-22s from Hawaii Air National Guard 199th Fighter Squadron, Joint Base Pearl Harbor-Hickam, Hawaii
12 x F-15Es from the 389th Fighter Squadron, Mountain Home Air Force Base, Idaho
4 x C-130s from the 36th Airlift Squadron, Yokota Air Base, Japan
12 x F/A-18s from Marine Fighter Attack Squadron 232 (VMFA 232)
AN/TPS-80 C2 RADAR was provided by the United States Marine Corps MAGS-4.
The need for survival and the driving forces behind ACE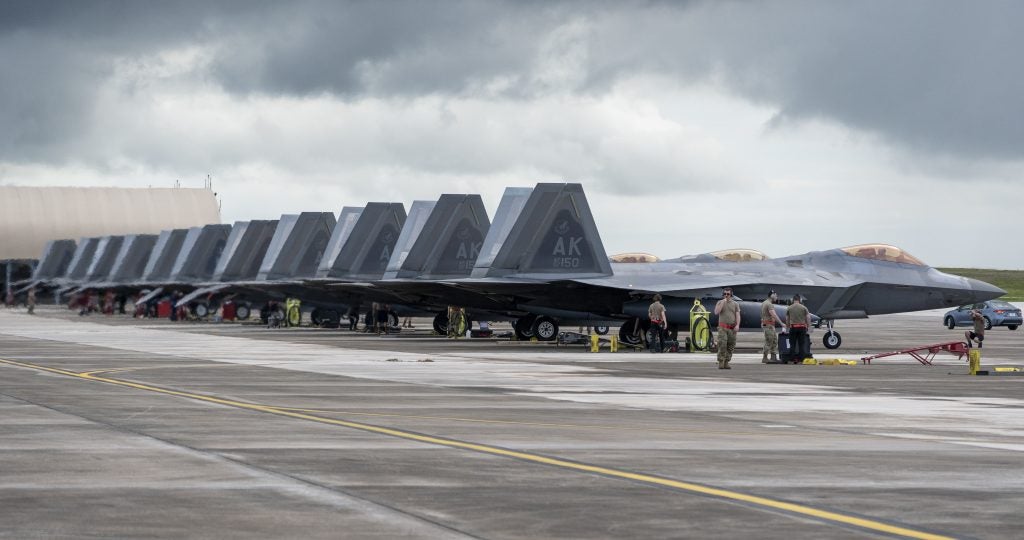 Within the last decade, the number of threats deployed by adversaries facing USAF bases around the world has grown. These threats range from the low-end mortars and drones to the high-end missiles of the cruise, ballistic, and upcoming hypersonic types. The latter group of threats is ever more apparent in the Indo-Pacific region, where the US and its partners lay within the ranges of the growing arsenal fielded by the People's Liberation Army Rocket Force (PLARF). For the USAF to continue operating from these bases, new concepts for conducting operations before and during attacks had to be developed. As of this writing, the USAF hasn't settled on a single concept and continues the development efforts for ways of adapting to the challenges of the 21st century. One of these concepts was developed by the Pacific Air Forces (PACAF). PACIFIC IRON was one of the many recent exercises to take place that demonstrated, incorporated, and executed elements of this concept: ACE.
The ACE concept, as described by Lt. Col. Brant C. "Skills" Reilly, a PACAF ACE Lead during Pacific Iron, is "a scheme of maneuver that is intended to operate within threat timelines to increase survivability". A recurring theme of exercises that incorporate the ACE concept, is USAF aircraft operating from austere air bases around the world. Some with little to no pre-existing support infrastructure. This method of operating is part of the various concepts under ACE, this one in particular known as the "Hub" and "Spoke" concepts. This allows for the rapid dispersion of aircraft in times of high tension, from major bases that serve as "Hubs" to several smaller distributed bases known as "Spokes". Lt. Col. Reilly explained:
"Adaptive cluster operations organizes forces into a distributed network of regional clusters to adapt PACAF's current strengths to project combat power in a contested environment. A regional cluster is a network of one or more Main Operating Bases (MOB), or "hubs" that orchestrate the operations of an associated group of distributed fighting locations, or "spokes." Spoke locations embrace an expeditionary mentality to generate combat power on the front lines of a high-end conflict."
When the aircraft fly to these spoke bases, airmen do various tasks from setting up communication nodes to preparing aircraft for combat. It's during this time that the airmen carry out a procedure known as Integrated Combat Turns (ICT). To showcase the procedure during PACIFIC IRON, airmen on Tinian island quickly refueled and rearmed an F-15E while the jet was still running. This is in contrast to normal procedures which would involve taking several hours to rearm and refuel at separate times.
Conducting ICT allows the jets to be in the air within half an hour, instead of the usual hour or two. Another capability the Airmen demonstrated during their training was their ability to be Multi-capable Airmen. This allows airmen to learn and train for skills outside of their normal skillset. "We had maintenance personnel who are not crew chiefs yet they were trained before PACIFIC IRON to launch and recover aircraft as a crew chief would and we demonstrated that capability in PACIFIC IRON," said
Lt. Col. Reilly. Being a Multi-Capable Airmen adds another layer of resiliency to the force, allowing the Air Force to make up for manning shortfalls and allowing them to deploy with a smaller footprint by taking advantage of Multi-Capable Airmen.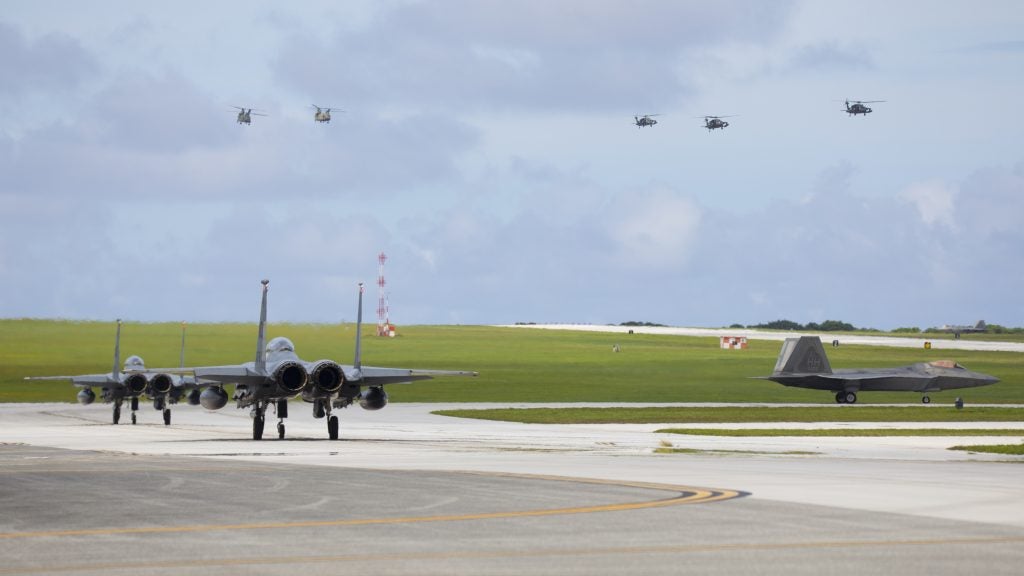 During the exercise, aircraft in PACIFIC IRON trained for Offensive Counter Air (OCA), Defensive Counter Air (DCA), and Basic Fighter Maneuvers (BFM). The training itself wasn't different from what the pilots train for elsewhere. Apart from the fact that it was made up of an equal number of 5th generation and 4th generation aircraft on an island far from their home bases. The Air Force also worked with the Navy and Marine Corps. Both services contributed fighter and electronic attack aircraft to the exercise. The Marine Corps directed the large force engagements that took place during the exercise using their AN/TPS-80 G/ATOR radar.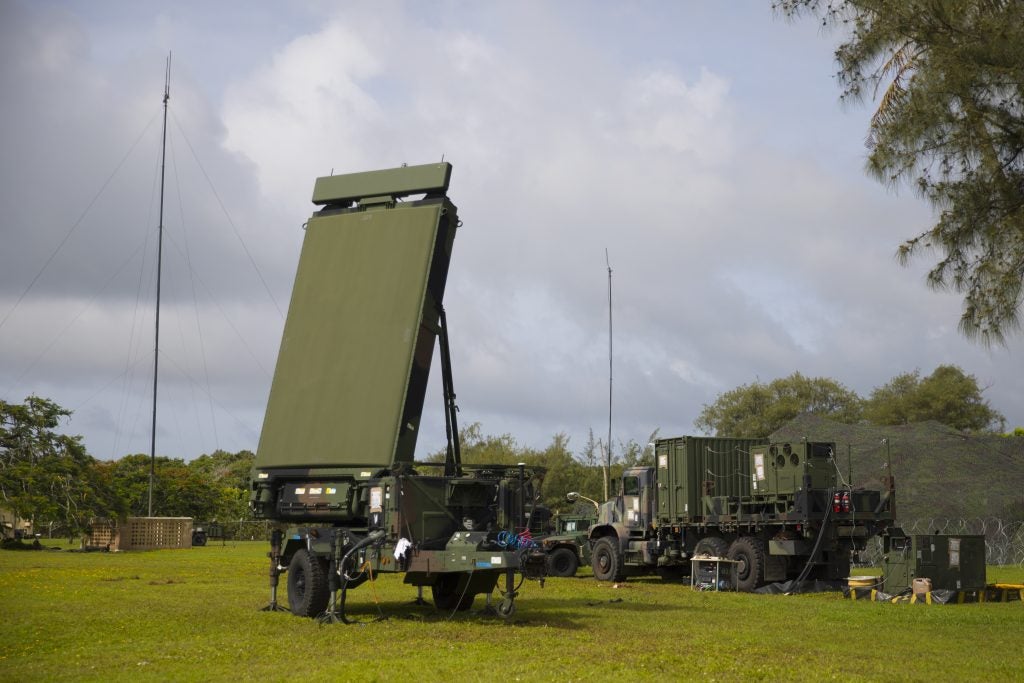 One of the major differences between PACIFIC IRON and most other ACE exercises done so far is the distance and number of 5th generation aircraft involved. This exercise showcased the PACAF's ability to truly take the ACE concept to a higher level than previously demonstrated. Employing 5th generation aircraft close to their home bases for a limited amount of time is a task the Air Force has demonstrated multiple times before. But taking 26 5th generation aircraft 3,000 miles away from their home bases and conducting realistic training on an island for a long period is something that hasn't been done before. This exercise involved many logistics challenges, such as sustaining a large and varied force far from their home bases, which the Air Force showed it can overcome.
The changing dynamics of the Indo-Pacific region have forced all of the services within the U.S. military to adapt and create various concepts for the survival of their respective forces. The ACE concept, alongside others such as (Expeditionary Advanced Base Operations) EABO, is extremely innovative. It tries to address the challenges that the U.S. Air Force faces today and will face in the future. It will keep on growing and strengthening, as it is practiced more, again and again, many of the challenges associated with it will be mitigated and its core tenets strengthened.