Akıncı UAV to be Delivered To The Turkish Armed Forces
Baykar Defense's AKINCI Offensive Unmanned Aerial Vehicle (TİHA in Turkish) has been added to the inventory of the TSK (Turkish Armed Forces). The delivery ceremony of the AKINCI ('Raider' in Turkish) was held at the Airfield Command in the Çorlu district of Tekirdağ on 29 August. President Recep Tayyip Erdoğan, Speaker of the Grand National Assembly of Turkey (TBMM) Mustafa Şentop, Ministers, Chief of General Staff, President of the Presidency of Defense Industry Prof. Dr. İsmail Demir, as well as many senior military officials and Baykar Defense employees, were all present at the ceremony.
The trainees' graduation ceremony took place concurrently with the delivery of the Bayraktar Akıncı UAV. At the ceremony, 125 individuals who will work as pilots and weapon operators were graduated. Selçuk Bayraktar, the Chief Technology Officer of Baykar Defense, remarked during his speech at the ceremony that the Akıncı is an aircraft that they have been working on for years and that it is, "Turkey's largest strategic unmanned aerial vehicle. There are only a few countries in the world that can develop unmanned aerial vehicles in this class. We are now one of the three countries."
Selçuk Bayraktar also stated that three to four of the nine Akıncı UAVs are prototypes, and that serial manufacturing has begun with the fifth UAV. According to Bayraktar, they can produce 1 to 2 aircraft each month and can also accelerate. President Erdoğan said: "with our vision of the National Technology Push, by distancing ourselves from being a market where critical technologies are sold, we aim to make our country a center for  where these products are designed, developed and produced. We are getting closer to this goal with each passing day."
"While unmanned aerial vehicle weapon systems play a prominent role in the defense industry at an ever-increasing pace, it has also become an indispensable position as an asymmetrical power element that will change the concepts of war," said Chief of General Staff Gen. Yaşar Güler. Minister of National Defense Hulusi Akar, added: "the Turkish defense industry will produce our Combat Aircraft and air defense system in the near future, after UAVs, SİHAs and TİHAs."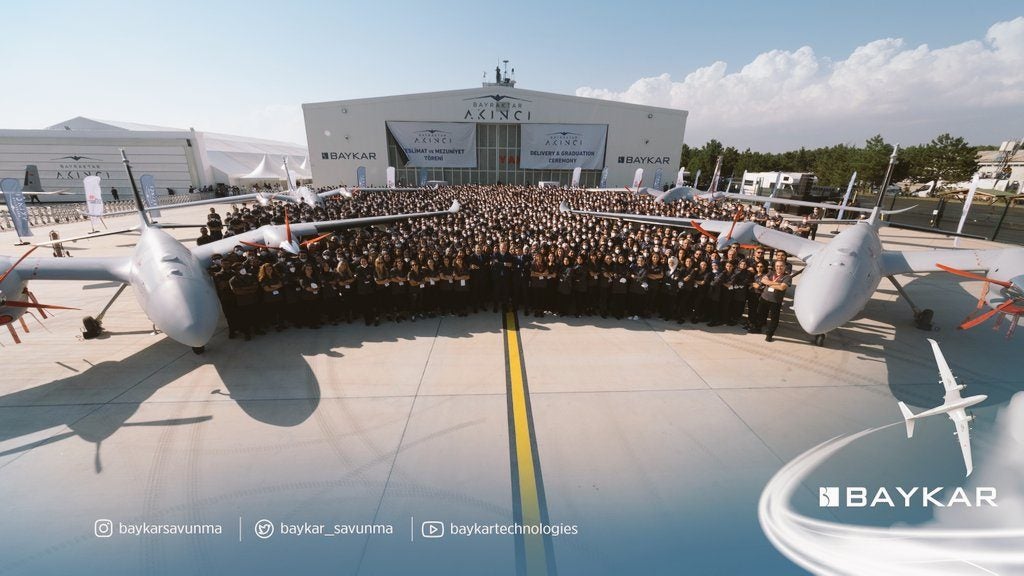 After successfully completing its engine tests, Akıncı UAV undertook its first flying test at Çorlu Airfield Base Command in the Çorlu district of Tekirdağ. Akıncı climbed to an altitude of 38,039 feet (11,594 meters) and stayed in the air for 25 hours and 46 minutes, setting the Turkish aviation record for the highest altitude attained by a domestic and national aircraft.
According to Baykar Defense, the Akıncı drone, which has a wingspan of 20 meters (66 feet) and a height of 13.1 meters (4.1 meters), can fly up to 40 thousand feet, can fly for 24 hours, has a take-off weight of 6 tons and a payload capacity of 5 tons, with a maximum cruise speed of 130 to 195 knots. These drones are powered by AI-450S engines developed in Ukraine. The Akıncı is far more sophisticated in terms of altitude, technology, and the cargo it carries than the TB2 and Anka UAVs that are currently in the Turkish Armed Forces inventory. In addition, the precision of the drone's armament has been improved and it can now stay in the air for longer.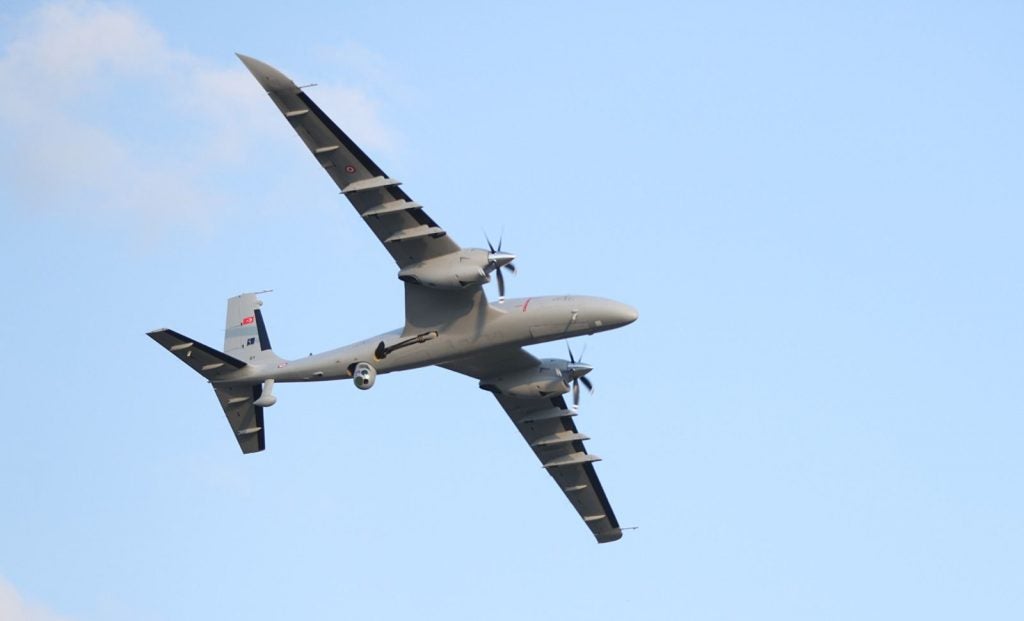 The aircraft has advanced artificial intelligence features and can carry equipment such as an EO/IR camera, ASELSAN's domestically produced AESA radar, a Beyond Line of Sight (satellite) connection, and electronic support systems. It will also be able to collect data by recording the data it receives from the aircraft's sensors and cameras using its three artificial intelligence computers.
The Akıncı's improved carrying capacity allows it to transport guided bombs that would otherwise be too large for these UAVs to carry. For example, although the TB2 can only carry four MAM-Ls, the Akıncı can carry up to 24 MAM-Ls. The Akıncı is rated to carry domestically produced munitions including the MAM-L, MAM-C, L-UMTAS, Bozok, MK-81, MK-82, MK-83, Wing Assisted Guidance Kit (KGK)-MK-82, Gökdoğan, Bozdoğan, SOM-A, UMTAS, L-LUMTAS, and CİRİT. Compared to other UAV systems like the Bayraktar TB2 and TAI Anka, the Akıncı greatly expands Turkey's current unmanned combat capabilities by providing a significant increase in payload capacity.