Anadolu Shipyard Delivers Qatar Navy Training Ship
The first of two military training ships built by Turkey's Anadolu Shipyard for the Qatar Navy, the QTS 91 Al Doha, was delivered on Wednesday at the shipyard in İstanbul, Tuzla. During the Doha International Maritime Defense Fair and Conference in March 2018, Anadolu Shipyard (ADİK) and the Qatar Navy signed a deal for the construction of two military training ships. The project began in 2019 and culminated in the ship's launching ceremony last year.
Süalp Ürkmez, Chief Executive Officer of Anadolu Shipyard, expressed his joy at the delivery of the QTS 91 AL DOHA, the first of the military training ships built for the Qatar Navy. Ürkmez stated that delivering the QTS 91 AL DOHA is a source of pride for them, and that the second ship will be delivered as soon as possible. The second ship, "AL SHAMAL," is expected to join the Qatar Navy in 2022. Admiral Khalid N. Al-Hajri, Commander of the Naval Academy, also expressed his gratitude to Anadolu Shipyard officials for delivering the QTS 91 AL DOHA, the first of the "Military Training Ships."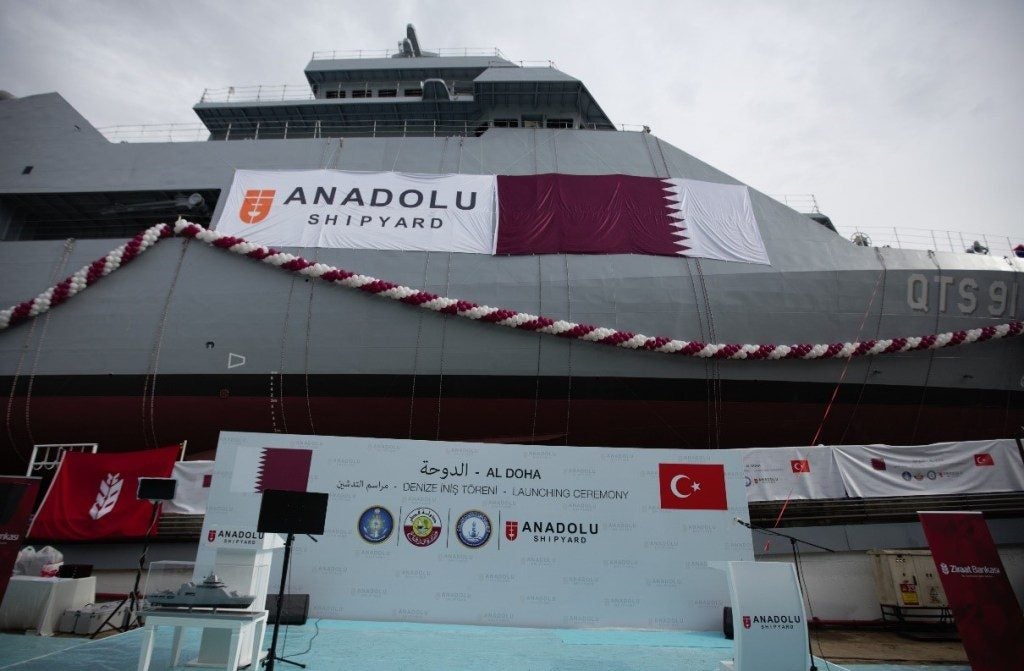 Anadolu Shipyard is also responsible for the Combat System and the integration of the ships, which were all designed domestically. HeliPLAT, which is responsible for the ship's helicopter platform certification, engineering, and design services, also conducts training and system testing. Apart from 66 ship's personnel, the ship is outfitted for a total of 150 personnel and will be able to perform all types of activities, including sensor and weapon use training with 76 students and 8 instructors. The ships will be capable of both patrolling and military training missions. In other words, it will be able to execute secondary patrol missions.
According to the information given by Anadolu Shipyard, the ships are an offshore patrol vessel (OPV) design, measuring around 90 meters in length, 14.2 meters in width, and 2,150 tons in displacement. The ship has full technical capabilities, including helicopter landing and resupply, and has a range of more than 2,000 nautical miles. It can stay at sea for 15 days without refueling and has a top speed of 22 knots and a cruise speed of 15 knots.