Pakistan Tests Domestically Developed Guided Multi-Rocket Launcher System Fatah-1
Pakistan claims to have successfully executed a test firing of its domestically designed Guided Multi-Barrel Rocket System. The Fatah-1 is capable of delivering conventional warheads, the test was revealed in a video posted on Tuesday. The Pakistan Army's media wing, Inter-Services Public Affairs (ISPR), stated Tuesday that the long-range rocket system will provide "precision target engagement capability deep within enemy territory."
Except for Tweets shared by the army's media department, Inter-Services Public Relations (ISPR), Pakistan has provided little information regarding the Fatah-1 the Guided Multiple Launch Rocket System (G-MLRS).
The Fatah-1 was tested for the first time in January. The domestically built and manufactured weapon system, was developed in collaboration with Khan Research Laboratories (KRL) and NESCOM. It is designed to carry a conventional, high-explosive payload up to 140 kilometers, according to a statement released following the test.
The test launch of Fatah-1 was observed by Colonel Commandant of Artillery Corps, Lt. Gen. Abdul Aziz, top officials from the Artillery Corps, and scientists and engineers who participated in the development of the GMLRS. The president, prime minister, joint chiefs of staff, and chief of army staff all commended the soldiers and scientists who took part in the successful launch.
The Pakistani Army's Artillery Corps currently employs the A100, a 300mm, 10-tube multiple launch rocket system introduced in 2000, manufactured by the China National Precision Machinery Import and Export Corporation (CPMIEC), and the BM-21 Grad-based, truck-mounted, 122 mm, Soviet-made KRL122 multi-barrel multiple rocket launcher systems.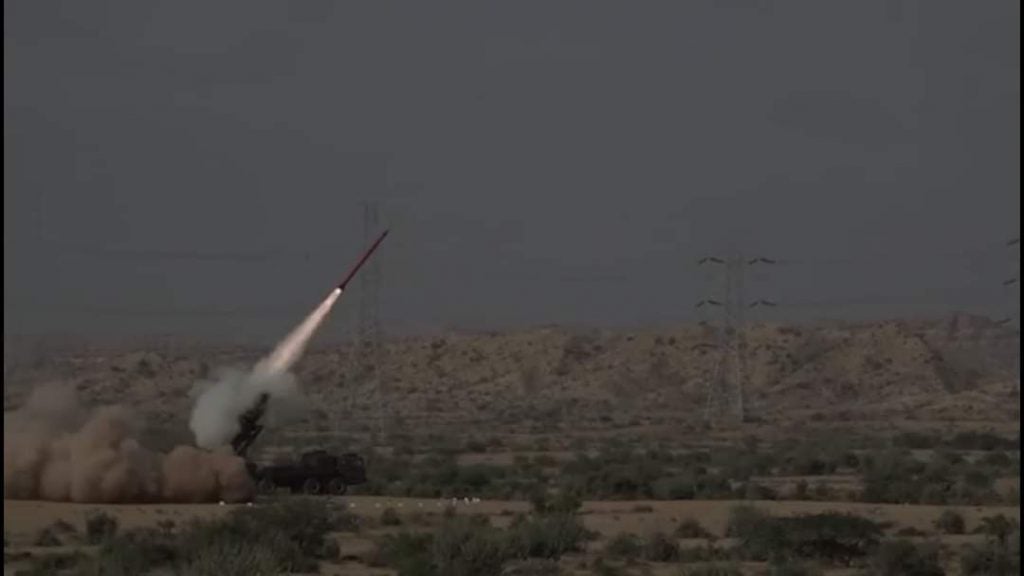 The Fatah-1 test comes amid a round of Pakistani missile testing. On the 12 August, Pakistan successfully tested the Ghaznavi ballistic missile. Pakistan also tested the Shaheen-1A surface-to-surface ballistic missile, which has a range of 900 kilometers, and the Babur Cruise Missile, which has a range of 450 kilometers and can reach targets on land and sea, earlier this year.