Motor Ignition Failure During Second ARRW Booster Flight Test
The US Air Force says that its second booster flight test of the AGM-183A Air-launched Rapid Response Weapon "did not meet all flight objectives", after the hypersonic missile's booster rocket motor failed to ignite during the 28 July flight test over the Point Mugu Sea Range.

Nevertheless, the Air Force says that the flight test successfully demonstrated several "first-time events" on the road towards fielding the weapon in the early 2020s. According to the Air Force, other objectives of the test included demonstrating the safe release of the booster test vehicle from the B-52H and assessing booster performance, with this test carried out by the Edwards-based 419th Flight Test Squadron and the Global Power Bomber Combined Test Force.

In a statement, the Air Force said that ARRW Booster Test Vehicle 1b (or BTV-1b) cleanly separated from the Edwards AFB B-52H carrying it, successfully demonstrating the full release sequence including GPS acquisition, umbilical disconnect and power transfer from the aircraft to the missile. Additionally, the missile successfully demonstrated fin operation and de-confliction maneuvers to ensure aircrew safety. However, the rocket motor failed to ignite following missile separation.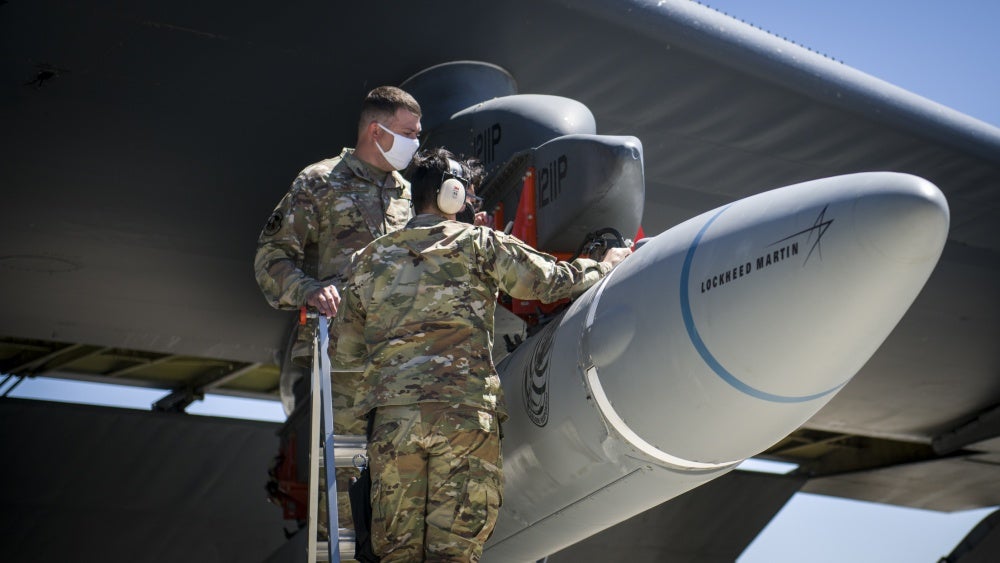 "Developing first-of-its-kind missiles is difficult business and this (sic) why we test," said Brig. Gen. Heath Collins, the Air Force Program Executive Officer for Weapons. "This is a critical capability for our Air Force and we have the very best team working to figure out what happened, fix it and move out to deliver ARRW to our warfighters as quickly as possible."

While previous Air Force acquisition chief Will Roper had claimed that the ARRW would make its first powered test flight by the end of 2020, the hypersonic missile's first powered flight test did not happen until April 4, 2021, ending in failure after the test ARRW failed to complete its launch sequence. Despite the lack of success in powered flight so far, work continues in other areas, with Eglin Air Force Base's 780th Test Flight Squadron announcing last month that it had successfully detonated an ARRW warhead for the first time.