Libyan Capital Sees Resurgence of Violence as International Pressure to Expel Foreign Forces Mounts Ahead of Elections
Infighting between the two largest militias in the Libyan capital erupted on Friday the 23rd and lasted into the 24th July, following US and European officials stressing the need for Turkish forces to leave the country before the elections planned for the 24th December.
The clashes started when RADA Special Deterrence Force blocked roads leading to the government headquarters in downtown Tripoli. The independently acting militia legally operates under the authority of the Ministry of Interior and is ideologically closer to Saudi Arabia than to the previous government's allies Turkey and Qatar. This move, following media reports of the United States' desire to rid Libya of foreign fighters invited by previous Libyan president Fayez Al-Saraj, prompted the 'Stability Support Apparatus' (SSA), a militia created by Al-Saraj that was directly under his authority at the time, to contest the move by Rada. On 21 July, Undersecretary Victoria Nuland told the Senate Foreign Relations Committee Hearing on U.S. Policy on Turkey that "we are discussing how to reduce the presence of foreign fighters and mercenaries there before the elections." While last week there was a meeting of the Forum for Libya's Political Dialogue, which was unable to agree a frame work for the planned December elections and raised concerns about the number of foreign mercenaries who were operating in Libya.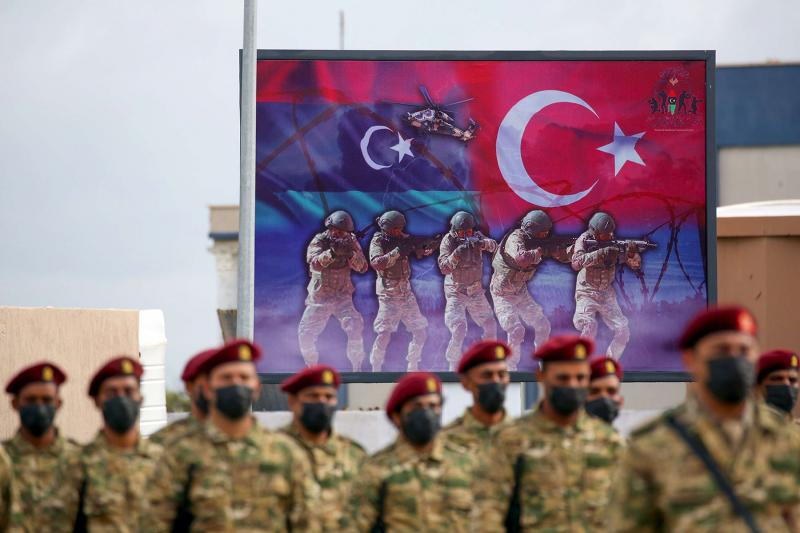 Local media outlets report that the SSA managed to seize control of the Ministry of Interior's headquarters, while local tribal and regional warlords are mediating negotiations to end hostilities.
Video footage shows the use of light to medium weapons in the densely populated capital, although both militias possess heavy artillery.
The Bab Bin Ghashir battle took the lives of seven people in total, three of which were civilian bystanders, in addition to an unspecified number of wounded casualties, according to medical sources.
Turkey has maintained an active military presence in Libya since 5 January, 2020 when it intervened in favor of the UN-recognized government in the second Libyan civil war. Peace talks that ended active combat left the question of Turkish military presence unresolved despite an election date being set for in late 2021. Analysts believe the rise in hostilities within the Libyan capital might harbor an intention of delaying them or applying pressure to justify foreign forces' continued presence. Current transitional Prime Minister Abdul Hamid Dbeibeh's government has yet to comment on the clashes.