Trophy-MV APS To Be Integrated On Challenger 3 For Trials
Rafael Advanced Defense Systems Ltd. announced today that the United Kingdom's Ministry of Defense has selected its Trophy-MV hard-kill active protection system for the next phase of detailed assessment and integration onto the Challenger 3 main battle tank.

The selection of Trophy's Medium Vehicle variant was made as a result of a study conducted by the UK MoD, as part of an upgrade program led by Challenger 3 prime contractor Rheinmetall BAE Systems Land. Detailed integration and system trials of Trophy-MV on Challenger 3 will be carried out under the four-year contract, in order to better tailor the APS to Challenger 3's characteristics. 
Our new #Challenger3 will soon be trialling its new anti-missile system.

The Trophy Active Protection System, produced by Rafael Advanced Defense Systems, is part of @RH_BAES_Land's upgrade programme to modernise our main battle tank.

Read more: https://t.co/kKHrypNpsh pic.twitter.com/cwuLcXWn7C

— British Army (@BritishArmy) June 24, 2021
According to Rafael, Trophy-MV repackages the standard Trophy installation (now referred to by the company as Trophy Heavy Vehicle) into a form factor better suited to lighter vehicles, yet retaining both performance and adding optional integrated soft-kill active protection. Rheinmetall BAE Systems Land has previously stated that the Challenger 3 turret is equipped for integration of both hard- and soft-kill APS, but it is understood that only 60 systems are currently planned for purchase.

Colonel Will Waugh, Programme Director – Armour Main Battle Tank Programme, said:
"This is an exciting moment for the Army as we make the first steps towards an Active Protection System capability for the CR3 Main Battle Tank.

This technology, already battle proven with our international allies and partners, will deliver a step change in protection against guided and unguided anti-tank weapons – a threat that continues to proliferate around the world and grow in lethality.

This marks another step forward in delivering a modernised Main Battle Tank able to defeat any threat it might meet in the future."
David Farmer, Team Leader for the Challenger 3 delivery team at Defence, Equipment & Support, the procurement arm of the UK MOD, said:
"I am delighted to welcome Rafael to our cohort of industry delivery partners who are working together to bring Challenger 3 to life. This is a significant programme for Defence, and the British Army and represents a huge shift in the modernisation of our land forces. The pioneering new technology that we are planning to use will allow us to deliver an immense warfighting capability."
Brig. Gen (Ret.) Michael Lurie, head of Rafael's land maneuverability systems directorate:
"Trophy APS has saved the lives of numerous soldiers and has been instrumental in protecting assets on the battlefield and enabling tank crews to maneuver safely under anti-tank fire and perform their missions safely and fully. This system has changed the rules of the game in the armored warfare arena, and the UK's decision to choose Trophy for the protection of its crews, ushers in a new era for its armored forces as well. We are thankful to our UK partners for joining other nations and tier-1 armored corps who have put their trust in Rafael's Trophy APS."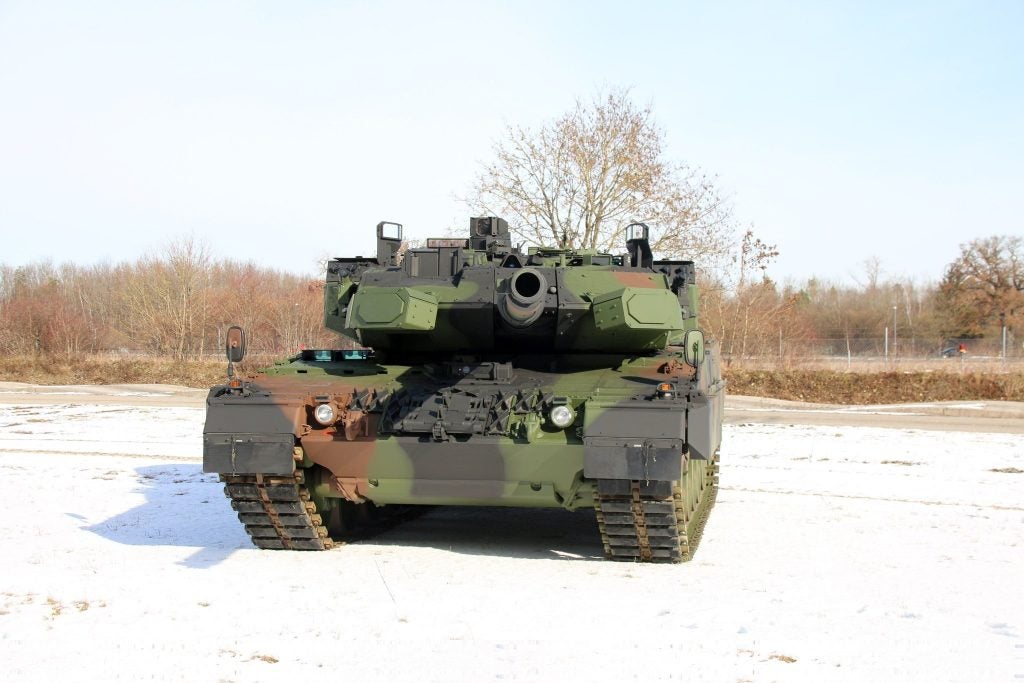 The Trophy hard-kill APS has been in service with Israel's Merkava main battle tanks since 2009, with its first operational interception in 2011. It is the only hard-kill APS to have been used in anger, with Rafael claiming that the system has accrued over 1,000,000 operating hours to date. In addition to Israeli use on the Merkava 3 and 4 and the Namer APC, the US Army has ordered Trophy for its M1A2 Abrams, and the Bundeswehr has also signed a contract to equip a company of Leopard 2A7A1s with Trophy.