The US Approves The Sale of Attack Helicopters from Turkey to the Philippines
In a statement to the press on 7 December 2018, Philippine Defense Minister Delfin Lorenzana said that the T-129 ATAK Attack and Tactical Reconnaissance Helicopter developed by the Turkish Aviation and Space Industry Inc. (TUSAŞ) had been chosen to meet the Philippine Air Force's (PAF) needs for an attack helicopter, and that 6 to 8 units would be purchased in the first phase.
"Our budget for an attack helicopter purchase is only 13 billion Philippine Pesos", said Minister Lorenzana, "If we were to try and meet our needs through the USA, we can only buy 1 to 2 attack helicopters. However, we can buy at least 6 Turkish ATAK helicopters for the same amount of money".
For close air support and multi-purpose missions, the T129 ATAK Helicopter is available in two versions: the T129A and T129B – both based on the Agusta A129 Mangusta.
The T129A is a close air support helicopter that can carry up to 76x 70mm unguided rockets and a 20mm gatling gun with 500 rounds of ammunition on board.
The T129B helicopter has been outfitted with the most modern electronic warfare equipment to be able to conduct multi-purpose missions, and it is equipped with 8 UMTAS guided anti-tank missiles, 12 guided CİRİTs, 2 STINGER's, and a 20mm gatling gun.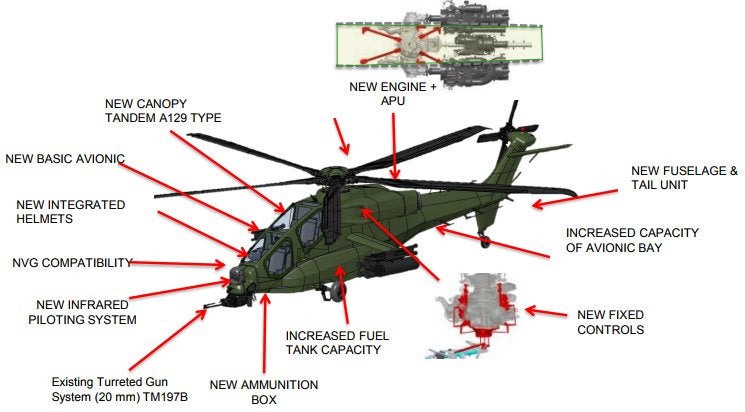 Here are the technical specifications of the ATAK:
Maximum speed: 278 km / h (151 knots)
Maximum service altitude: 6,096 m (20,000 ft)
Duty loaded altitude: 3,048 m (10,000 ft)
Climb speed: 14.0 m / s (2,750 ft / min)
Maximum Power / Weight Ratio: 550 hp / tn
Maximum hover time: 3 h (3 h)
Maximum range: 561 km (303 nm)
Range with additional fuel tank: 1000 km (540 nm)
Engines: 2 x LHTEC CTS800-4A [22]
Engine power: 2 x 1361 shp (2 x 1014 kW)
Dimensions:
Length: 13.64 m
Height: 3.96 m
Main rotor diameter: 11.90 m
Weight values:
Empty Weight: 2,900 kg (6,400 lb)
Crew: 2
Maximum take-off weight: 5,000 kg (11,023 lb)
Maximum weapon load: 1,200 kg (2,600 lb)
Weapon compartments in wings: 4 x 300 kg (4 x 661 lb)
Fuel capacity: 750 kg
Avionics:
2 x Central Control Computer
Fully Digital 4-axis Flight Control System
2 x Multifunction Display (Pilot and Co-pilot)
Aircraft display system
Integrated Inertial Navigation System and GPS
Numerical flight map
Flight data system
Radar altimeter
VHF / UHF receiver
High Frequency receiver
IFF Transponder
Voice encoder / Frequency derailleur
Image data link
DAS package with passive and active countermeasures
Hardware:
Task Management System
Target information collection with laser range finder EO / planner, FLIR and CCTV
Gun ballistic trajectory processing
Night vision (Vision system attached to the helmet)
Emergency location transmitter
Additional external fuel tanks
Connection breaker
Frost sensor
Infrared suppressors
The ATAK's most important aspects however, are the engine integration and sales license of the helicopter, which some consider to be only 60% domestic. The ATAK helicopter uses two LHTEC CTS800-4A model engines from the United States, jointly manufactured by Rolls-Royce and Honeywell. The sale of Turkey's helicopter to the Philippines Air Force was postponed due to the need for approval from the engine manufacturer, the United States.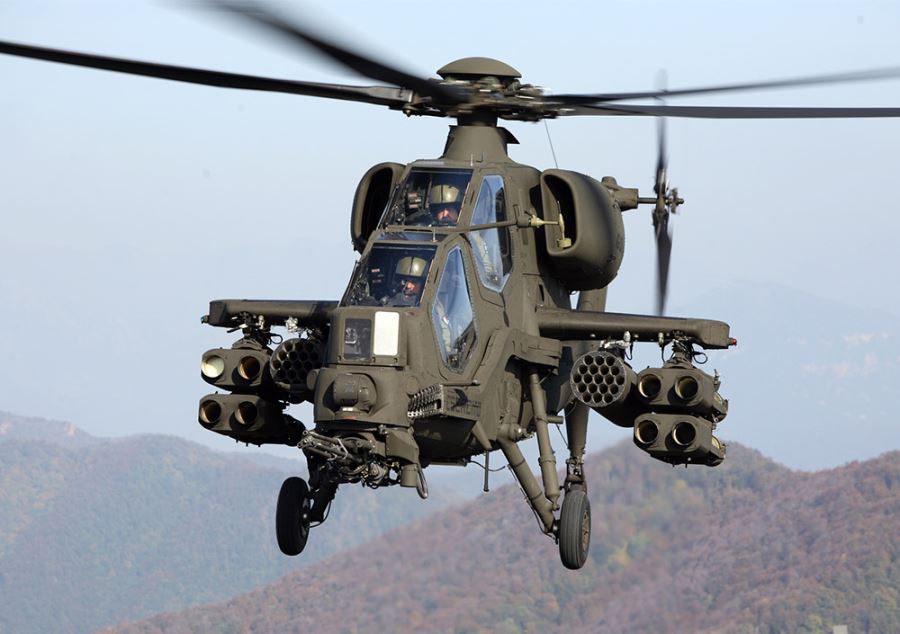 The $1.5 billion contract between Pakistan and Turkey for the sale of 30 T129 ATAK Attack and Tactical Reconnaissance Helicopters is also still awaiting US approval.
Meanwhile, the United States proposed to the Philippines the sale of AH-64 Apache and AH-1Z Viper helicopters, but they were turned down.
During the Defense's Star Shines event, Serdar Demir, TUSAŞ's Head of Corporate Marketing and Communication, announced that the US had given Turkey the requisite export permits for ATAK exports to the Philippines.
TUSAŞ has delivered 61 T129 ATAK helicopters to the Turkish Ground Forces Command, Gendarmerie General Command, and General Directorate of Police. But this will be the first time that Turkey sells helicopters abroad. TUSAŞ, is expected to produce the helicopters and supply them to the Philippines in the near future.
Turkey, on the other hand, is also working on developing its own helicopter engine. The TS1400 aviation engine, developed for the National Utility Helicopter, is also planned to power the T129 ATAK. If Turkey is able to use the TS1400 with the ATAK, future export permission from the United States will not be required.