Russian Navy's First Supersonic Cruise Missile Test In The Black Sea
On the 27 April the flagship of the Russian Black sea fleet sailed to conduct combat training exercises.
The missile cruiser Moskva of the Black Sea Fleet, left its main base in Sevastopol in order to undergo combat drills in accordance with the plan to ready the vessel for its intended missions in the future.
The vessel will fire its anti-aircraft and its anti-ship missile armament against a naval target that will be imitating an enemy ship, for the purposes of improving the action algorithm of the vessel's main missile system.
It was also stated that along with firing from the main missile complex, the crew aboard the ship will also participate in a number of training drills.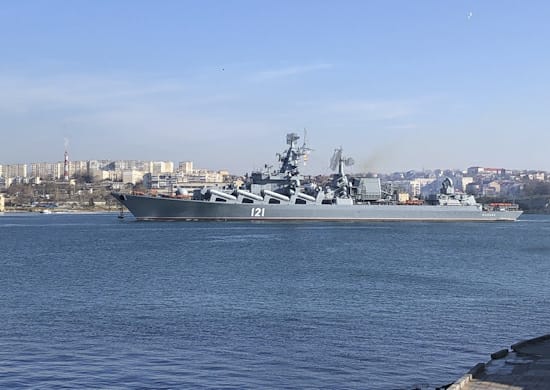 The Flagship of the Black Sea Fleet Moskva, is equipped with 16 anti-ship P-100 Vulcan missiles and an air defense system called "Fort", that is similar to the S-300 air defense missile system, which makes the Moskva capable of providing protection to an entire fleet from enemy attacks.
The combat training footage of the Flagship of the Russian Black Sea Fleet was published by the Russian Ministry of Defense.
From the official twitter account of the Russian Defense Ministry: "The Black Sea Fleet's Moskva missile cruiser, for the first time in recent history has fired the Vulkan missile with the ship's Bazalt main missile system in the waters of the Black Sea,"
The missile strike was targeted against a simulated naval target, imitating an enemy ship. The missile successfully impacted the target that was 30 kilometers away.
Joining the Moskva in the Black Sea were over 20 ships and support ships of the Russian Black Sea fleet. For safety reasons, the maritime training ground and the adjacent areas were closed as the combat training exercises were being conducted. This Vulkan missile test also comes in the midst of rising tension with Ukraine.