[IDEX 2021] Excalibur Army Debuts The DITA
Excalibur Army's new DITA self-propelled howitzer made its physical debut at the International Defence Exhibition and Conference 2021 in Abu Dhabi. The DITA is the latest generation of Czech wheeled self-propelled howitzers, having been announced just prior to the start of IDEX.

The Czech company says that extensive automation allows for an "unprecedented" rate of 155mm fire with just two crew members, the vehicle's driver and a commander, although an "emergency workstation" is provided for a third crew member to manually operate the turret in an emergency. A special Automatic Setting of Action Position (A.S.A.P.), ammunition management and inertial navigation systems facilitate rapid task execution and heightened system combat effectiveness.

The onboard control system of the DITA is accessed through the removable M4 control panel, making weapon and chassis diagnostics viewable at a glance, in addition to gun operation. "Shoot and scoot" capability is one of the main design considerations of the onboard control system, with Excalibur Army claiming that the DITA is capable of both setting up to fire and departing its fire position in under 60 seconds.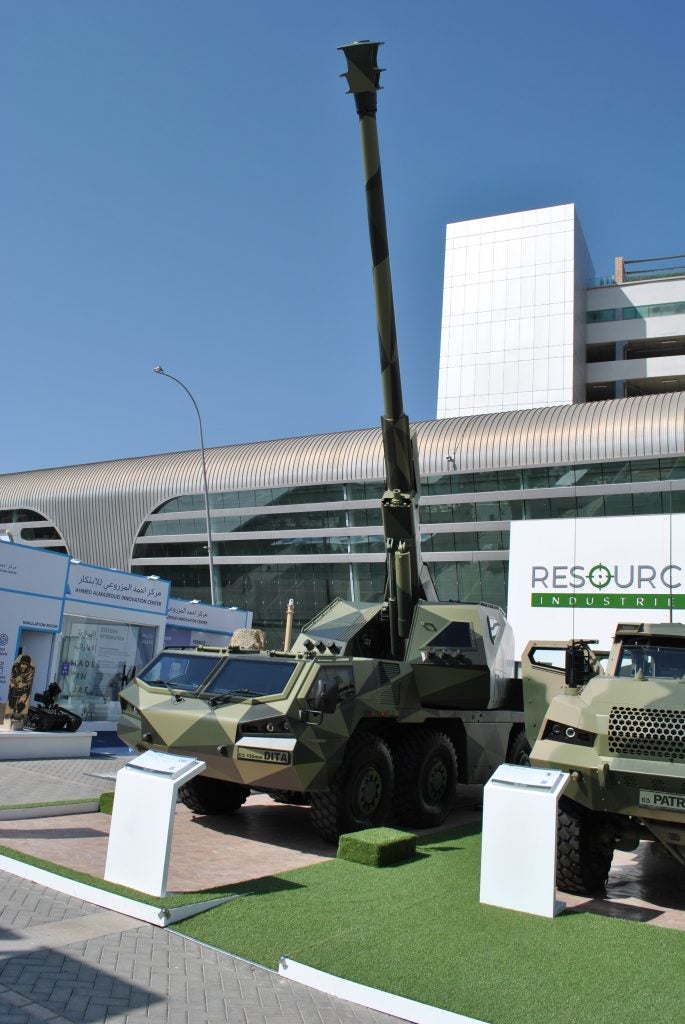 The DITA's 155mm gun is compatible with all NATO standard shells, with a range of up to 39 kilometers with base bleed shells. The gun's firing modes include single shot, rapid fire with optional delay, programmed intervals between shells or multiple round simultaneous impact. The turret's conveyors carry 40 shells in total, with the gun's autoloaders facilitating the firing of 6 shells per minute in the first minute, and a sustained rate of fire of 5 shells per minute.

According to Excalibur Army, the DITA's turret is fully autonomous, with an auxiliary power and hydraulics unit allowing gun operation even when the chassis is turned off or otherwise disabled. The company says that this design also allows for the porting of the turret to other platforms, including tracked vehicles.

Underpinning the DITA is a special Tatra chassis, with the attendant signature Tatra off-road capability further aided by a central tire inflation system. Excalibur Army's preliminary performance figures claim a 25 km/h off-road top speed and a 90 km/h on-road top speed, with a cruising range of 600 km. The cab is armored to STANAG 4561 Level 1 standard, providing protection against artillery fragments and some small arms fire, as well as NBC protection.

Excalibur Army says that the DITA is undergoing its "last stage" of development, with a functional demonstrator vehicle completed in January.