Full Rate F-35 Production Delayed Again
A deadline for deciding on whether to embark on full rate production of the F-35 by the end of March has been scrapped due to continued delays with the Joint Simulation Environment, according to a memo by Ellen Lord, the Department of Defense's undersecretary for acquisition and sustainment.

In response to inquiries by Bloomberg regarding a December 18, memo by Lord, Lord's spokeswoman, Jessica Maxwell, attributed the JSE delays to "technical challenges and the impact of Covid-19". She said that a new deadline for deciding whether to begin full rate production would be "based on an independent technical review".

Robert Behler, Director, Operational Test and Evaluation at the Department of Defense, has tied the Milestone C decision to begin full rate production of the F-35 with verification, validation and accreditation of the JSE, which is intended to provide a high fidelity simulation of air combat with the F-35 and other land, sea and air platforms implemented in the simulation.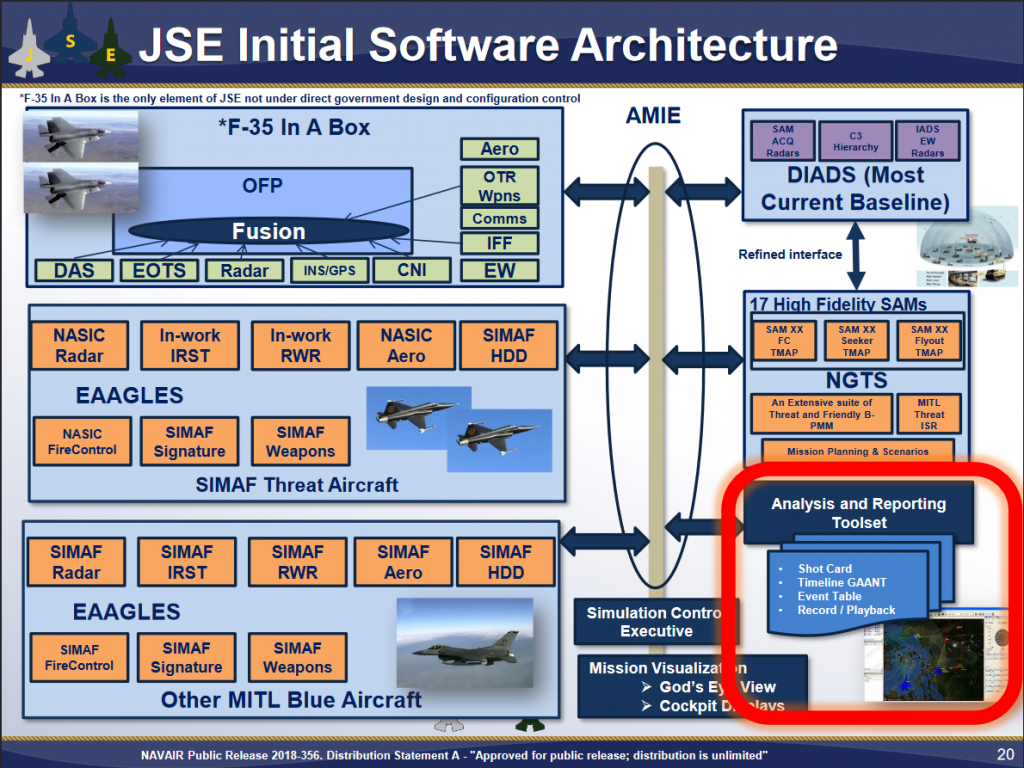 The Joint Simulation Environment has been developed by Naval Air Systems Command (NAVAIR) at NAS Patuxent River in Maryland since 2015, after the F-35 Joint Program Office decided against expanding Lockheed Martin's VSIM (Verification Simulation) to provide the functionality JSE is designed to provide. Lockheed Martin representatives have since stated to Air Force Magazine that it has completed its part of integration work for JSE, saying that "this work has been accomplished and we continue to assist the U.S. government in their integration efforts".
The JSE is intended to operate on a significantly larger scale than other simulations that came before it, operating on a theater-wide scale with thousands of simulated entities instead of having strategists extrapolate from simulated few-against-few scenarios. With such complexity, perhaps it is not so surprising that development timelines have not reacted well to the stresses brought on by the pandemic.
NAVAIR noted in a 2018 presentation that "A significant percentage of the (F-35's) operational test points are not executable on the open air ranges", adding that the requirements that drive JSE development are not unique to the F-35, opening up the possibility that the F-35 is merely the first of many aircraft to leverage the JSE for testing in the future.

Despite the continued delays to the full rate production decision, the F-35 is still being procured by multiple users around the world and of great interest to several prospective customers (indeed, it's still the most produced 5th generation aircraft of 2020 by some distance with 123 aircraft delivered to operators), with Australia declaring initial operational capability for its F-35As just last month and the UK declaring initial maritime operating capacity on January 5.