Royal Marines Seize £100 Milion Worth of Drugs in Raid
While operating in the Arabian Gulf Area, British Royal Marines based on HMS Montrose boarded an unidentified vessel by speedboat. Their discovery: 450kg of Crystal Meth valued at nearly £100 million, approximately $131 million. The raid, conducted on 11th October, but not reported to the public until the 21st October, is the largest recent drug bust to be carried out by any of the 33 nations deployed to the region as part of the Combined Maritime Forces (CMF). It definitely dwarves the Royal Marines' earlier successes – £6 million worth of cannabis in February and over a million pounds worth of crystal meth in 2019.
Commander Charles Collins, commanding officer of the Royal Navy's HMS Monterose, stated that:
"Every sailor and marine, airman and woman, alongside our international partners, should be proud to have contributed to the success of this operation which has undoubtedly kept millions of pounds of drugs off our streets."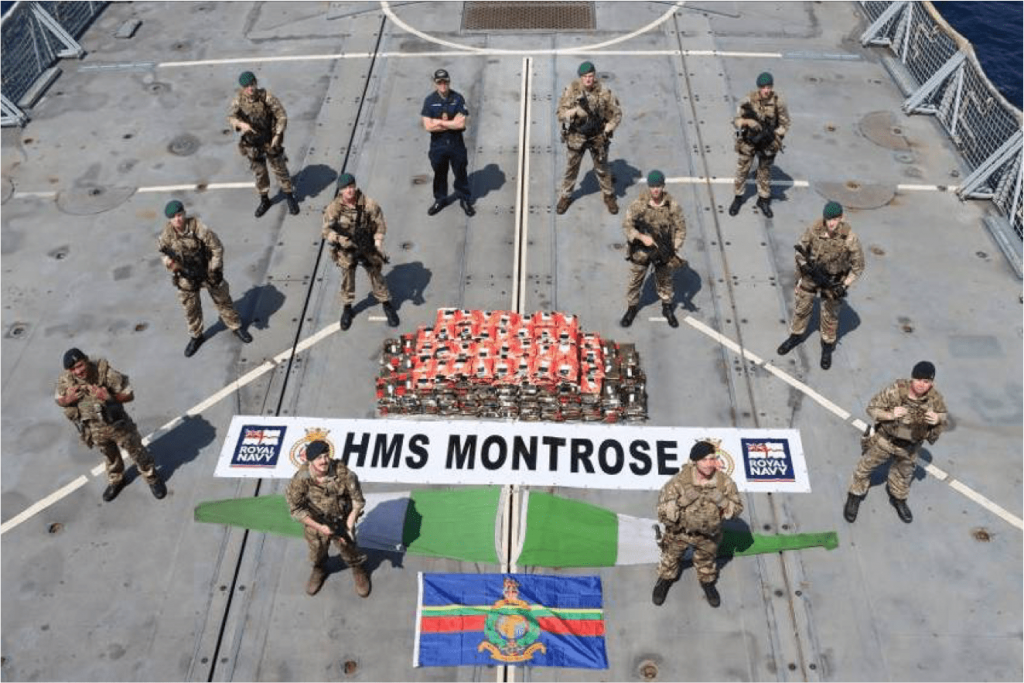 This success comes just weeks after the Royal Navy, cooperating with the US Coast Guard and the Dutch Navy, seized almost 2 tons of drugs in the Caribbean. On this, James Heapy, UK Minister for the Armed Forces, commented that:
"The Armed Forces are committed to tackling organised crime, both at home and overseas, and work with our allies around the world to help protect our people and interests."
To uphold this commitment, the UK is engaged in counter narcotics operations around the globe. The Combined Maritime Forces, which conduct the international CTF-150 maritime security project, that HMS Montrose is deployed in support of, has a long track record of stopping drug flow. Under Canadian leadership between December 2018 and the end of April 2019 for example, 33 tons of drugs valued at around $41 million were seized. Royal Navy ships notably also operate in support of anti-piracy operations in the region as part of CMF's CTF-151.