Kongsberg Win Wireless Fire Control Contract for US Army Robotic Combat Vehicles
Kongsberg Defense & Aerospace has won the contract for a common, system-wide wireless fire control system for the US Army family of in-development Robotic Combat Vehicles (RCVs).
RCV-Light (RCV-L) and RCV-Medium (RCV-M) will also sport Kongsberg weapon mounts in the form of both the CROWS-J (Common Remotely Operated Weapon Station- Javelin) and the Protector MCT-30 turret which also equips the Stryker Dragoon. The M5 Ripsaw RCV-M will be able to be equipped with either the CROWS-J or the MCT-30 sporting the 30mm XM813 cannon whilst the RCV-L can be fitted with the CROWS-J.
The MCT-30 turret has also been selected by the US Marine Corps for their next-generation Amphibious Combat Vehicle platforms although it will mount the Orbital ATK Mk44 Bushmaster II rather than the XM813 to ensure commonality with other Navy systems.
In related RCV news, Estonian firm Milrem debuted their Type-X RCV last month. The Type-X is a hybrid diesel-electric powered mounting a Cockerill Protected Weapons Station capable of fitting either a 25mm or 30mm cannon along with options to mount anti-tank guided missiles (ATGM). Milrem are pitching the Type-X as a force protection platform to protect logistical convoys but it isn't difficult to see the opportunities of teaming the vehicle with manned armoured fighting vehicles in the Loyal Wingman concept.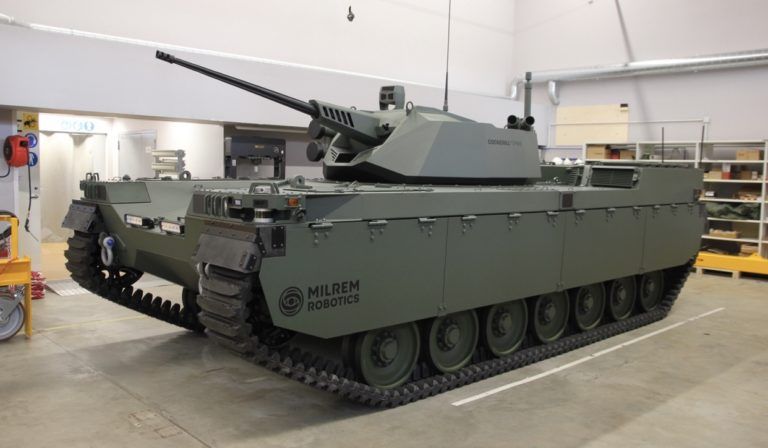 The Chief Marketing Officer of Cockerill, Simon Haye, noted; "One of the first realistic roles for unmanned fighting vehicles will be convoy defense and perimeter or base defense. The Type-X with the CPWS can be placed in the front and rear of a convoy to provide additional eyes and firepower for the convoy."
"Rarely does a convoy have available 25mm firepower and given the system is unmanned, tactics like rushing an ambush site, or maneuvering on the enemy's position are now legitimate options for a convoy under fire," Haye continued "the lead / follow functions of unmanned vehicles is well-developed technology and spreading some operator stations through the convoy can provide redundancy and quick response."