Australian Rheinmetall Launch Autonomous Combat Warrior
Rheinmetall Defence Australia have announced the formation of Autonomous Combat Warrior (ACW) in collaboration with a number of Australian government and private research entities. The aim is to develop technology for autonomous platforms, particularly focused on human-machine teaming.
Rheinmetall noted in a press release:
"ACW's goal is to fundamentally change the way in which land vehicles support military operations by transforming a vehicle from tool to teammate to provide currently unachievable levels of soldier protection, support and tactical advantage."
The Commonwealth Scientific and Industrial Research Organisation (CSIRO), Defence Science and Technology (DST), the Queensland University of Technology (QUT), and the Royal Melbourne Institute of Technology (RMIT) will be working alongside Rheinmetall researchers and engineers from Australia, Canada and Germany.
Work will apparently initially focus on automated driving with Rheinmetall's Mission Master and two remotely crewed German Wiesel 2 platforms (likely based on the Wiesel Wingman proposed for the US Robotic Combat Vehicle-Light requirement). One workstream, with DST, will look at potential autonomous capabilities to support the Boxer 8×8 Combat Reconnaissance Vehicle, recently selected by the Australian Army under their Land 400 Phase 2 requirement.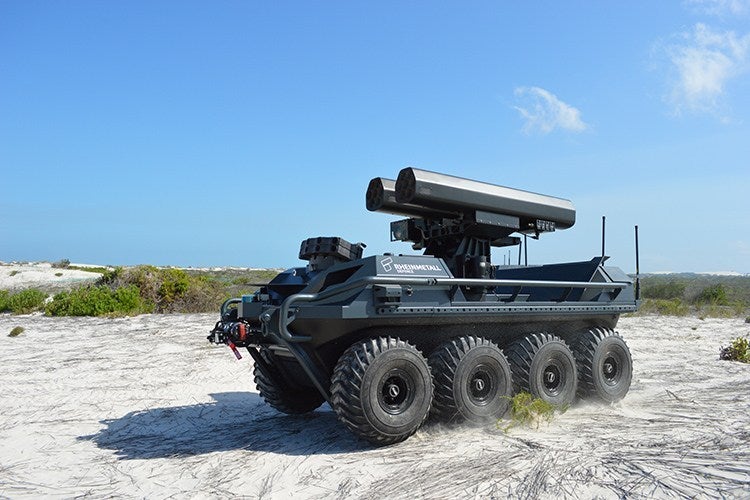 Additionally the program aims to develop what Rheinmetall terms their "platform agnostic Autonomous Kit (A-kit), suited for integration into a variety of road and off-road military vehicles", potentially allowing current in-service platforms to be adapted for remote crewing.
The Australian Army has shown considerable interest in using their legacy M113 armoured personnel carriers (APCs) in an unmanned capacity (as reported previously by Overt Defense) under their Robotics and Autonomous Systems (RAS) Strategy. Two remotely operated M113AS4s were developed by BAE Systems last year as technology test-beds.
The Rheinmetall ACW announcement also included an interesting statement by the company on the moral difficulties around fully autonomous weapons platforms:
"Rheinmetall only develops systems that are strictly compliant with the rules of engagement of its customers. Rheinmetall does not develop, manufacture or market fully autonomous weapon systems. Rather, Rheinmetall is convinced that humans must retain the power of decision and therefore rejects fully autonomous weapon systems that deprive humans of the power to decide whether or not to use weapons against other humans."