New Russian Amphibious Assault Vehicle Requirement
The Russian Navy has announced a new development requirement for a new amphibious assault vehicle for its Naval Infantry units. The platform is required to be operational by 2025, which seems unrealistic based on previous Russian procurement efforts. The project has been spurred on by Project 11711, the Russian Navy's next generation of amphibious landing ships.
An earlier design by OmskTransMash, the BMMP (bojevaya mashina morskoj pekhoti) based around the BMD-4M air portable infantry fighting vehicle (IFV), may become the basis of the new platform although it would require significant redesign to accomplish the new specifications. Support for the BMMP design was officially ended by the Russian Ministry of Defense by 2018, although engineers at OmskTransMash continued to finesse the design.
The new platform needs to be capable of carrying up to 15 infantrymen and with a 'swim range' of a reported 10 kilometers. Additionally it needs to be able to provide organic intimate fire support for the dismounts, likely in the form of an unmanned turret mounting a 30mm or 57mm cannon using the Russian 'combat module' approach. The platform is expected to weigh in the region of 30 tons and will be armoured against artillery fragmentation and 12.7mm (.50cal) direct fire.
Naval Infantry currently rely on the wheeled BTR-80 in a number of variant models. The BTR-80 series is amphibious capable but intended for river crossings rather than the open sea which has resulted in a number of fatalities during exercises in recent years. Historically, the Naval Infantry have been seen as a lower priority for new equipment, lending weight to scepticism about the new amphibious platform and its aggressive timelines.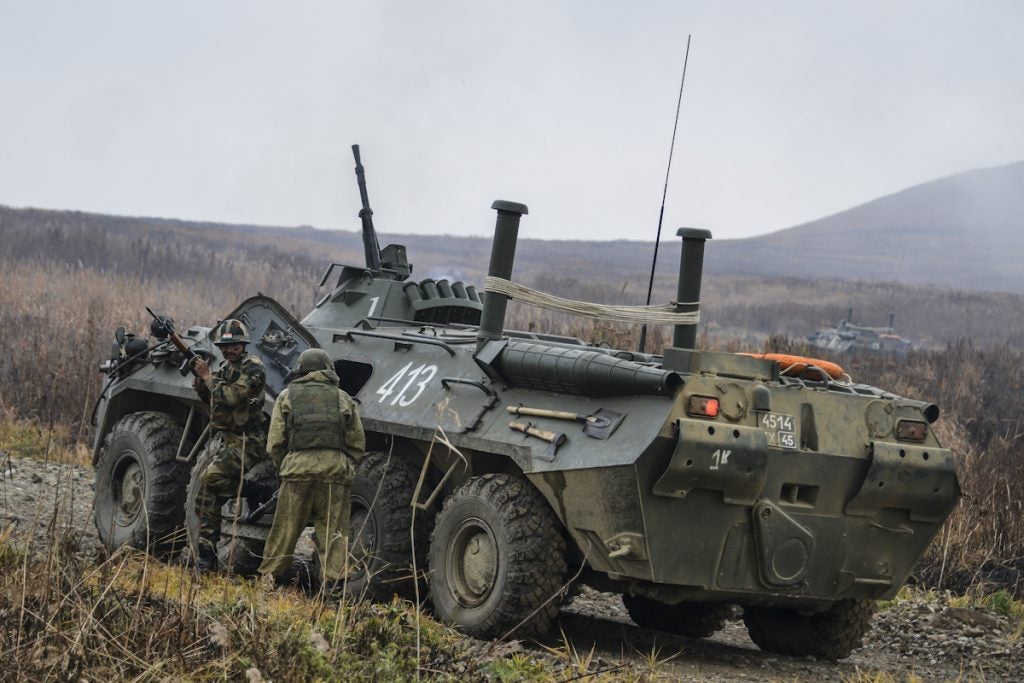 In other Russia news, it appears that the deliveries of the T-14 Armata, the Russian Army's next generation MBT (main battle tank), have suffered further delays. Due to shrinking budgets, the Army is upgrading their T-72 fleet to the B3 variant and introducing the T-90M in larger numbers. It appears significant deliveries of the T-14 will not occur until 2023 at the earliest. The first nine T-14s, originally scheduled for an in-service date of 2018, are now expected be delivered this year.