Last Tranche 3 Eurofighter Jet Delivered to Germany
Eurofighter Jagdflugzeug told defense reporters at Jane's on 18 December that it delivered the last of the Eurofighter Typhoon aircraft under the German program-of-order (PoR).
Luftwaffe Serial 31.53, the final of the Tranche 3A variant jets, left Airbus's production facility in Manching, southern Germany on 17 December. Its delivery marks the 143rd Eurofighter jet the Luftwaffe has received into service since the first one, of Tranche 1, was delivered back in 2003.
Before Germany, the United Kingdom was the first partner nation to officially conclude its Eurofighter PoR when the UK Royal Air Force (RAF) received its last Tranche 3A aircraft from British BAE Systems' Warton Aerodrome facility on the 27 September. The RAF received the first of its 160 aircraft back in 2003.
The Manching facility near Munich will be repurposed to focus on producing parts to be assembled at the other national production facilities in Italy, Spain, and the UK in the short term. In the long term, the facility is going to be dedicated to fulfilling an order of 38 new aircraft the Luftwaffe placed to replace 32 early Tranche 1 units, known as Project Quadriga. A contract for the new active electronically scanned array (AESA) radar-equipped Eurofighters is expected to be signed between the consortium and the German government soon.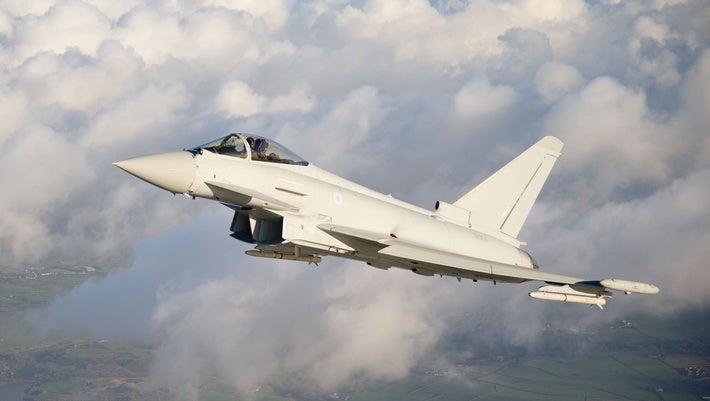 While production of components and Project Quadriga jets is underway at the Manching facility, a decision on Germany's Tornado replacement and NATO electronic attack requirements (Luftgestützte Wirkung im Elektromagnetischen Spektrum [luWES] programme) will be made. Eurofighter is in a bid to be selected as the sole contractor for both, giving them an order to build 97 aircraft for the Luftwaffe in addition to the 38 it's contracted to build as part of Project Quadriga.
The Eurofighter Typhoon has seen 623 orders as of 2019, 558 of which in active service around the world. The Tranche 3 is the most recent variant and saw its first flight in 2013, boasting what BAE systems described as hundreds of upgrades.