More HELWS Counter-UAV Lasers for the USAF
The USAF Research Laboratory at Wright-Patterson Air Force Base has added a third Raytheon HELWS (High Energy Laser Weapon System) to their previous order of two HELWS platforms (as reported by Overt Defense) for operational testing both within the US and overseas, potentially against live enemy drones.
The purchase, worth $13.1 million USD, is in addition to the earlier $23.8 million USD deal to acquire the first two platforms. With full-rate production, which could occur from as early as next year, the price per unit will be reduced, whilst capabilities such as counter-mortar may be added.
The 10 kW HELWS laser, combined with Raytheon's MTS or Multi-spectral Targeting System which "provides electro-optical/ infrared (EO/IR), laser designation, and laser illumination capabilities integrated in a single sensor package", can fire between 20 and 30 shots and operate in ISR (intelligence, surveillance, and reconnaissance) mode for some four hours from a single charge.
The HELWS is mounted upon a Polaris MRZR all-terrain vehicle offering a compact, lightweight platform that can be internally air transported by C-130, Osprey or Chinook meaning that special operations forces (SOF) can benefit from the counter-UAV platform, irrespective of location or mission.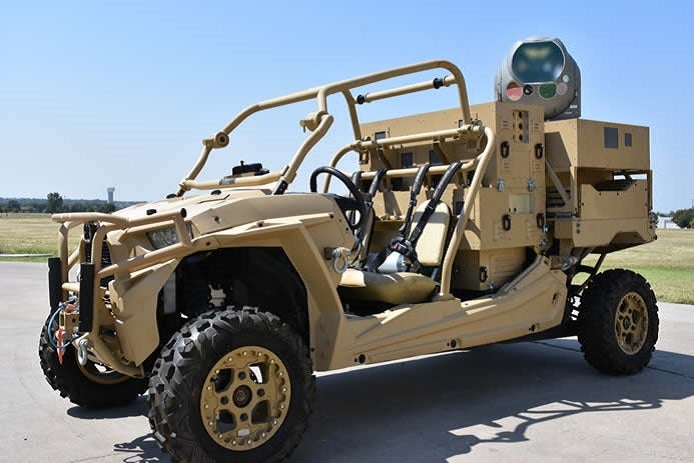 Until HELWS, SOF relied upon jammers and counter-drone rifles which often interfered with SOF communication systems, a problem that was first encountered more than a decade ago with active counter-IED (improvised explosive device) systems in Iraq. Raytheon has even experimented with mounting HELWS on a Ford F-350 pickup – laser technical anyone?
US Special Operations Command (USSOCOM) and Project Management Office Apache Attack Helicopter are also continuing their efforts to combine the MST and HEL (High Energy Laser) with the AH-64D Apache. The first test-firing occurred in 2017, and was immortalised by Raytheon in a YouTube video. The HEL is mounted via pod in a similar manger to any externally mounted ordnance.