Rheinmetall StrikeShield APS to be Tested by US Army for Stryker
Rheinmetall Protection Systems, and its joint venture partner Unified Business Technologies, have been awarded a $11 million USD contract for testing of their StrikeShield active protection system (APS) beginning in October next year at Redstone Test Center. Rafael's and DRS' Trophy VPS, a lighter and more compact variant of Trophy, was also in the running for the APS contract but no announcement has yet been made on their suitability.
Formerly known as the Rheinmetall Active Defense System (ADS), StrikeShield offers protection against anti-tank guided missiles (ATGMs), rocket propelled grenades (RPGs) and against large calibre kinetic energy (KE) projectiles including MBT (main battle tank) main gun rounds. According to earlier test reports, the system can also disrupt the off-route version of the infamous explosively formed penetrator IEDs (improvised explosive devices) that plagued Coalition forces in southern Iraq.
Although initial trials at Redstone will focus on integration with the Stryker, the Army's Vehicle Protective Systems (VPS) program hopes the findings will be equally useful to the Mobile Protected Firepower (MPF), Armored Multi-Purpose Vehicle (AMPV), and the Optionally-Manned Fighting Vehicle (OMFV) program.
Trophy APS has been selected for the Abrams series MBTs and Iron Fist for the Bradley IFV family as interim APS packages whilst the Army develops its own Modular Active Protection System that is envisioned to replace Trophy and Iron Fist in the longer term. Integration of an APS with the Stryker family has proven problematical as previously reported by Overt Defense. Artis' Iron Curtain was originally earmarked but failed in testing.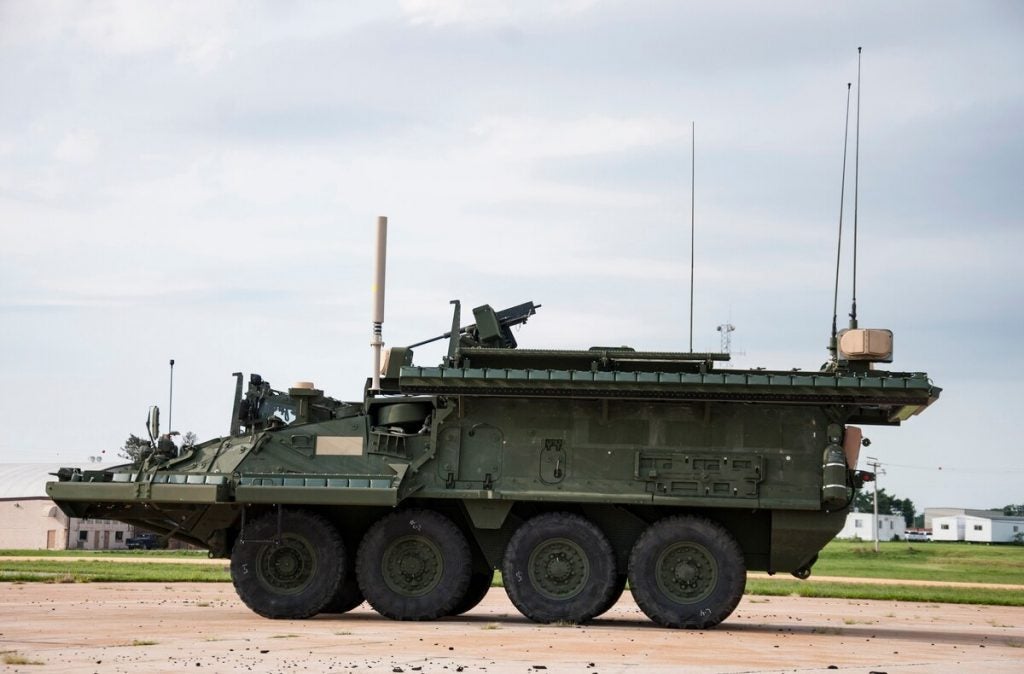 The Army's program manager for Stryker and APS noted last October; "In the case for Iron Curtain, their base performance, that was pretty good. They had a relatively high intercept rate. But we judged the suitability of the system combined with Stryker was poor." Reportedly the system did not perform well in inclement weather and had an unacceptably high number of false alarms.
Rheinmetall also offers the StrikeShield Hybrid which incorporates the APS with armour to protect the system from artillery fragments and small arms fire as well as damage caused by the interception of large calibre KE rounds and ATGMs which may otherwise damage the platform. As StrikeShield reportedly engages at less than a metre from the equipped vehicle, the Hybrid system may be a vital component for lightly armoured platforms like the Stryker.