M5 Ripsaw Robot Tank Debuted
In another first for the 2019 AUSA (Association of the United States Army) trade show, Textron Systems have displayed their M5 Ripsaw Robotic Combat Vehicle (RCV). The diminutive 10-ton 'robot tank' can launch unmanned aerial or ground vehicles (UAV/UGV), conduct reconnaissance and surveillance or act as a 'robot wingman' for armoured or cavalry formations.
First developed as a private enterprise by Howe and Howe Technologies and featured on a reality television programme, the M5 is the latest iteration of a platform that has been continually evolving since 2006, with earlier versions tested but dismissed by the US Army as a possible UGV contender. Textron acquired Howe and Howe in 2018, and have worked extensively to develop a version capable of competing in the Army's current Robotic Combat Vehicle trials.
The Ripsaw is equipped with a 360 degree FLIR Systems' sensor package and is scalable with different suspensions and chassis' available dependent on mission. Armour packages are also available based on likely enemy threat. It currently offers either lead-follow operation governed by a human operator or traversing via programmed waypoints but Textron plans to refine command relationships for the platform as the RCV concept matures.
Textron offers a bewildering array of payloads for the M5 including two types of unmanned platform that use the Ripsaw as a 'mother-ship' including the FLIR SUGV tracked UGV and the SkyRaider, a quadcopter UAV able to carry kinetic payloads.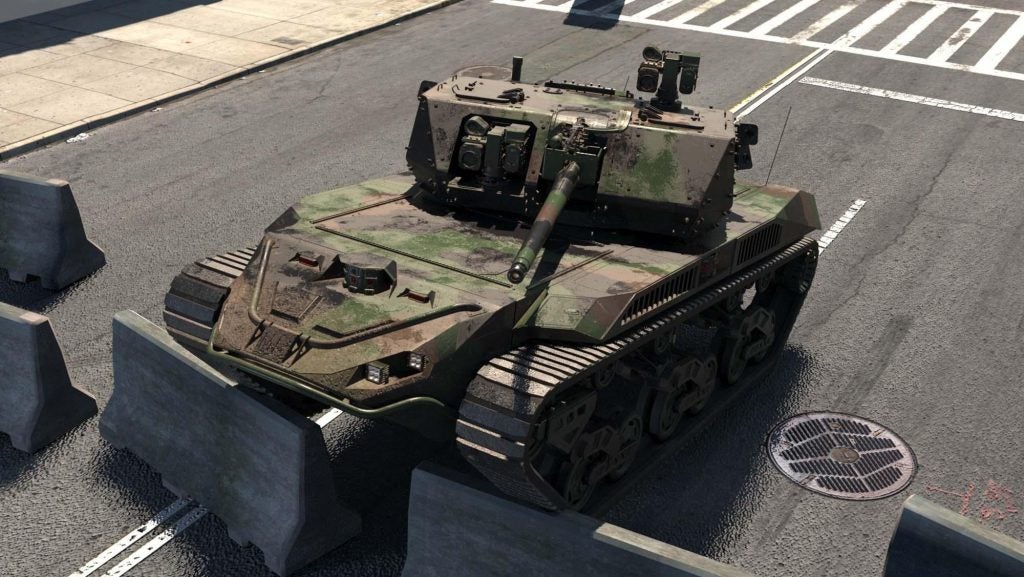 In terms of armament, the M5 displayed at AUSA sported the respected Kongsberg MCT-30 Protector remote weapon station mounting a 30mm Mk 44 Bushmaster II cannon, the same platform used on upgunned US Army Stryker Dragoons as previously detailed by Overt Defense. For anti-tank duties, the CROWS-J (Common Remotely Operated Weapon Station- Javelin) can be mounted on the M5 offering the potent capabilities of the FGM-148 Javelin ATGM (anti-tank guided missile) out to 2500 meters.
The M5 can also support combat engineers or explosive ordnance disposal (EOD) teams with the capability of mounting the MICLIC or Mine Clearing Line (also used by the Army's M1150 Assault Breacher Vehicle), a mine plow or rollers to clear a path through mine or IED (improvised explosive device) sown territory.
In late breaking news, Textron along with HDT Global, QintetiQ and Oshkosh have all been down-selected by the US Army for the RCV-Light requirement with a Request for Prototype Proposal to be issued to each firm. The Textron entry is believed to be the lightweight variant of the M5 with the standard M5 earmarked for the RCV-Medium category.