Yemeni Houthi Claim Ambush of Saudi Convoy
Yemeni Houthi insurgents have trumpeted the ambush of a large Kingdom of Saudi Arabia (KSA) military convoywith the release of a number of videos showing a complex rolling ambush against KSA armoured and soft-skin vehicles.
Although the footage has only recently been released in an apparent propaganda effort by the Houthis, the ambush appears to have actually occurred a month ago, on August 29, and has been dubbed 'Operation Victory from God' by the Houthis.
The ambush happened in the Saudi border province of Najran amongst rocky slopes and narrow roads. Using SPG-9 and B-10 recoilless rifles, RPGs and ATGMs (anti-tank guided missiles) including the Iranian manufactured 9M133 Kornet copy the Dehlavieh or Dehlavie, the lead and rear vehicles are targeted in a textbook vehicular ambush.
With their immediate advance or withdrawal blocked, the convoy broke every rule of counter-ambush in what appears to be a wild panic. No return fire is visible in the videos with KSA crews apparently buttoned up, bunched together making them an easy target for Houthi ATGMs and recoilless rifles. Other vehicles including Land Cruiser based technicals attempt to flee cross-country but are engaged.
No air support, artillery or quick reaction force arrives to assist the stranded convoy and vehicles are picked off at leisure. Houthi insurgents are seen walking around in the open, apparently unafraid of the prospect of return fire or KSA rotary air assets.
Amongst the KSA vehicles are a number of LAV variants including LAV-25s purchased from General Dynamics Land Systems-Canada shown burning or overturned. KSA owes General Dynamics a reported $1 billion CAD in lapsed payments for LAV acquisitions. A variety of MRAPs (mine resistant ambush protected) including at least one Oshkosh M-ATV and a number of IAG Guardian, Canadian Streit Group Spartan and Jordanian KADDB (King Abdullah Design and Development Bureau) Al-Wahsh platforms are shown abandoned or in flames.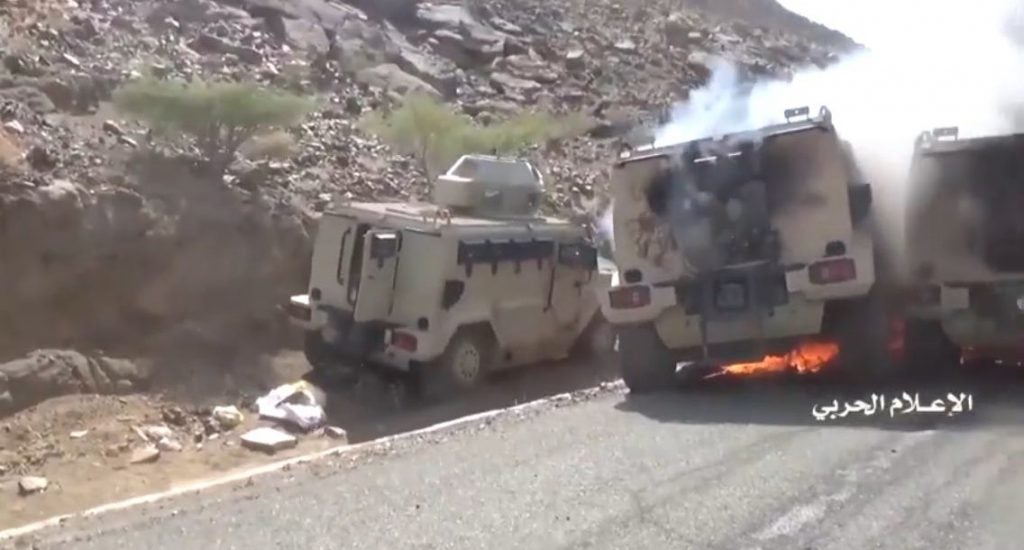 At least two M163 VADS (Vulcan Air Defense System) platforms, M113s mounting 20mm Vulcan multi-barrel cannon, were seemingly captured intact. The Houthis have previously captured a number of M163s and infamously mounted one of the scavenged Vulcans on a Land Cruiser technical.
Both personnel who appear to be uniformed Saudi National Guardsmen and suspected mercenaries in traditional Yemeni civilian clothing are shown captured and killed. According to Houthi sources, more than 200 were killed. Initial claims of thousands of prisoners and the decimation of three Saudi brigades seem to be the product of Houthi information operations.
The Saudis have claimed that the footage was a "failed ambush attempt" and have instead claimed that 1,500 Houthis were killed in the contact and 250 vehicles destroyed. Both the Houthi and KSA are well-known as unreliable actors with regular issues of Taliban-like exaggeration and misinformation. It is likely we will never understand the full course of events which occurred.