Bell Unveils their Future Attack Reconnaissance Aircraft Contender – The 360 Invictus
Bell Textron Inc. have revealed its contender for the United States Army's Future Attack Reconnaissance Aircraft (FARA) program, the Bell 360 Invictus.

According to Bell, the 360 Invictus' design uses proven technology from both commercial and military helicopter designs to meet or surpass the FARA program requirements at a low cost. An example of this according to Bell is the 360 Invictus' rotor system, which is based on that of the 525 Relentless helicopter, which is currently undergoing FAA certification. Compared to the five rotor blades of the 525 Relentless, the 360 Invictus has four shorter rotor blades in order to meet Army requirements for maximum aircraft diameter. However, the blades are claimed to be similar in manufacture.

Another notable technology employed on the 360 Invictus is a full fly-by-wire flight control system, a first for any combat helicopter used by the United States Army. A similar system is already in use on the 525 Relentless. Bell claims that the employment of the fly-by-wire system provides a path to autonomous flight.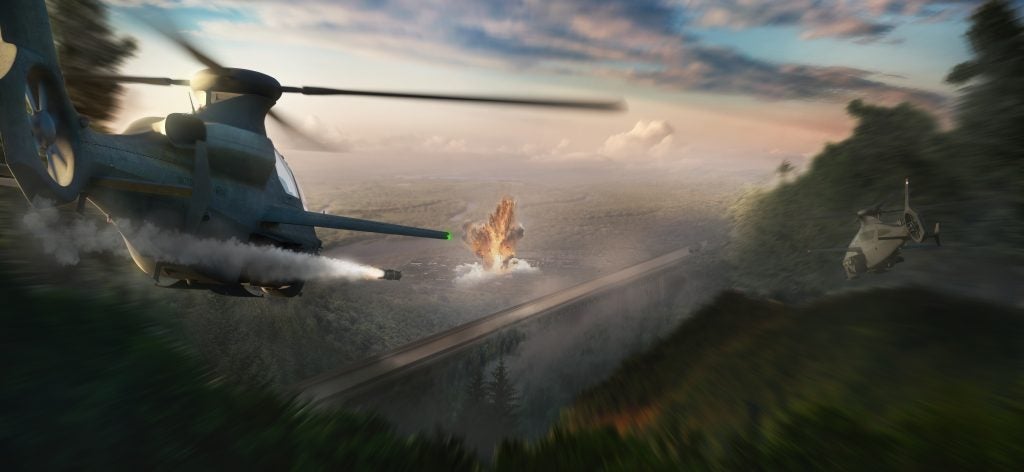 "The Bell 360 will deliver advanced battlefield situational awareness, as well as lethal options, in support of the maneuver force at an affordable cost" said Vince Tobin, executive vice president of Military Business at Bell. "The multi-domain fight will be complex, and our team is delivering a highly capable, low-risk solution to confidently meet operational requirements with a sustainable fleet."

The 360 Invictus features a Modular Open Systems Approach (MOSA) enabled by a digital backbone by Collins Aerospace, with the aim of allowing easy part replacements and upgrades with any parts built to compatible standards.

To meet the FARA program's requirement of a 180-knot cruising speed, the 360 Invictus uses a single General Electric Improved Turbine Engine, with a supplemental power unit for times of high power demand. The 360 Invictus' wings are claimed to generate 50 percent of the helicopter's lift at cruise speed, allowing the main rotor to generate more forward thrust instead of lift. An internal weapons bay, retractable landing gear and a shrouded tail rotor further reduce drag. Bell has only tested a scale model of the 360 Invictus in a wind tunnel to date, but plans for a prototype first flight in 2022.

The FARA program intends to provide a proper replacement for the OH-58D Kiowa Warrior fleet, which was retired in 2016. The program seeks an aircraft that can conceal themselves in radar clutter and has ample reach, alongside improved stand-off capabilities and suitability for operations in future megacities.