"There is no Plan-B" Warrior IFV Upgrade Still Alive at DSEI
After significant delays and upwards of 400 million GBP estimated to have been sunk into the troubled programme to-date, the Warrior Capability Sustainment Programme (WCSP) has attracted all manner of criticism with frequent calls for its cancellation. At the WCSP briefing at this year's DSEI trade exhibition, however, the primary contractor Lockheed Martin were unequivocal; "MoD [Ministry of Defense] is absolutely committed to this programme. There is no Plan-B."
The WCSP is intended to extend the service life of the Warrior platform into the 2040s. The base MCV-80/FV510 Warrior Infantry Fighting Vehicle (IFV) was first fielded in the mid-1980s and is undergoing generational upgrades, mainly in the area of up-armouring (with an attendant increase in overall weight), and theatre specific modifications such as the TES (H) (Theatre Entry Standard- Herrick) to enable operations in Afghanistan.
The big news at DSEI was that trial platforms have been successfully completing Reliability Growth Trials (RGTs) with the Army's Armoured Trials and Development Unit at Bovington. Some 20 'battlefield missions' have been completed by the WCSP platform up to last month. These RGTs included successful test firing of the new CTAI 40mm Cased Telescoped Armament System including accurate firing on the move (including at night and in poor weather) facilitated by Lockheed Martin's new stabilised Fire Control System (FCS).
David Johnson, Lockheed Martin UK's Chief Engineer on the programme, explained the three key capability upgrades – Warrior Fightability & Lethality Improvement Programme; Warrior Modular Protection System; and Warrior Enhanced Electronic Architecture.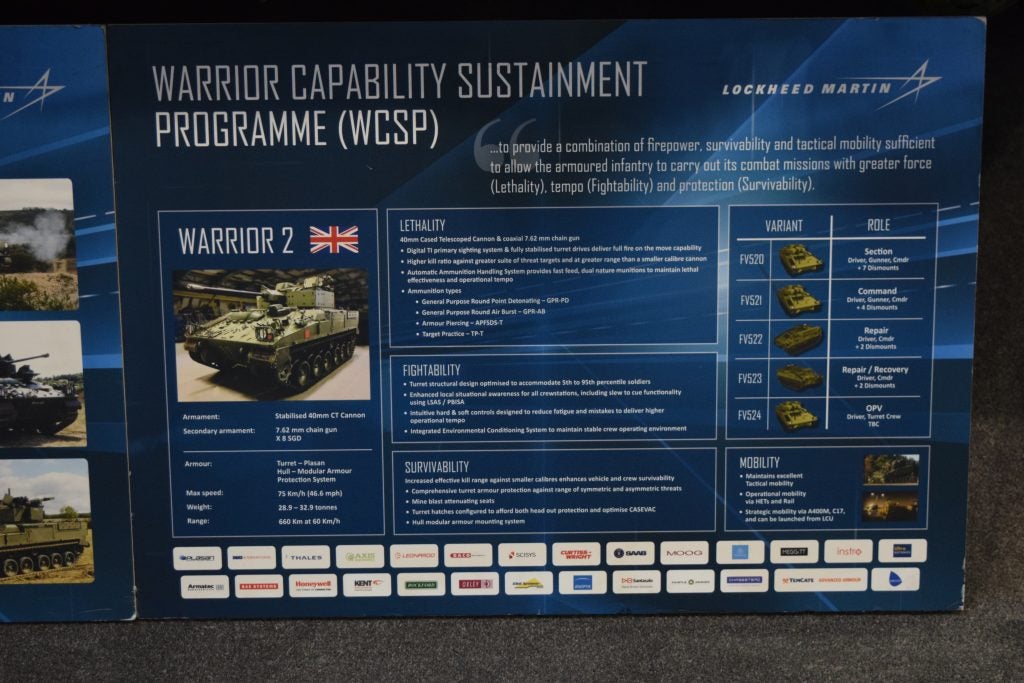 In a blog post Johnson said "Lethality through the integration of a fully stabilised turret incorporating the CTAi 40 mm cannon paired with an automated ammunition handling system and modern sighting and fire control systems."
"Survivability through the integration of high-performance armour systems providing enhanced crew protection and environmental control systems enabling the crew to operate in comfort and maintain the highest levels of readiness after deployment in the vehicle."
Concluding that "fightability through modern mission systems using network enabled systems and modern user interfaces to ensure that the crew and dismounts can interact with and use the system effectively whilst achieving excellent situational awareness from the integrated vision and communication systems."
Originally some 380 vehicles were planned to be modernised to WCSP, however, with the reduction in the numbers of armoured infantry brigades within the British Army it's now likely only a maximum of 280 platforms will receive the upgrade, originally scheduled to begin next year.