DSEI 2019: THeMIS equipped with Brimstone
At DSEI 2019 the Estonian UGV THeMIS, produced by Milrem, is being shown off in 4 different configurations. The most radical of these is the installation of a 6 round launcher for MBDA's Brimstone missile. Brimstone is in service with the RAF's Typhoon and is expected to also be integrated on the Protector RPA and AH-64E (with modification). Brimstone has dual-mode guidance, carrying both a millimeter-wave radar seeker and a laser seeker. The radar allows it to ignore most countermeasures like smoke or optical jammers. If built, this would be the first land-based platform to carry Brimstone though a lengthened Brimstone was proposed for integration on the Boxer 8×8. MBDA stated the missile can be fired at targets beyond-line-of-sight using location data shared by forward observers. Just recently THeMIS passed NATO standard air transportability tests, being slung beneath an Estonian AW139 helicopter. This would allow heliborne infantry teams to deploy with the vehicle, giving them a truly remarkable anti-tank ability compared to man-portable systems like Javelin. The launcher adds 400 kg to the vehicle with each Brimstone weighing 50 kg.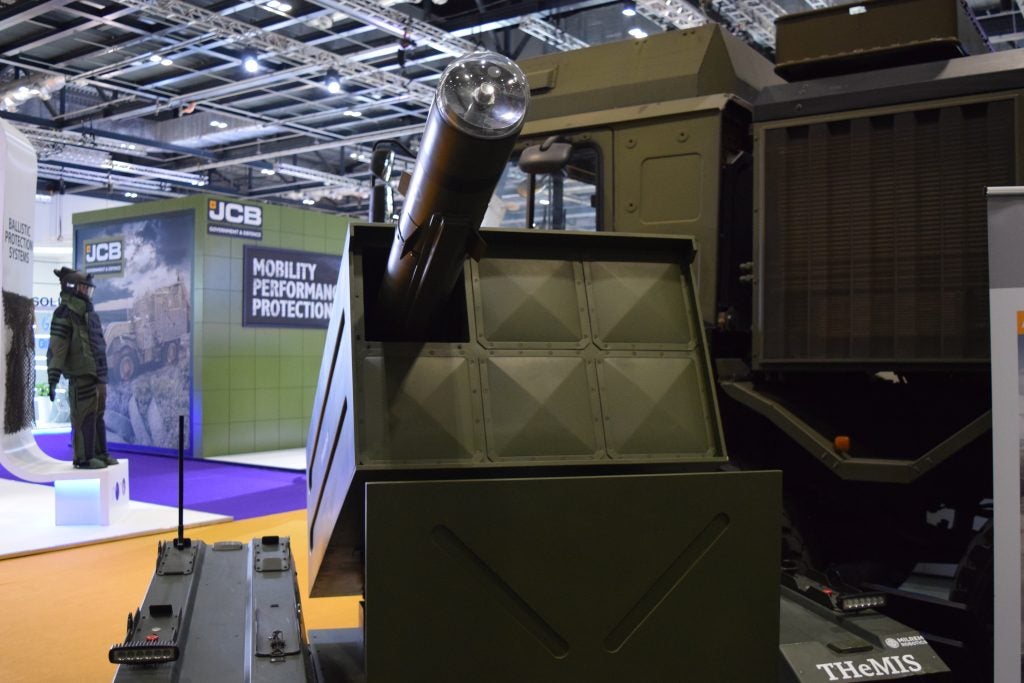 THeMIS is also being shown off for the first time at DSEI 2019 in its fifth generation form. This version is mostly designed around meeting NATO standards for compatibility with network and power systems as well as design tweaks from operational experience in Mali. Additionally, the vehicles max payload was increased from 750 kg to 1200 kg. Kongsberg also had a THeMIS on display, equipped with its Protector RWS-LW30 mounting an M230LF cannon and Javelin missile. This turret has previously been mounted on JLTV with THeMIS probably being the lightest vehicle to have mounted both a 30mm cannon and ATGM. In June of this year, Kongsberg test-fired a Javelin missile from THeMIS, proving the capability.
QinetiQ is also showing off its modified version of THeMIS, dubbed Titan, which combines Milrem's vehicle with QinetiQs advanced robotic control systems.