France Launches First Nuclear-Powered "Barracuda" Submarine
The first of France's "new generation" Suffren (Barracuda) class nuclear-powered attack submarines (SSN) was unveiled and officially launched in a ceremony at Naval Group's facility in Cherbourg on 12 July.
The actual launching of the submarine, the flooding of the drydock, will occur at the end of July and harbor trials are set to begin on 13 July and will continue until the second quarter of 2020, at which point sea trials are slated to begin.
The loading of the nuclear reactor core powering the submarine is planned for September, and is anticipated to be brought to critical state in November or December.
French President Emmanuel Macron and Minister of the Armed Forces Florence Parly were present during the ceremony and toured the submarine. Also present was Australian defense minister Linda Reynolds, Australia recently ordered conventional attack submarines from Naval Group.
The new class is being built to replace the French Navy's fleet of aging Rubis class nuclear-powered attack submarines which entered service from 1983 to 1988.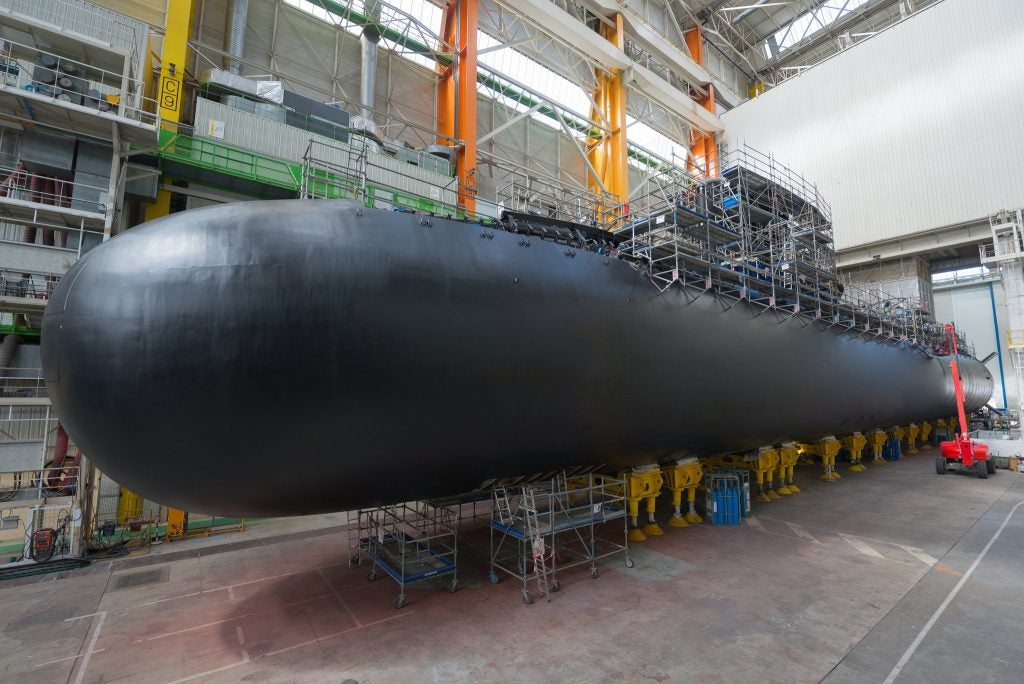 The submarines are to be replaced in a one-for-one replacement under the €9.1 billion (US $10.2 billion) fixed-price Barracuda program, which started in 1998.
A total of six Barracuda class submarines were funded in 2006. All six are expected to be in active service by 2030. The vessels are expected to remain in service until 2060.
The Barracuda class is crewed by 90 sailors and will be able to sustain itself for up to 70 days at sea, double that of the Rubis class it replaces. The new type is 99 meters (325 foot) long, has a diameter of 8.8 meters (28.9 foot) and has a displacement of 5,000 metric tonnes.
Barracuda is to carry the new F21 heavyweight torpedo, the qualification tests of which were only completed in 2017. The submarine will also be equipped with SM39 anti-surface missiles as well as MdCN-type naval cruise missiles.