Indian Army Outlines Requirement For 220 Drone Jammers Amidst Rise In Drone Threats
The Indian Army is set to initiate procurement of a large number of drone jammers in two configurations. On January 14, acceptance of necessity was granted for procurement of 20 vehicle-based drone jammers. On January 20, a request for proposal was released seeking to acquire 200 man portable drone jammers under fast track procedure for the Army.
The vehicle based drone jammers should provide a multi-sensor based solution to counter Unmanned Aerial Systems (UAS) and swarm UAS. The system should be capable of detection, tracking, designation and neutralisation of approaching multi-directional threats at ranges of about 10 km. For this, the system must consist of an RF detector, 3D radar, RF and Satellite Navigation Jammer System and a Command and Control (C2) centre. The fused target data from multiple sensors must be provided to the operator for quick decision making.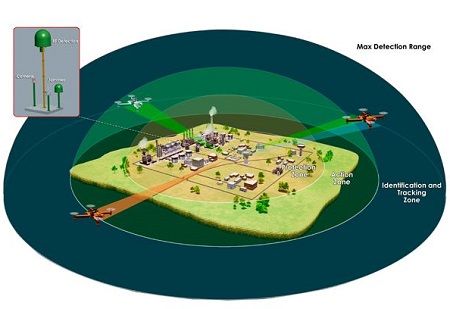 The man portable drone jammer should be capable of detection and jamming of drones and will comprise of RF and other requisite sensors to achieve target detection and engagement. The sensor inputs should be fused and displayed through a C2 system. The system should be capable of target acquisition and identification at ranges of over 5 km while jamming should be effective at over 2 km.
The system should be suitable for employment in high altitude areas. Requisite power supply to facilitate continuous operation of the system for 2 hours, with 30 minutes of persistent jamming, should be included. The system should be able to simultaneously jam all GNSS, C2 data and telemetry links of the target drones. The weight of every single component should not be more than 25 kg with overall weight being less than 100 kg. Trials for this requirement will be conducted in February.
The acquisition of these systems comes in the backdrop of ever increasing drone threats from Pakistan which are used for smuggling of weapons, explosives and drugs. A few imported systems are used by India for countering drones. However their numbers are limited with domestic products expected to form the bulk of the anti-drone systems to be inducted.
D-Fend EnforceAir systems have been spotted in Indian Army service while imported truck mounted solutions offered through Defsys Solutions are also in service. Israeli SMASH 2000 Plus EO sights for small arms have been purchased by the Indian Navy for counter drone applications.

Multiple Indian firms have counter drone solutions and some of them being inducted into the Indian Armed Forces. 25 Zen Anti-Drone Systems (ZADS) have been ordered by the Indian Air Force (IAF) for about $20 million. The Army has also bought this system and deployed it in conjunction with BEL upgraded L-70 guns for improved anti-drone capabilities.
All three services have bought Defence Research and Development Organisation (DRDO) developed D4 anti-drone systems, manufactured by Bharat Electronics Limited (BEL). The D4, called Naval Anti Drone System (NADS) by the Indian Navy, is equipped with a 2kW laser for hard kill in addition to EO, RF sensors and jammers. Bell laser dazzler has been inducted into the Army while the IAF has ordered Dronaam anti-drone systems from Gurutvaa Systems.
While systems such as ZADS and D4, which come in vehicle mounted and tripod configurations, are also expected to compete for the new drone jammer requirements, various other major Indian firms are expected to compete for the lucrative order.

Larsen and Toubro (L&T) had displayed its Counter Drone System during DefExpo 2022 in October 2022. The L&T system includes a radar and direction finding array with effector options such as electro-optical tracking system, RF jammer, drone catcher system, laser hard kill system, killer drones and existing gun based systems. The system has tripod, 4×4 truck and V-150 4×4 armoured vehicle mounted configurations.

Big Bang Boom Solutions also has an anti-drone solution which can handle a large number of drones simultaneously. It uses an X band radar, EO/IR and RF sensor for detection and is compatible with hard kill solutions. The system has been tested by the armed forces.

Adani Defence and Aerospace had displayed its Rudrav counter drone system. The automated system uses a 3D X and S band radar capable of detecting over 100 targets, a high power RF sensor, EO/IR system with laser range finder and jammers. Various other firms such as Astra Microwave, Elcomponics and Godrej also offer drone detection radars, hard kill systems and other counter drone technologies.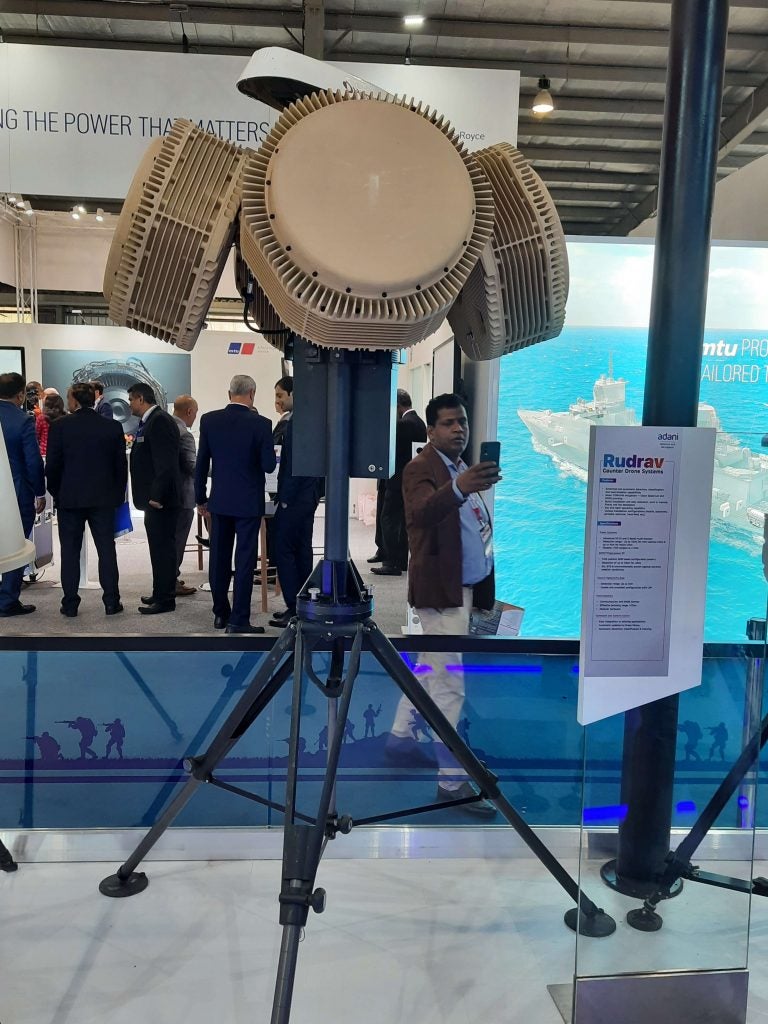 The impending purchase of portable systems would enable the Army to ensure coverage along critical areas along the mountainous borders and major facilities. Both Pakistan and China, like many other armies including that of India, are rapidly increasing their fleet of drones for various roles.
The People's Liberation Army (PLA) has been deploying swarm drones along the Line of Actual Control during the India China standoff since 2020. The Indian Army is also looking to acquire such swarm systems on a large scale. Potent anti-drone systems are required to tackle such swarms. Various types of loitering munitions can also be countered by drone jammer systems, thus complementing traditional point defence systems.
Header image: BEL NADS (Indian MoD)