Brimstone 2 Missiles in Use in Ukraine
Back in May the first videos of launches of Brimstone missiles provided by the UK began to circulate online. Brimstone is a ground or air-launched ground attack missile developed by MBDA UK, an evolution of the US laser-guided AGM-114 Hellfire. The missiles first seen in Ukraine were the older Brimstone 1, now it has been confirmed that that the more advanced dual mode Brimstone 2 is in use with the Ukrainian armed forces.
In October a video from BFBS Creative confirmed that the UK has provided Ukraine with Brimstone 2 missile. BFBS do not state when the video was filmed but the footage shows a transit chest marked 'Brimstone 2 Operational Missile Dual Mode'. Dual Mode refers to a variant of the missile which can be used both as a 'fire and forget' system but also have a 'man-in-the-loop' capability. This capability was originally developed as part of an Urgent Operational Requirement for use in Afghanistan where a need fora low-collateral damage weapon was identified.
Previously unseen footage of a Brimstone launch began to be circulated online on 15 November. The footage potentially shows the launch of several Brimstone 2 missiles. It is unclear when or where in Ukraine the footage was filmed. Despite the resolution of the footage being extremely low there is a discernible glint on the seeker head/dome which might indicate they are a later type of missile with a transparent dome compared to those seen earlier in Ukraine which have a translucent seeker dome.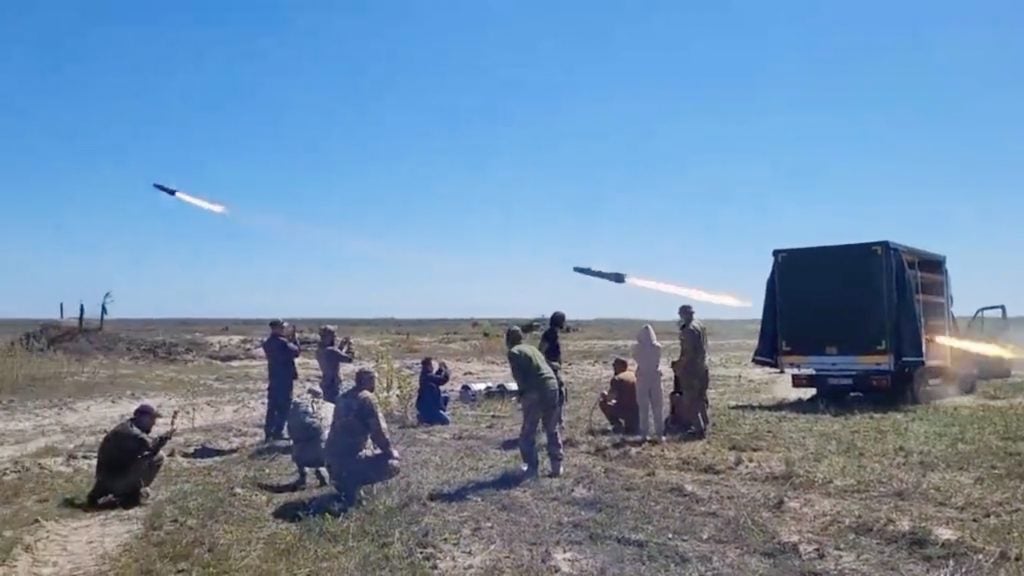 According to MBDA Brimstone 2 provides "an overall increase in performance with improvements in range and engagement footprint", this is enabled by improved seeker, improvements to the missiles airframe with a more modular design and software updates.
Brimstone was intially developed for use on RAF aircraft but in April the UK's Ministry of Defence confirmed the supply of Brimstone following development work to adapt the weapon system for ground launch in austere environments. This appears to have essentially palletised the system and operationally the Brimstones have been seen launched from civilian commercial vehicles.
Update – 27 November, 2022:
The UK MoD confirmed publicly that Brimstone 2 Missiles have been transferred to Ukraine.
Header image: A Brimstone launch from a commercial vehicle, unknown date 2022 (via Social Media)