Indian Firm Kalyani Wins Export Order From Armenia For 155mm Artillery
Indian firm Kalyani Strategic Systems Limited (KSSL) has obtained an export order for its 155mm artillery gun platform, the firm revealed on November 9. The order, worth $155.5 million, will be executed over a three year period. The name of the artillery system, order quantity and the customer was not revealed. However, the firm stated that the export was to a "non-conflict zone."

Citing sources in the Indian MoD, a report revealed that the customer is Armenia and that the order consists of truck mounted 155/39 calibre guns. It is likely that the order involves equipping about four regiments with the system, each with over 18 guns. It is unclear whether the order also involves 155mm ammunition.
It was initially suspected that Saudi Arabia, which had evaluated two KSSL artillery guns including the Bharat 52 155mm towed gun in 2020, was the customer.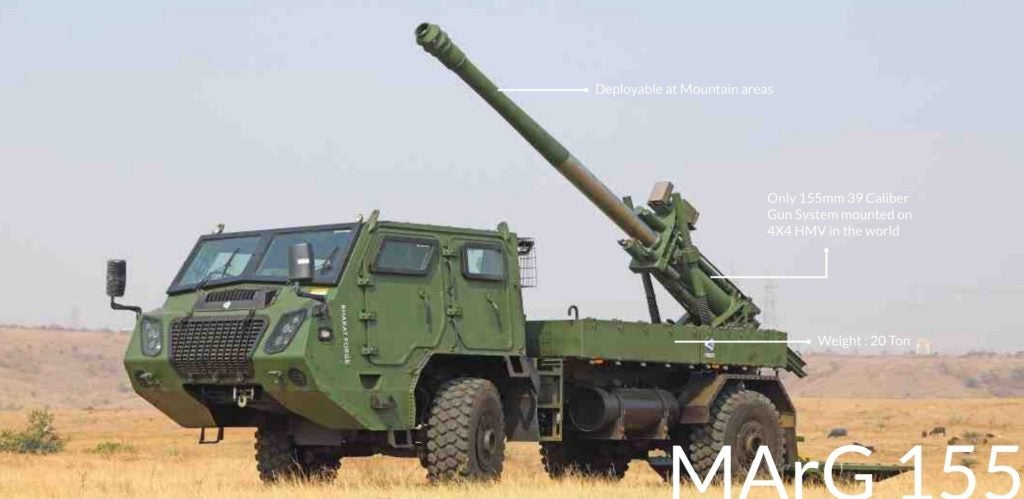 KSSL's truck mounted 155/39 calibre gun offered by KSSL is designated the MArG 155-BR. The system is 9.3m long, 2.65m wide, 3.2m high and weighs under 20 tons. MArG provides shoot and scoot capability and can be set up in 90 seconds during the day and 120 seconds at night. Each truck carries 18 rounds with zone 5 charges. The gun can traverse 25° to the right and left. It can fire 10 rounds in 3 minutes for intense fire and 42 rounds in 60 minutes at a sustained rate.
The order by Armenia would mark the second recent major defence export by India to the Caucasus nation. The order is significant as this would be Armenia's first non-Soviet origin, 155mm artillery gun capable of firing NATO standard shells.
In September, Armenia had inked a contract to purchase up to four batteries of India's Pinaka rocket artillery system and associated ammunition. The contract also involved the sale of Konkurs ATGMs manufactured by Bharat Dynamics Limited (BDL) and a wide range of ammunition including mortar shells. In 2020, Armenia also procured four Bharat Electronics Limited (BEL) Swathi weapon locating radars.
Armenia is also reported to be considering the procurement of BDL Akash surface-to-air missiles, loitering munitions by Tata Advanced Systems Limited (TASL) and Economic Explosives Limited (EEL) among other equipment. Armenia's artillery acquisitions from India would help rebuild an army battered by the Nagorno-Karabakh War with Azerbaijan in 2020. Armenia had lost hundreds of artillery pieces during the conflict.